The goal that ended
Belgium
's best
World Cup
campaign in 28 years had only just entered the net when the finger of blame was being pointed. Not on the Brasilia pitch but, inevitably, in cyberspace.
It was Vincent Kompany's fault. He was caught out of position. He had strolled forward needlessly, disrupting the defensive line, and couldn't get close enough to Gonzalo Higuain when the Argentine scored.
Or so the Belgium skipper's detractors argued, anyway. Actually, the two crucial factors were the deflection on Angel di Maria's pass, diverting it via Jan Vertonghen and into Higuain's path, and the swivelling striker's strike, expertly executed to give Thibaut Courtois no chance. It was a brilliant display of predatory finishing.
PHOTOS: U.S. fan reactions | Beautiful people in Brazil
Actually, there was an occasion when Kompany was culpable as Higuain shot. It came 10 minutes into the second half, not eight into the opening period. He was left looking foolish when the Napoli attacker nutmegged him, darted into the ensuing space and drilled a shot against the bar.
A fuller appraisal of his performance has to include the crucial challenge when, outnumbered two to one, he was confronted by Lionel Messi and dispossessed the Argentina captain. Nor should the moment when he halted a solo run from Ezequiel Lavezzi be overlooked.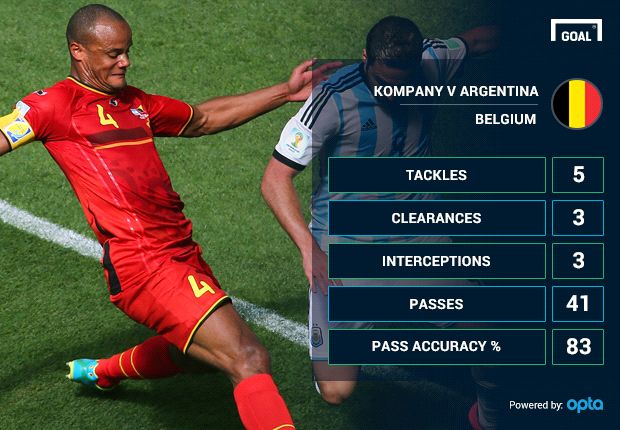 But as the dream of Belgium's golden generation began to die, the reaction was instructive. The anti-Kompany backlash has begun. There are those who feel his excellence and his eloquence mean he gets off lightly when he makes a mistake. They feel his Manchester City sidekick – and, strange as it sounds, World Cup semifinalist – Martin Demichelis was forever the scapegoat and Kompany invariably excused.
They cite Sunderland's goal in the Capital One Cup final, while not always acknowledging the magnificent tackle on Fabio Borini that probably prevented the Black Cats taking a 2-0 lead and which, if he had misjudged, would have resulted in a red card for the City captain. They mention his three April errors at Anfield, when he plainly wasn't fit, could have cost City the title. Instead, he ended the season holding the trophy aloft.
The problem, perhaps, is that Kompany has been praised too often, too indiscriminately. He was fortunate to be named in the PFA Team of the Year, a choice that suggested players across the country were picking on reputation rather than performances.
They failed to make the distinction between the best center back in England – in terms of ability and past performances - and the outstanding candidates over the course of a campaign. The broader issue with Kompany, which is becoming ever more evident, is that his style of play lends itself to plaudits when it goes well and criticism when it doesn't.
Many center backs are inherently conservative. He is the exception. He is not one of the safety-first brand of defenders. He tries to play his way out of difficult situations, deep in his own half and surrounded by opponents, even when one is Messi. That conviction produces a full-blooded commitment which, at times, accounts for some of his red cards.
There is a fine line between confidence and over-confidence; Kompany can threaten to cross it in his bid to influence games. That boldness, that willingness to anticipate and advance was most apparent in the 90th minute against the United States. Kompany ran the length of the field in a bid to turn match-winner; but for a scuffed finish, the 'captain fantastic' headlines would have been dusted off and deployed again.
He is more than a mere stopper. The footballing ability that allowed him to spend his debut season in Manchester as a midfielder is often displayed. It can tempt him to look for the interception, to eye events ahead of him and wonder if he can cut out the pass. But it wasn't why Belgium conceded or why its World Cup came to an end. Any inquests should reflect that the Red Devils' impotence in attack and mediocre management are greater reasons why they are going home.