The captain says team's hopes of World Cup glory are not dependent on him and admits he is jealous of his Barcelona teammates who have won it already.
Lionel Messi insists Argentina doesn't rely on him to carry it to World Cup glory this year.

The captain has been the star of the team, scoring four goals across the three group stage games. The Barcelona star ensured his side took all three points from each of its games, making the difference against Iran and Nigeria after clinching the win with an excellent goal to make it 2-0 against Bosnia-Herzegovina in the team's opening game.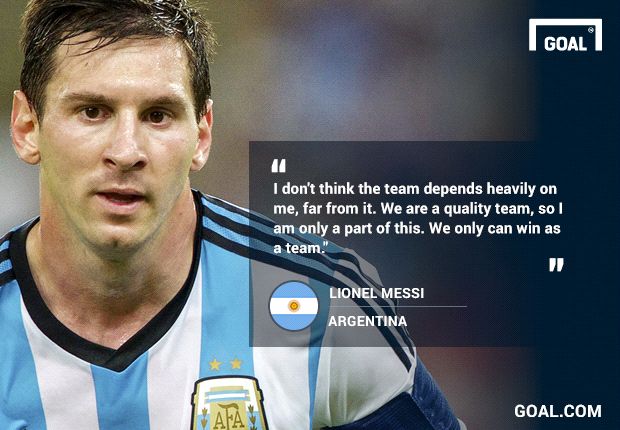 But the 27-year-old says the team is not dependent on him. "I don't think the team depends heavily on me, far from it," he told Times of India. "We are a quality team, so I am only a part of this. We only can win as a team."

The forward says he is desperate to win the tournament, admitting that he is jealous of the Barcelona players who have lifted the trophy.

PHOTOS: USA vs. Portugal | U.S. fan reactions | Beautiful people in Brazil

"Surely I would love to win the World Cup with Argentina," he added. "But not to change the way people view me from outside but because that's our team's objective and to be able to add a new title to my honors list.

"I am really jealous of my Barcelona teammates who've already won the trophy. No matter how much I ask, they'll never be able to describe that feeling to me and I want to experience it at least once in my career."

The four time Ballon d'Or winner feels he has matured a lot over the last few years and feels the birth of his son, Thiago, has changed him.
"I surely am older and more mature but if I'm in any way different, that is for others to judge. I have matured a lot as a footballer over the last few years," he said. "I've been through a lot of good and bad things that have made me a better professional and human being.

"Becoming a father makes you see things differently and it has been the biggest change in the recent years for me off the field. It's changed me a lot and I am thankful for that."