Romelu Lukaku
took his place on the
Belgium
bench, shaking his head in a mixture of frustration and disbelief. He had been given the hook. Again.
It was an action replay. When Belgium needed a goal, its supposed spearhead was removed. Against Russia, as against Algeria, it was rescued by a scoring substitute. A shot-shy starter could only look on as Divock Origi sealed a second successive win. A 19-year-old upstaged a 21-year-old. He may take his place, too.
Unlike many footballers, Lukaku is a student of the game. He analyzes opponents and examines the strikers he wants to emulate. He watches many a Premier League game in a bid to gain some insight.
PHOTOS: Beautiful people in Brazil | Brazil protests | Soccer fanatics | Fan tattoos
The tapes of his brief World Cup career probably won't take a place of pride in his collection. He has been virtually anonymous, often ignored by the teammates who have failed to get him into the game. The startling statistic is that, in 115 minutes of football in this tournament, he has had a solitary touch of the ball in the opposition's box.
It is unlikely to impress Jose Mourinho or to convince any wavering managers to submit an offer for his services. Admittedly, it has been a dismal World Cup for Chelsea forwards, whether coming, going or staying. Samuel Eto'o, Fernando Torres and the Stamford Bridge-bound Diego Costa face dead rubbers after their countries were eliminated. Each, like Lukaku, is awaiting his first goal.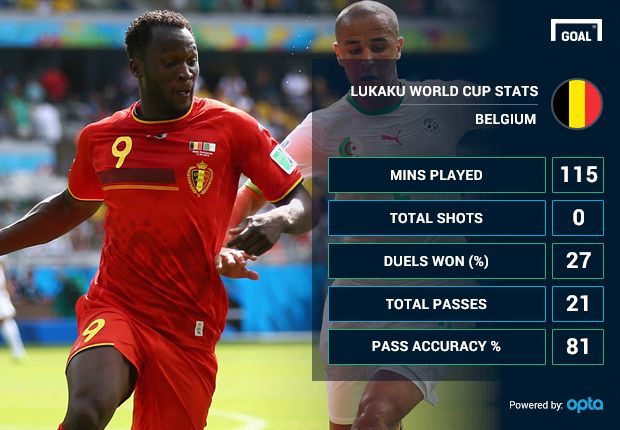 Lukaku, though, has most to prove. The World Cup offered an opportunity to show he can combine with Chelsea's marquee talent, Eden Hazard. Thus far, there are few signs of any understanding.
Many, this observer included, think Mourinho made a major mistake in allowing Lukaku to leave on loan last season, when he lamented Chelsea's lack of a striker and when Torres, Eto'o and Demba Ba did not approach his total of 15 league goals. The descriptions of him as a new Didier Drogba multiplied every time he had an impact for Everton. The suggestions Mourinho erred came up every time a striker misfired. Yet he preferred them to Lukaku.
He has been applauded from afar, but doubted by some who know him better. It is worth remembering that Christian Benteke would have been Belgium's starting striker if he had been fit.
Lukaku doesn't seem to command the confidence of his managers for club or country. He can be too outspoken for both Mourinho's and Marc Wilmots' liking. The Belgium manager did not complain about a display of dissent when Lukaku was taken off, but it is unlikely to help his cause. Nor did it when Lukaku offered his views on his preferred Belgium side rather publicly last December and Wilmots pointedly told him to keep his opinions to himself.
Those who have borrowed him are alone in cherishing him. Lukaku was West Bromwich Albion's impact substitute, scoring 17 times. He was Everton's all-action starter, firing ut to fifth place. They would like to sign him.
Performances like his muted display in the Maracana may aid his cause. The sense is that Mourinho's mind is made up, that he will sacrifice Lukaku for more signings. His value lies in the transfer market this summer, enabling Chelsea to balance the books as they spend heavily on Costa, Cesc Fabregas and potentially two or three others.
It is in its interests that he has a fine World Cup, to drum up interest and drive up the price. Were clubs to purchase purely on the basis of Belgium's two games, then the inexperienced Lille forward Origi would be a likelier target. Go on these matches and Chelsea is unlikely to bank 25 million pounds. Thankfully, clubs are starting to show the wisdom to base their decisions on more than just a good or bad World Cup.
But Lukaku's performances suggest he remains the unfinished article. That is probably Mourinho's view, too. The flattering interpretation is that he has done the job Shane Long did for West Brom, wearing defenders down and softening them up for a replacement – Lukaku then, Origi now – to come on and profit from his hard work. The alternative angle is simpler: he has just played poorly.
And the sight of an unsatisfied Lukaku in the dugout may become familiar. It could be the abiding image of his tournament.