RIO DE JANEIRO — There has long been a feeling among those who know
Steven Gerrard
that his intention has been to retire from international football after the
World Cup
.
As he considers his future following England's early elimination in Brazil, the ignominious nature of the team's exit should not sway his decision the other way.
The Three Lions captain admits that he feels "broken" by the embarrassing tournament and will take time to consult with loved ones and respected football figures before making an announcement.
PHOTOS: Beautiful people in Brazil | Brazil protests | Soccer fanatics | Fan tattoos
It is fair that Gerrard should take his time before making a final commitment, but the sense during his news conference Sunday was that the 34-year-old believes his time is up.
Such is his character that there will be a part of him that wants to atone for this summer's failure, while Roy Hodgson has made it clear that he wants his skipper to carry on through to Euro 2016, but, for both Gerrard and the England team, it is better that he steps aside now.
After playing 39 games for Liverpool last season, Gerrard knows that his aging legs will be put through added strain next season after the Reds qualified for the Champions League. To stay in his best physical condition – and thus maintain a high level of performance – he would be better off using the international breaks to rest and recover.
And for England, there is less need now for Gerrard the holding midfielder than there was for the box-to-box wonderkid who made his international debut as a 20-year-old in 2000.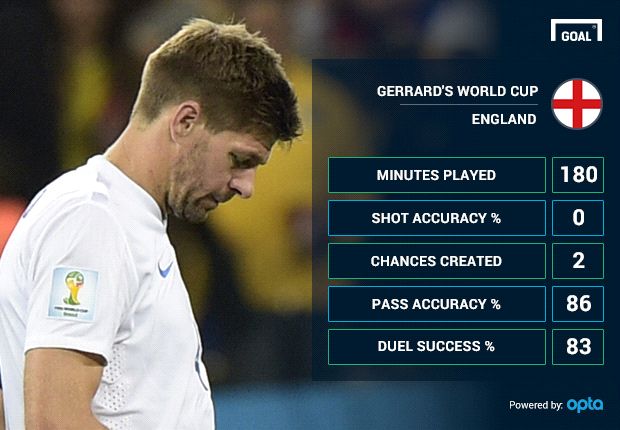 Indeed, this has been a disastrous World Cup for the skipper. Without the protection of the three-man midfield usually provided to him with Liverpool, he has been outpassed and overrun in his side's defeats to Italy and Uruguay.
LIVERPOOL LATEST

The Uruguay game, in particular, may be the nadir for a player prone to making high-profile mistakes, just as he did at the end of the Premier League season when he slipped against Chelsea.
Some of the criticism has been scathing. Diego Maradona said that Gerrard was to blame for England's exit while one Spanish newspaper did not even bother to give him a rating, so poor did it consider his performance.
His header straight to Luis Suarez that allowed his Liverpool teammate to score the winner in Sao Paulo may end up being Gerrard's last action of note in an England shirt, with Hodgson set to make changes for the final Group D game against Costa Rica.
Gerrard can retire with some memorable highlights, most obviously his goal and brilliant display in the thumping 5-1 win over arch-rival Germany in qualification for World Cup 2002, yet in truth he never consistently performed in an England shirt as he did for Liverpool. Formations, tactics and talented teammates meant the team was never built around him in his pomp and he often found himself crowbarred into playing an uncomfortable role.
His move to a defensive midfielder was made out of expediency as he lost his thrust and it is not a natural role for Gerrard. That was cruelly highlighted with mistakes in the build up to both of Uruguay's goals on Thursday.
Perhaps Gerrard's potential retirement would be less of an issue if the alternatives extended beyond the likes of Michael Carrick, Phil Jones and Tom Cleverley. A midfield axis of Jack Wilshere and Jordan Henderson could provide energy and attacking quality but little protection for an already shaky back four.
But England is clearly moving toward a new era, as highlighted by the youthful squad picked by Hodgson as he looks to build around the likes of Raheem Sterling, Daniel Sturridge, Ross Barkley and Luke Shaw.
England should be just fine without Gerrard, especially given the pathetically easy qualification requirements for Euro 2016. It can prove it when he makes the correct decision and retires from international football.