Spain
boss
Vicente del Bosque
has promised to make changes to his starting lineup for La Roja's second group game against
Chile
after they were thrashed 5-1 by
Netherlands
on Friday.
Two strikes apiece from Arjen Robben and Robin van Persie and a close-range goal from Stefan de Vrij secured a 5-1 win for Louis van Gaal's men, despite Xabi Alonso putting the reigning champions ahead from the spot in the first half.
Spain now cannot afford to lose again in the group, with Chile next up on Wednesday. Del Bosque is desperate for his players to bounce back and is not afraid to freshen the XI up after the humiliation against the Dutch.
"It was a hard defeat," he told reporters on Saturday, "but step by step we are accepting that it isn't a crucial loss.
"We hope to move on for the next match with all respect to Chile, who also want to qualify for the next stage.
PHOTOS: Opening ceremony | Brazil protests | Soccer fanatics | Fan tattoos
"Of course there will be some changes, but I don't want to make any rash decisions, I have until Wednesday to decide who will be dropped. There's no need to single anybody out, we have 23 players available and we'll find the best possible solution."
Diego Costa's performance was not hugely impressive, despite him winning the penalty which Alonso scored. Del Bosque doubts the boos from his native country Brazil's fans are harming his form, but stressed the pressure from fans back home could become poisonous.
"I don't think Diego Costa was affected by the atmosphere in the stands," he added. "Spain are with him and he's motivated for being here.
"This team has a lot of pressure that could become suicidal to our chances, we have to perform to stop that pressure becoming overwhelming. We deserve the criticism, but we also deserve respect."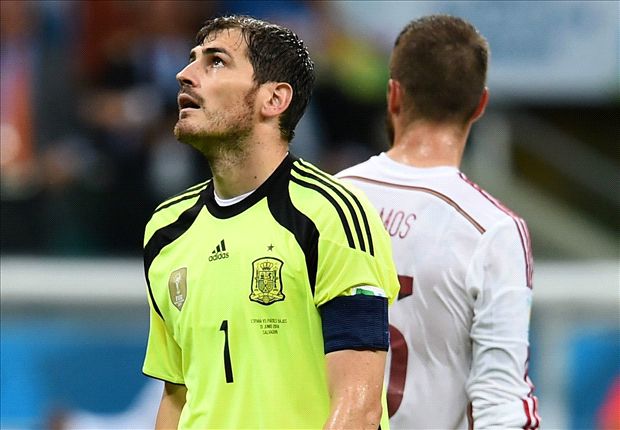 Nobody expects the Spanish abolition | Casillas looks to the skies as Netherlands run rampant
There has been a lot of criticism aimed at goalkeeper Iker Casillas, who made a key mistake late on which gifted Van Persie his second goal, following Friday's loss.
Del Bosque admitted that the Real Madrid man is blaming himself heavily for the defeat, but backed him to remain as the nation's skipper.
"Iker showed proof of his captaincy with the national team yesterday," he said. "When I arrived in the dressing room he was talking to all the team - who were in a solemn silence - and he blames himself but at the same time he knows that all of us are guilty.
"Iker knows there's a lot of people in Spain behind us, he acted as a captain, he gave a positive and useful speech."