Portugal's chances of lifting the World Cup will rely mainly on the fitness and form of star Cristiano Ronaldo.
The Ballon d'Or winner has the hopes of a nation resting on his broad shoulders, but has been dogged by injury problems since Real Madrid's Champions League final win over Atletico.
No European team has won the World Cup on South American soil, but Brazil will be a second home of sorts for the Portuguese, with the two nations linked across the Atlantic Ocean by language and culture. Many Selecao supporters will have no qualms rooting for Paulo Bento's men as their second team, especially considering there is no chance Luiz Felipe Scolari will face the team he coached a decade ago until at least the semifinals.
Portugal has not always shone brightly at major tournaments but, in its defense, since losing Euro 2004 on home turf in the final it has only been eliminated by teams that went on to win or finish as the runner-up. It has punched above its own weight, hauled into the latter stages of competitions by shining stars like Luis Figo and Deco, and will need to again if it wants to win the World Cup for the first time.
Poor performances in the qualification process, during which Portugal hobbled into the playoffs behind Russia, then relied on Ronaldo's brilliance to defeat Sweden over two legs, have helped it arrive in Brazil under the radar. But Portugal has been drawn in one of the toughest groups with Ghana, the USA and Germany.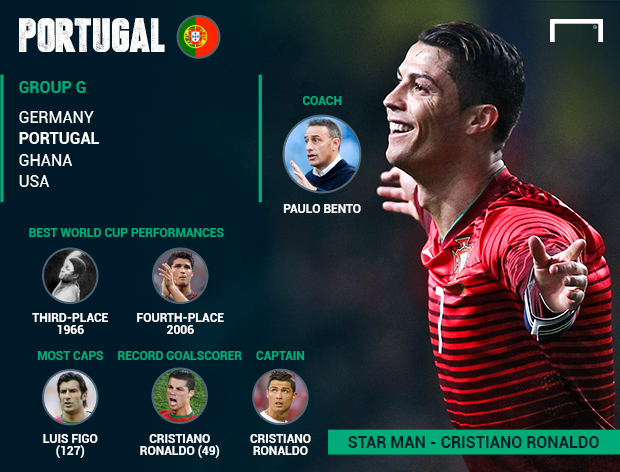 Twelve years ago at World Cup 2002, Portugal had high hopes after a strong showing at Euro 2000 but lost its opening group game against the unfancied USA and ultimately tumbled out of the tournament. Current coach Bento played in all three of those games and will want revenge when his side faces Jurgen Klinsmann's men in the second game.
Fellow European nation Germany is a regular opponent and Portugual dealt the killer blow to its elimination from Euro 2000, although eight years later Die Mannschaft got revenge by knocking Ronaldo and Co. out in Euro 2008 at the quarterfinal stage.
They also clashed at World Cup 2006, but that was in the meaningless third-place playoff clash that Germany — then coached by current USA boss Klinsmann — won 3-1. Miroslav Klose, Lukas Podolski, Bastian Schweinsteiger and Philipp Lahm remain from that German team, while the Portuguese just has Ronaldo and Ricardo Costa from the '06 squad. Portugal opens its World Cup campaign against Joachim Low's charges June 16.
Speaking of old heads, Portugal has the fourth-oldest squad at the World Cup, suggesting these are players who are very much in their last-chance saloon if they are to win the tournament. Experienced center back Bruno Alves, the Real Madrid defensive pair of Fabio Coentrao and Pepe, Monaco central midfielder Joao Moutinho and maverick winger Nani are Portugal's other key men, showing the team does possess talent beyond Ronaldo's powers.
Nuno Gomes — who helped fire the Seleccao to the semi-finals of the 2006 World Cup — acknowledged that Bento's squad is far better with the Ballon d'Or winner in it, but has faith in other players too.
"We will be stronger with the presence of Cristiano in the team," Gomes told
Goal
. "I hope he can recover quickly for the opening match, and can perform with good conditions for the team. But we have a good team; there are Nani and several other strikers. We also have Joao Moutinho. However, with Cristiano of course we are stronger. I hope they can perform well to bring Portugal to advance further in World Cup."
Knocked out in the last two major tournaments by eventual winner Spain — in the 2010 World Cup it was in the second round 1-0, in Euro 2012 it was on penalties in the semifinals — Bento's men have come close to glory on a number of occasions in the past 10 years. This time, if Ronaldo can shake off his injury issues and Portugal can drag itself out of a tricky group, it may yet be a dark horse in the competition.
The Iberian nation has major tournament experience, the best goal scorer in the world and in its history, along with a track record of turning it up when it matters in recent years. Now it just needs to take that final elusive step in Brazil.