Results in warm-up matches matter only to the extent that wins breed confidence, so the fact that England beat only one of Peru, Ecuador and Honduras is merely chastening rather than any kind of disaster.
The Three Lions may not have established any serious momentum going into the World Cup but neither have they suffered and it has kept expectations on an appropriate level, even while the wall-to-wall adverts growl with increasingly brash patriotism to the fans watching back home.
None of the three friendlies could really be classed as an entertaining experience but we have learned a good deal from them nonetheless. We are surely left with a fairly strong idea of the team that will line up in Manaus against Italy after Roy Hodgson restored the XI that faced Peru for kickoff Saturday.
After Alex Oxlade-Chamberlain's injury against Ecuador ensured that he will be racing to play any significant part in the tournament, only two serious questions remain about the team sheet: Will Hodgson risk Raheem Sterling after playing less than 45 minutes of the warm-ups? And dare he risk dropping Wayne Rooney to make room for him or Ross Barkley? The answer to both is likely "no."
It is to the manager's credit, however, that it is a real question. Hodgson, an old-fashioned fellow, has elicited his fair share of cynicism during his tenure but his squad selection and approach in these games has proved a real willingness to use youth liberally this summer. Sterling would have started against Honduras if not for his ban, while Barkley was given a full half to express himself at Rooney's expense. Older but just as green, Adam Lallana continues to justify his inclusion.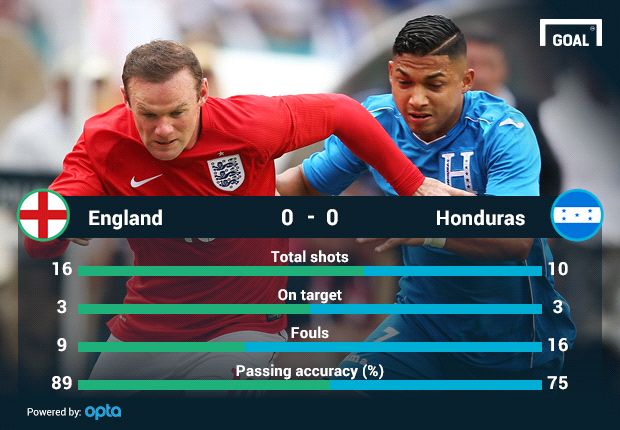 Will his approach prove liberal enough? It is impossible to shake the feeling that England is a better team without Rooney and even Steven Gerrard, as it was again after the break Saturday. With Barkley and a more focused Jack Wilshere injecting energy and drive into the midfield, they showed up the veterans.
The skipper, certainly, will not be dropped and Henderson — excellent in Miami — is a good enough foil to work around him. Rooney, though, has been arguably the least threatening of England's attacking players over the three games. The class is there, somewhere, but the form is not and the unpolished stars are the ones who feel more likely to get the break that England will surely need in a tricky group.
That is the main gripe, though, as truly the Three Lions look all right. None of the three games lost, some moments of real class (Daniel Sturridge's long-range goal against Peru, Rickie Lambert's thumping finish against Ecuador) and the occasional burst of quick, intricate attacking that fits the intended Liverpool model.
No, Sturridge's finishing wasn't up to much against the Hondurans. Yes, an iffy Glen Johnson needs better competition than James Milner could provide Wednesday. No, not all of the best players may actually start. But take a moment to think about the disaster that was World Cup 2010 and realize that it could be a lot worse.
There is some genuine excitement to be found in the way that England is shaping up. It won't win the World Cup and it might not even get the team out of the group, but it does permit a cautious feeling of optimism. Whatever else, true calamity seems unlikely.
The fun and games — and, one can only hope, the electrical storms — are over. Time to get down to business. After all, there might even be some pride to be taken from it.
Follow George Ankers on