History suggests Spain won't win the World Cup. After all, no team has retained the title since Brazil in 1962. And when the tournament has been played in South America, a side from that continent has always won it.
The hot and humid conditions won't suit Spain either — as proved in last year's Confederations Cup, when Vicente del Bosque's side struggled against Nigeria and was badly beaten by Brazil in the final at the Maracana.
Nevertheless, La Roja remain the world's strongest side at the international level and if they can cope with the climate in June and July, there's no reason why the defending champions can't add a second star to their shirt in Rio.
Spain has been here before. In the 2009 Confederations Cup, Del Bosque's men lost to the USA in the semifinals and that shock defeat raised serious question marks over their ability to win the World Cup a year later. But fast-forward 12 months and Iker Casillas lifted the sport's most prestigious trophy at Soccer City in 2010.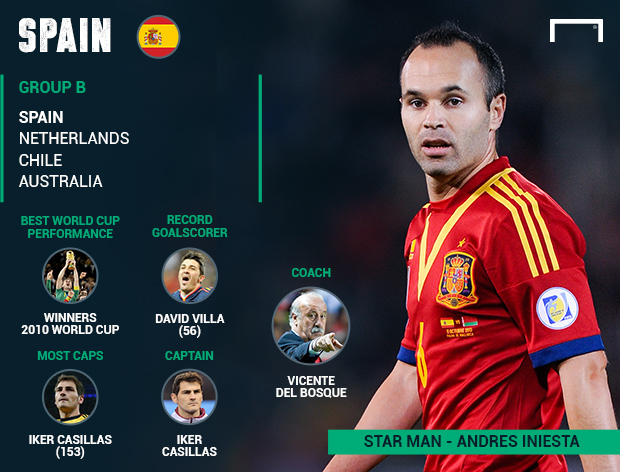 Last year's 3-0 loss to Brazil and the experience of playing in the country should serve Spain well. A special training plan has been devised this time around, while the players will also have more time to adapt to the climate and, unlike last year, their surroundings will be more familiar.
"Brazil are a top team, but if we play them again it will be a completely different game to last year," Cesc Fabregas said recently. And after last year's loss, Del Bosque explained: "Sometimes it's convenient to lose. You learn lessons from a defeat and we will learn from this."
In terms of talent, Spain's squad is still brimming with quality. Despite his mistake in the Champions League final, Casillas remains one of the world's greatest goalkeepers, while Sergio Ramos is playing the best soccer of his career at Real Madrid and has developed a fine partnership with Barcelona's Gerard Pique at the international level.
In the fullback positions, meanwhile, Cesar Azpilicueta emerged at Chelsea by displacing Ashley Cole, while Juanfran has impressed for Atletico. Those two will compete for the right back role, with Barca's Jordi Alba set to start on the left.
The midfield features a wealth of ability, with Xavi, Andres Iniesta and Sergio Busquets joined by club colleague Fabregas and Madrid's Xabi Alonso, who missed the Confederations Cup last summer. Atletico's Koke and Bayern Munich's Javi Martinez provide interesting alternatives, too, while Del Bosque can call on Juan Mata and Santi Cazorla as well. It's comfortably the best midfield in the competition and that's the area where most matches are won at this level.
In the attack, meanwhile, Spain is boosted by the inclusion of Diego Costa, who snubbed Brazil in order to represent La Roja this summer. The Atletico striker should solve what had become something of a problem position for Del Bosque's side, although he is unlikely to start the competition as he recovers from a hamstring injury that forced him off after just nine minutes in the Champions League final last week. His now former club colleague David Villa, Pedro and Fernando Torres will provide quality backup, with the Chelsea striker's pace and workrate valued by Del Bosque.
Spain's golden generation already claimed back-to-back European titles in 2008 and 2012, plus the World Cup in 2010. It still has the best team, it has been there and won it. This time, the pressure will be very much on Brazil as host nation, with no World Cup titles since 2002 and the memory of 1950 and the "Maracanazo" hanging over it.
"I hope and desire that Spain win the World Cup," said veteran defender Carlos Marchena, who was part of the squad in 2010. "They have the players, they have everything to be able to do it." And he added: "Brazil playing at home, with things as they are, they will have so much pressure and that could count against them."
Spain may not be favorites for glory in 2014 and it will have to change history to triumph this time around, but this team has been breaking new ground for the last six years now. So can Spain make it four major tournament triumphs in a row? Don't bet against it.