After missing months of action for both club and country due to a thigh problem, Fred has returned to the Selecao and is set to make his first start for his country since August 2013 when he takes to the field against South Africa on Wednesday night.
"I haven't played for the national team for a long time while I was a injured," he said this week in Johannesburg. "But I believe all the work I've done since I've been away will be rewarded."
It's been a long, hard road back to fitness for the Fluminense man, who recently began attending church services that have helped him through one of the toughest periods of his career – making sporadic appearances at Comunidade Evangelica da Zona Sul, a group where former defender Gilmar Santos is a pastor.
"I believe in Jesus and my life is in His hands," the striker posted on his
Instagram
account last month. "All of my causes are His."
But while Fred may be finding his faith, coach Luiz Felipe Scolari never lost his. "Fred is part of the group, he will be with us until the end," assured Felipao, who has been unequivocal in his support since the 30-year-old repaid his coach's trust by finishing as the competition's joint-top scorer with five goals as the Selecao roared to Confederations Cup glory last year.
"I am very grateful to Scolari," says Fred, who returned to club action last month and instantly found the net. "He always trusted me and given me so much confidence. I received some criticism after not scoring in my first two games under him, but he told me to relax. [The drought] bothered me, but he always knew that the goals would come when the time was right."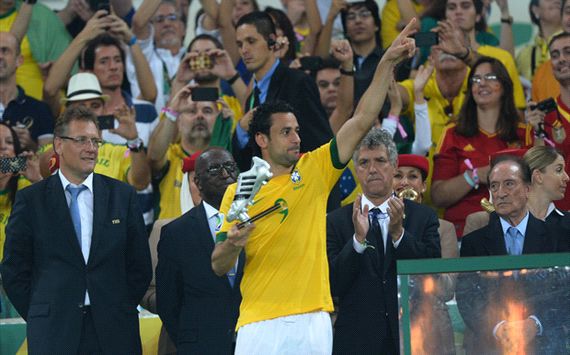 Confederations Cup hero | Fred hit five goals in the competition, including two in the final
The striker's injury problems also seem to behind him and team doctor Jose Luiz Runco recently revealed to
Lance!
that now it is simply a question of getting him in peak physical condition.
"There is a still question of match fitness, but we have plenty of time before the World Cup," says Runco. And Fred is used to achieving his goals.
He has hit 114 for Fluminense since returning to Brazil from Olympique Lyonnnais in France in 2009 and is among the top 10 scorers in the Carioca club's history, helping it to Brasileirao league titles in 2010 and 2012. Since making his international debut in 2005, he has notched 16 goals in 31 appearances for his country.
Frederico Chaves Guedes began his career at America-MG in 2003, where he hit a staggering 34 goals in 57 matches. Prolific spells at Cruzeiro and Lyon in France followed and he made his Brazil debut in a 2005 3-0 friendly victory over Guatemala.
His fine form in Ligue 1 would earn him a place in Carlos Alberto Parreira's 2006 World Cup squad, where he grabbed his first international goal just two minutes after being introduced as a substitute in a 2-0 victory over Australia in Munich.
A year later he played his part as Brazil claimed the Copa America, but missed out on the 2010 World Cup squad. He was handed his international return by Scolari's predecessor, Mano Menezes, but failed to retain his place following a disappointing Copa America 2011.
But Scolari believed. And with the question of who would wear the no.9 the biggest hanging over the Selecao in the run up to the World Cup, Fred hit 9 goals in 11 appearances for Brazil. Felipao had found his savior.