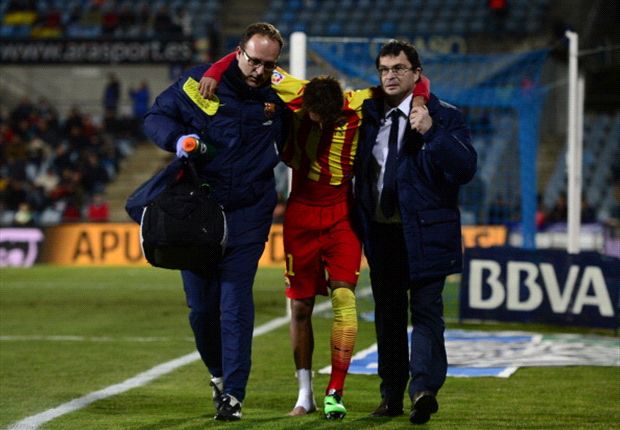 Brazilians and Catalans alike had their hearts in their mouths as Neymar turned his ankle in the Copa del Rey victory over Getafe on Thursday. Thoughts turned to the Champions League and the World Cup and all the glory that had been mapped out for him in 2014.
Neymar had barely taken his sock off and hobbled away before his coach Tata Martino and Lionel Messi were playing down the extent of the injury and hastening Neymar's return to the starting lineup in the press. "We hope it is nothing serious and that he is not out for a long time as we need him," Messi said. "He is very important for us and we want him back soon." Messi, in particular, given his recent repetitive injury problems should know better than to urge anyone to return before they are truly ready.
Initial estimations put Neymar's return at three to four weeks - a time frame that concludes just before the vital Champions League match against Manchester City at the Etihad Stadium. It is inevitable that Barcelona's medical team will pencil in that clash for Neymar's return — if not sooner. He is that important to Barca, already, that it would be unthinkable he does not feature.
But if Barcelona cares about Neymar's welfare and its substantial investment in him, the club will let him recover — properly — in his own time. This injury is not indicative of a pattern — like Messi's thigh and hamstring problems — nor can it be allowed to develop into one. However, he is only 21 and is still growing. Barcelona's haste in having Messi back on the field was proven to be disastrous as the Argentina captain simply could not return to fitness. Only after a decent winter break has Messi been able to run freely again.
In fairness, Neymar has a relatively clean injury record in his career to this point but concerns were raised when he arrived at Barcelona because of his puny frame. Added to that was the discovery that he was anaemic. He does not possess an athletic frame like a Zlatan Ibrahimovic or a Cristiano Ronaldo and he likely never will.
At Santos, Neymar was indulged. He played only 17 times in the entire 2012 Brasileirao campaign in between matches for the national team. He started playing for Barcelona immediately after the Confederations Cup — without a good rest in the summer. He has already played 16 Liga matches for Barcelona. Neymar's body is surely not yet accustomed to such intensity and he will need to be carefully nurtured back to full fitness — regardless of commercial interests in him.
The incident Thursday served as a reminder just how fragile Neymar's participation in the upcoming World Cup is. He has been promoted as the face of the tournament in his home country of Brazil. It is inconceivable that the World Cup would be staged without his presence. He is the star attraction.
Neymar's predecessor at Barcelona and in the national team, Ronaldo, played plenty of times when he was not fit and should never have been selected for the World Cup final in 1998. That night in Paris was shameful to all involved in Ronaldo's selection. It showed what happens when athletes are pressured into playing when their coaches should know better.
The CBF, Barcelona and indeed Nike know the risks if they prompt Neymar to return before he is naturally fit. They must not let history repeat itself.
UEFA must now follow FIFA's lead on Kosovo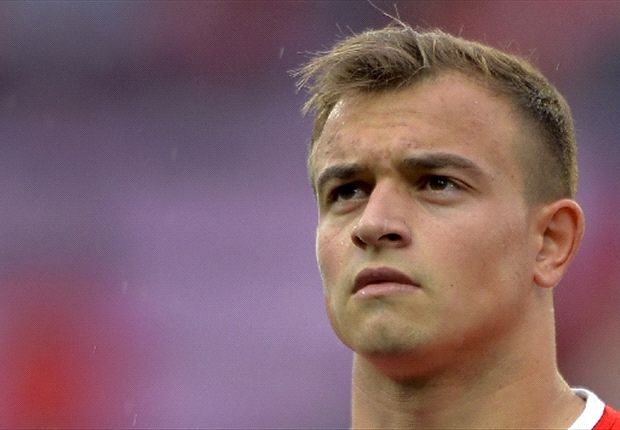 This was a landmark week for football in Kosovo as FIFA gave the green light for full friendly matches involving clubs and national teams from the region to take place against FIFA members. FIFA president Sepp Blatter chaired a meeting between the Football Association of Serbia (FSS) chief Tomislav Karadzic and his Kosovo (FKK) counterpart Fadil Vokrri.
Kosovo must comply with certain "modalities" after the latest breakthrough — restrictions on the use of national symbols — and the FKK must also give 21 days notice of any home game so FIFA can inform the Serbs. Until further notice, Kosovo will not be allowed to compete against former Yugoslav teams.
FIFA had previously allowed national teams representing Kosovo to play friendly matches but, after extensive appeals from Serbia, the permission was later reduced to youth, amateur, women's and club teams.
Any senior Kosovo national team given full FIFA membership in the coming years would likely feature Xherdan Shaqiri and Granit Xhaka — who both signed a petition to FIFA on behalf of the FKK for membership — while Adnan Januzaj is also eligible.
Nonetheless, UEFA will continue to freeze Kosovo out, ostensibly on the proviso that it is not formally recognized by the "international community" — that is the United Nations. More than half of the UN member states officially recognize Kosovo as well as 23 of the EU's 28 members. With Serbian ally Russia a permanent member on the UN's security council that is unlikely to happen any time soon, and UEFA president Michel Platini knows it. It is a flimsy excuse.
The Gibraltar Football Association (GFA) was added to UEFA's membership list last year following exhaustive appeals. By the end, Platini had no choice but to admit Gibraltar, despite Spain's steadfast opposition. Gibraltar is by no means a UN member state but was admitted on the basis that its initial application for UEFA membership in 1997 predated UEFA's stance on any prospective members being recognized by the "international community" (2001).
Likewise, the Home Nations — comprising England, Scotland, Wales and Northern Ireland — are not member states of the UN and are beneficiaries of a historical precedent.
UEFA's case against Kosovo is far from watertight and a glimmer of hope has been offered this week. Soccer is often spoken about as being able to transcend politics and now is an ideal opportunity to help nurture the game in Kosovo from bottom to top.
"I congratulate Kosovo's entire sporting community for this achievement," Kosovo Prime Minister Hashim Thaci wrote on his Facebook page this week. "I express the hope that in the near future, the Kosovo Football Federation will be an equal member of UEFA and FIFA where today's limitations will not be valid any more."
Sepp Blatter takes plenty of criticism in other realms, some of it deserved. But his crusade to "let them play," as he says, in Kosovo, is admirable. Whether there is a political element to his position, in taking up the contrary position to Platini, is another matter.
"The decision taken by the FIFA Emergency Committee represents a major boost for football development in Kosovo and it once again confirms the extraordinary power of our sport to bring people together," Blatter said in a statement.