Canada is preparing a bid to host the 2026 World Cup. This is good news.
Victor Montagliani, president of the Canadian Soccer Association, told
MLSsoccer.com
that his organization has been continuing to lay the groundwork for a potential bid that was first made public last year in
a report by CBC Sports
.
"We're the only G8 country that hasn't [been selected to host] a [senior men's] World Cup," Montagliani said. "Also, out of all the tournaments FIFA has, this is the only one that we haven't [been selected to host.]"
The report at the MLS website has brought on the expected mix of excitement and doubt, with the latter seeming to be the prevailing sentiment among those who drive much of the soccer conversation in this country.
If there's one thing that Canadians are good at it's self-deprecation, and nowhere is this attitude more prevalent than in the domestic soccer scene.
But why
can't
we aim to host a World Cup?
As Montagliani states, we're a G8 country -- one with a stable economy and a lot to offer as a potential host. In addition, not only is Canada the lone remaining member of the G8 not to have been awarded World Cup hosting rights, it's also the worst soccer nation of the eight. By far.
While some may see this as a negative, it may actually be the opposite. FIFA has been all about lending a helping hand to emerging soccer markets in recent years, and Canada's duality as a strong nation that's not very good at the world's game could be seen as a welcome challenge for the keepers of the sport.
And let's be honest here, if being good at the game was a pre-requisite to host, then we'd never have seen the tournament awarded to Qatar or South Africa. Even the mighty United States, who have looked every bit a world power in 2013, would have been excluded from hosting duties back in 1994, as they weren't exactly the well-oiled side back then that they are now.
Our southern neighbour's sharp rise over the past two decades is part of what's driving Montagliani and the CSA. One only has to look at the knock-on effect that hosting the 1994 tournament has done for the U.S. to see why the honchos of Canadian soccer are taking 2026 very seriously.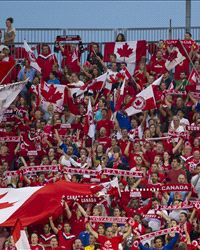 We've already seen similar effects here from past FIFA tourneys, albeit in much smaller doses.
Canada has successfully hosted every FIFA event outside of the two senior-level tournaments, and the country is less than two years away from welcoming the best female players on the planet to the 2015 FIFA Women's World Cup.
There's little doubt that 2015 will be a success either, given that Canada has proven to be a groundbreaking host to every FIFA tournament played in the Great White North.
The 2002 U-19 Women's World Championship -- the first female FIFA youth tournament -- was a smash hit, with hundreds of thousands of Canadians packing the stands to set the tone for future editions. The 2007 U-20 World Cup set attendance records for that tournament and served as a catalyst for a soccer boom that can be credited for helping accelerate the formation of the country's three MLS franchises.
Both tournaments also broke domestic television records, leading to increased interest in the game. Just think what the 2026 World Cup can do for the sport on a national level.
Of course, there are hurdles that need to be cleared.
Big ones.
Currently, Canada's large stadium infrastructure is quite lacking, with only a handful of modern facilities capable of meeting FIFA's high standards for hosting. But 13 years is a long time, and we're already starting to see more new stadium projects come on line recently.
By 2015, there will be new or massively renovated stadiums in Vancouver, Winnipeg, Hamilton and Ottawa, with
a facility for the Saskatchewan Roughriders set to open in Regina in 2017
. Of the newer buildings, only the renovated BC Place in Vancouver -- along with older stadiums in Edmonton (Commonwealth Stadium), Toronto (Rogers Centre), and Montreal (Olympic Stadium) -- will meet the 40,000-seat minimum required for World Cup venues, but the others are being built with expansion in mind, as Grey Cup hosting bids are, like FIFA, dependent on larger capacities.
Beyond the stadium issue, there is the unenviable task of getting the local governments on board, along with rounding up enough corporate support to make a World Cup viable. These are huge asks and incredible financial gambles -- just ask Australia -- but when does something that could have such a massive positive impact ever come without risk?
A World Cup in Canada would be a huge success. The CSA's continued comments on the subject have indicated that, at the very least, the will is there to land the big fish.
You can only achieve what you aim for, and for too long in this country we've been content to let others have all the fun. It's time for Canada to take a seat at the adult table.
If Qatar can do it, why can't we?