The best team won the 2010 World Cup final. There can be little argument about that.
There aren't too many nations in South Africa that encapsulated the word 'team' and team spirit more than Spain, especially on the pitch.
Andres Iniesta's superb winning goal for La Furia Roja was yet another classic team goal from the newly crowned 2010 world champions. Cesc Fabregas and Sergio Ramos combined to rob Eljero Elia off the ball – some Dutch fans may argue illegally – Jesus Navas broke on the counter-attack, Iniesta's sumptuously cool backheel released Fernando Torres, before Cesc picked up the loose ball from his cross to feed in 'Don Andres'.
Off the pitch, this Spain side, assembled initially by Luis Aragones and sustained so wonderfully by Vicente del Bosque, are a real, genuine team. And they have shown just how much they've continued to grown since their Euro 2008 glory, and the team spirit they've shown in South Africa has been exemplary.
The ultimate paradox in this La Seleccion ouftit is that they have a team brimming with superstars, on the pitch and on the bench. Yet, there are no superstars when they play, there are no egos in the dressing room, there's no one bigger than the team.
Torres and Fabregas have had to quietly warm the bench; Pedro Rodriguez had to bide his time before making his World Cup debut, Fernando Llorente, who made such a crucial impact in the last-16 against Portugal, never saw another minute on the pitch again; world class goalkeepers Pepe Reina and Victor Valdes have had to take a backseat to San Iker Casillas; but no one complains.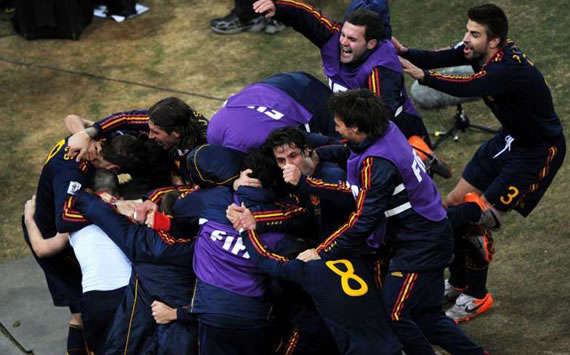 The 23-man Spanish Armada are fully aware that they are here to do one thing, to help the country win their first ever World Cup, not to become the superstars of the tournament.
It hasn't always been this way, of course. The Spanish national team have been infamous for the quiet internal disharmony, either because of seniority – the Fernando Hierro and Raul hegemony for instance – or because of the national divide, or something else that would always threaten Spain's World Cup campaigns.
But not anymore. Collectively, they have overcome all obstacles that have blighted their past squads and tonight, on July 11, 2010, they have buried the ghost that has haunted them all this while: the World Cup ghost.
It was fitting how the team spirit was shown when Sergio Ramos dedicated the World Cup triumph to his late former team-mate from Sevilla, Antonio Puerta, while hero Andres Iniesta dedicated his winning goal to his departed friend, Dani Jarque.
All that's left to do now for this talented Spain team is to defend the European championship. And win the 2014 World Cup.
Congratulations to Spain... 2010 world champions. Antonio Puerta and Dani Jarque... we remember you.
The 2010 World Cup is finally here, so keep up to date with all the news at Goal.com's World Cup homepage and join Goal.com USA's Facebook fan page!