Andrea Canales
: USA versus Slovenia! Predictions?
Allen Ramsey
: It's got to be the USA winning. Call it 2-1 because I think it will be close. I think the USA has plenty of swagger coming in and they'll be confident enough to take control of the match in the second half.
Shane Evans
: They have to win, and will. I'm going a nice clean 2-0 result. Send the confidence through the roof. The final will be up next...
Canales
: Man, I dunno. Slovenia has a win, which the USA doesn't, and they're going to defend like mad. The USA will be hard put to score. I figure they manage it, but just barely. 1-0.
Zac Lee Rigg:
The USA doesn't get up for small matches. Another flukey 1-0 win for Slovenia.
Canales
: No, Slovenia won't get past Tim Howard that easily. Who do you have scoring in the game?

Ramsey
: It's 1-1 late and Jose Torres gets the winner from a freekick. Jozy scores the other for the USA.
Luis Bueno
: Slovenia is going to play eight or nine behind the ball, and they did have a tough defense in qualifying; only gave up four goals in 10 games in a group with Slovakia and the Czech Republic. However, I think the U.S. is a better team and has some dangerous players, and the U.S. is confident. That's good for a 1-0 U.S. win.
Canales
: I say Buddle scores - he and Donovan connect on a play that slices though the Slovenia defensive wall.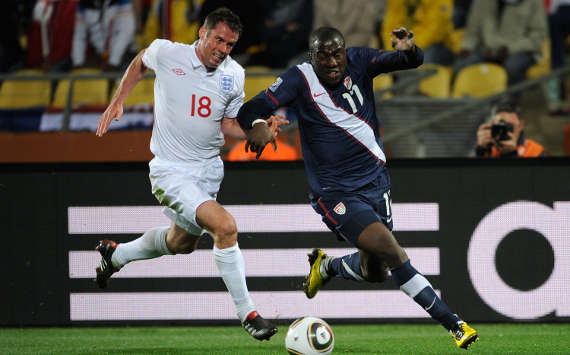 Evans
: I think Jozy does the damage. He'll want to make up for a pretty dull showing against England.
Bueno
: I think we'll see Edson and Jozy up top, trying to muscle past the Slovenian defense. That might soften them up for Robbie Findley and Herculez Gomez if need be, but I don't think the U.S. will need a late surge of offense. Landon will become the second U.S. player on this team to score in two World Cups.
Rigg
: I'll go with a DeMerit own goal.
Evans
: I called Spector to score one week in the TFE...and he did. It was an own goal, but yeah, he scored.
Rigg
: Oh I'd go for him scoring an own goal but given the form of Cherundolo, Spector won't see the pitch.
Evans: Yeah, I'm with ya, I was just trying to relate.
Canales
: Zac, you've been so pessimistic on the USA team of late - any particular reason? You had them losing the opener, no? On a last minute PK call? Or do I have that confused?
Rigg
: No, I had them drawing the opener. Which they did.

Canales
: Oh, right, you said they'd be leading - and then the penalty.
Rigg:
I think this team peaked in last year's Confederations Cup and don't really expect much in this tournament.

Bueno
: They had some decent performances after the Confed Cup in 09.

Canales
: I have to agree the Confed Cup team was better - if only for Davies. But that team also had a healthy Onyewu, though I think he's getting there.
Bueno
: Thus far, the U.S. has had a better start to this tourney than that one.
Ramsey
: This team has seen the peak, but they haven't reached it yet.
Canales
: Well, the referees have been better, Luis, which has been crucial.

Ramsey
: That win over Spain was a glimpse at what can happen, consistency in performances can make more big results possible.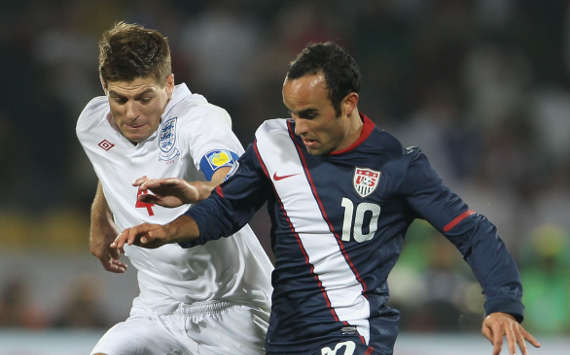 Canales
: That's what Landon Donovan recognized when he said after the England result that the team can have a good game and then a let down, and then vowed the let down wouldn't happen. We'll see.

Bueno
: Well, there's no guarantee that any player from last year was going to perform again this year. I mean, wasn't Spector sending in nice crosses from the right side a year ago?

Ramsey
: I honestly think this team is stronger. Cherundolo is fit, Edu is fit, Torres has actually seen the field.
Canales:
Some players have stepped up this year. Herc and Buddle come to mind. I think Torres is better than he was last year, too.

Bueno:
And Torres didn't step on the field last year, and not many were complaining about it. Not to mention Buddle and Herc have had a wicked scoring rate this year as well.

Canales:
So it's improve some, regress some.

Ramsey
: The only real drop, judging from the opener, is with Davies being out, and honestly I thought Findley looked good against England.
Canales
: Maybe it's a wash.
Bueno:
It's just silly to compare last year's team to this year's team, though.
Canales
: But which team has the USA played lately that's been most like Slovenia? Australia? I think Turkey is better than Slovenia, and they did fine there. I'm not counting the Czech Republic, because of the key starters who were out.
Rigg
: I think the idea of the Slovakia friendly was that the team is similar to Slovenia.
Ramsey
: I would agree. But I think Slovakia is considered the better team.

Canales
: We had a Slovakia friendly?
Bueno
: A memorable one.
Rigg: Yeah, that's back when Cunningham and Findley got their first looks in.
Canales
: Oh yeah, but not only was that last year, that squad didn't have Howard, Donovan, or Onyewu.
Ramsey
: And, let's face it, Slovenia need to attack us, Slovakia didn't. Slovenia won't want to leave it up to that final game against England.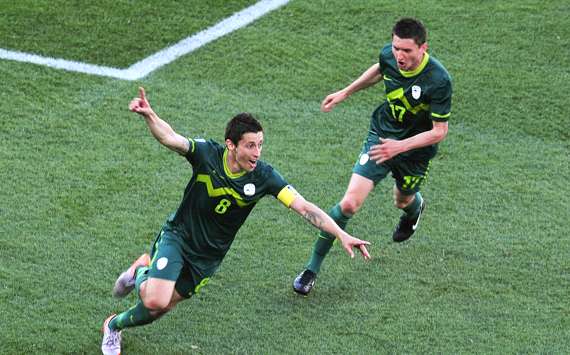 Rigg
: Slovenia has no one near the talent of Hamsik, which helps.
Bueno:
Here's one factor to consider though about Slovenia: they still have to play England. If they sit back and go for and get a draw, they will have four points to the Americans' two. England could have four points as well heading into the final game.
Ramsey
: And still it's not safe.
Bueno:
So Slovenia could have four, lose to England and get bounced with a U.S. win.
Ramsey
: Exactly. And by the way, I don't think England will cough up another result.

Bueno
: A draw is not that great for them unless England loses or ties against Algeria, and what are the odds of that? And they probably feel the U.S. is a beatable opponent. I still expect to see a lot of defending from Slovenia, but they will have to go forward at some point.

Ramsey
: They have no choice.
The Goal.com editors have had their say, now it's your turn! Tell us what you think in the comments below.
The Editors' Roundtable runs every week on Goal.com
Visit the U.S. national team page on Goal.com for more and join Goal.com USA's Facebook fan page!