Stuart Holden plays for two.
The young midfielder was born in Aberdeen, Scotland, and moved to the USA at the age of ten after his father landed a job in Texas. Eventually, Holden would debut with the local Major League Soccer club there, the Houston Dynamo, helping the club win championships in 2006 and 2007.
Though Holden keeps his Scottish roots close to his heart, he decided to play with his adopted country, the USA, and became a full citizen in 2006.
"Our whole family became citizens so it wasn't like it was just me," Holden told the Scotland on Sunday paper last year.
"We are proud to have lived in the States for 14 years. We're also proud of our Scottish heritage, but when it came down to a footballing choice between the US and Scotland, I felt loyalty to the US. They were the first ones to contact me and show an interest. For me, it was a no-brainer."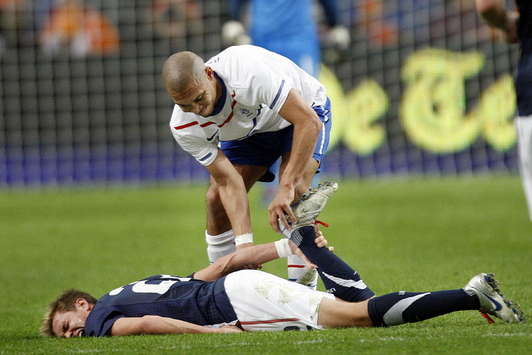 A picture on Holden's website captures a bit of his dual loyalties - he did a recent photoshoot wearing a USA jersey with a Scottish kilt.
Yet in some ways, Holden was a mix of cultures even before his USA arrival - his father, Brian, was actually born in England.
Though Holden played in some earlier youth-level tournaments, including the Olympics, he only made his debut for the senior squad of the United States last year. He made his first match, versus Grenada, a memorable one, scoring a goal.
As joyous as that moment was, there was also a lot of sadness for Holden in 2009, since his beloved father passed away in February after losing a six-year battle with pancreatic cancer. Although his grief was overwhelming at times, Holden found consolation and purpose in the sport father and son both loved.
"Soccer has really kept me going and kept me working hard," Holden explained in an interview last year. "I just know that wherever he is now, I'm making him proud."
Holden pays tribute to his father with his passionate support of cancer patients through a charity he established,
Holden's Heroes
. He also wears a
LiveStrong
cancer bracelet that he never takes off. During matches, it is tamped down to his wrist with athletic tape so it won't run afoul of FIFA regulations regarding loose jewelry.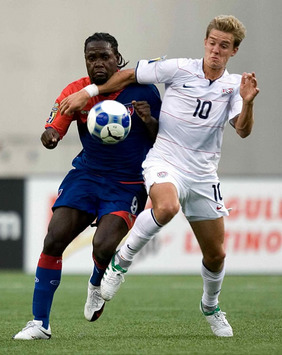 So Holden plays for the USA, but also a little bit for Scotland, too. He plays for himself, but a lot for his father as well. His is an immigrant's story of triumph and tragedy, family ties and living the American dream.
Perhaps it's no coincidence, then, that the Scot raised in Texas had a particular song in mind after taking part in the USA's unexpected 1-1 draw versus favored England in the first game for the Americans in the World Cup. It was a country song that Holden couldn't quite remember the title of, though he knew it was by the duo Brooks and Dunn. He asked for help via Twitter, until someone provided the right title, "Only in America".
Only in America
Dreaming in red, white and blue
Only in America
Where we dream as big as we want to
We all get a chance
Everybody gets to dance
Only in America
Visit the U.S. national team page on Goal.com for more and join Goal.com USA's Facebook fan page!