Sprain opens up a spot.
USA first-choice striker Jozy Altidore suffered a mild sprain in training on Wednesday. While his day-to-day status indicates that the forward will be ready to go well before the Americans open their World Cup against England on June 12, Altidore will undergo a fitness test Friday in order to determine his readiness for Saturday's match against Australia.
For the sake of argument - and because the United States coaching staff would be out of its mind to let one of the most indispensable players risk re-injuring himself - let's assume he fails.
The question then becomes, who starts in the two striker positions for the Americans against the Socceroos?
Clint Dempsey holds the key. After the match against Turkey, the Fulham man said he preferred playing in the midfield, but Bob Bradley has a decision to make. Should he go against the wishes of his player -- certainly the coach's prerogative -- and move Dempsey up top or trot out some untested combination of Herculez Gomez, Robbie Findley, and Edson Buddle?
He should do the former. Stuart Holden has shown he's an able replacement for his Texas compadre in midfield. He might not have Dempsey's sheer creativity and ability to alter the game in one brilliant moment, but the Bolton transfer crosses the ball better in the run of play and on set pieces, plays superior defense, and has an overall higher work rate. (Also, it doesn't hurt to have the man with a knack for scoring unbelievable goals close to the net.)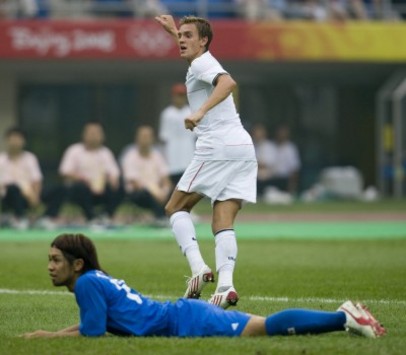 The decision is as much about Holden's ability as it is about a lack of faith in the trio of strikers. While Gomez and Findley played well against the Czech Republic and Turkey, respectively, expecting the pair (or one of them with Buddle) to create over an entire 90 minutes is asking too much.
The line up will be Dempsey up top with Holden on the right, but who starts in the other striker position?
Buddle.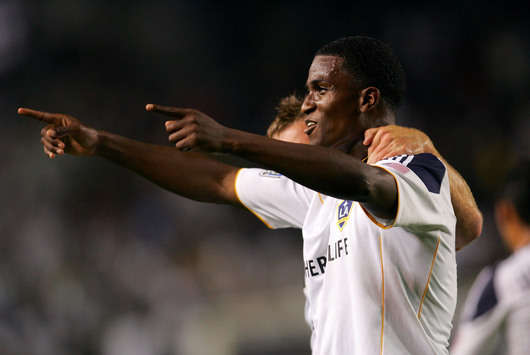 When discussing cutting the team from 30 to 23 players, Bradley constantly harped on the desire to build a roster that could account for all scenarios. An injury to Altidore is one of the nightmare situations, but there's a contingency plan. There always is with the American coach. That preparation is Bradley's genius.
No one will mistake Major League Soccer's leading scorer for the hurt 20 year old he's replacing, but Buddle can fill in as an adequate target man. Plus, this is a friendly. Give him and Dempsey 45 minutes, see how they do, then switch up the roles. Bring on Gomez or Findley (or both). It's likely they were going to see some minutes even before Altidore went down.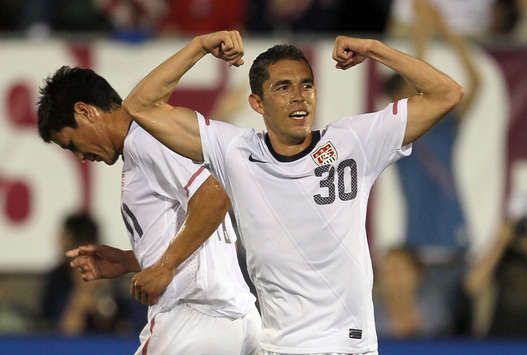 The takeaway? A day-to-day ankle sprain isn't the black cloud of World Cup doom some make it out to be. Sure, having a fully fit squad for the entire tournament would be nice, but that's not realistic. Altidore missing the Australia match hurts, but it gives (okay, forces) Bradley to try some different options, something he was probably going to do regardless. The forward watching from the sidelines is a minor bump in a long World Cup road.
If he misses June 12, however, well now that's a problem.
Noah Davis (@noahedavis) covers the United States Men's National Team for Goal.com and will be reporting from the World Cup in South Africa.


The 2010 World Cup is fast approaching, so keep up to date with all the news at Goal.com's World Cup homepage and join Goal.com USA's Facebook fan page!