Turkish national team coach Fatih Terim cuts a stern figure, and his no-nonsense demeanor suggests he generally means what he says. So when he responded 'Altidore' after being asked which U.S. players impressed him the most, you knew Jozy Altidore had himself a good day.
No, Altidore didn't find that elusive first goal of 2014, but he played his best national team match of the year, and probably his best match overall of 2014 in Sunday's 2-0 victory against the Turks. He provided consistent pressure on the Turkish defense, using his strength to out-muscle central defenders and serve as the focal point of the U.S. attack.
"Overall, again a very energetic performance," U.S. head coach Jurgen Klinsmann said of Altidore. "He keeps the whole back line busy, and that's what the other coach sees. He sees that he can't let any center back kind of just go into midfield because he feels that guy is then taking two guys on all the time."
Terim also praised Altidore after the match.
"He's a very powerful striker," said Terim. "The type of striker that the center backs don't like much. He likes to hold up the ball, therefore his teammates can join in the attack. He's a very important player."
"I think the most important thing is that the team looks really good," Altidore said after the match. "You saw that we created a lot of chances. I think the icing on the cake was Fabian's goal because we've been working so much on involving everybody and it was positive."
Despite the rave review of his play, Altidore is still carrying the burden of a goal drought in all competitions that goes back to Dec. 4, 2013, in a Sunderland match against Chelsea. His last U.S. national team goal came in an October World Cup qualifying win against Jamaica.
In the time since that goal Altidore has started in six national team matches, but has been unable to find the incredible form he enjoyed with the national team just a year ago. Starting last June, he scored in five straight U.S. matches to set a new record for consecutive matches with at least one goal.
Klinsmann remains confident that Altidore can regain that red-hot 2013 form again, and believes his recent form is a sign the striker is headed in the right direction.
"It is the Jozy that we want to see," Klinsmann said of Altidore's showing Sunday. "He will, sooner or later, break through with goals. You've got to work for it, stay hungry and grind it out and sooner or later, it's time and, 'boom', the ball is in the net."
Altidore enjoyed a bit of a homecoming on Sunday, having played for the New York Red Bulls in the early part of his career. He also was born in New Jersey and lived there until the age of three, before moving to Florida prior to turning pro.
"I love playing here. It's so good being back here in front these fans," Altidore said. "I have a lot of great memories with these people, so it would have been nice (to score) but at the end of the day we won and the team looked strong so that's the most important thing."
Here are some other observations from the U.S. national team's victory against Turkey:
BROOKS SHINES, CHANDLER STRUGGLES AS U.S. DEFENDER AUDITIONS CONTINUE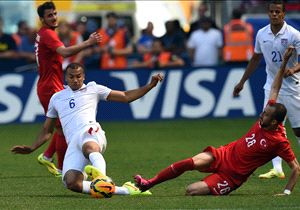 Timmy Chandler was turning in a passable performance at left back against Turkey until late in the match, when fatigue appeared to get the better of him just as Turkey turned up the pressure in search of goals. The way he looked late in the match was eerily similar to how he looked in the U.S. team's World Cup qualifying loss to Honduras. It was the same match that cap-tied Chandler to the U.S., and also the last match he played for the team for more than a year before his appearance against Azerbaijan.
While Chandler ended poorly, John Brooks played very well in his 45-minute outing in the second half. The 6-foot-4 Hertha Berlin central defender moved well for his size and cut out several Turkey attacks. If he continues to play at that level, Brooks could move past Omar Gonzalez on the depth chart, and potentially challenge for minutes in Brazil.
GREEN HAS SOME MOMENTS, BUT FAILS TO DAZZLE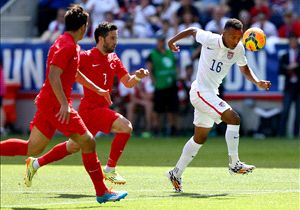 Every time he steps on the field for the U.S., Julian Green will face major expectations, but anyone hoping for heroics on Sunday came away disappointed.
Green only had a few touches in his 24-minute cameo, failing to really make his mark. To his credit, he did appear to draw a penalty only to have the referee ignore a questionable challenge in the penalty area.
"I think he has his sparks," Klinsmann said of Green. "We see that now in training. For him, that workload that we did those first two weeks was a lot for an 18-19 year old boy. We see that, but in every session now he gets fresher and fresher. His body language gets stronger, so he's getting there to take people on.
"Not talking about the referee now, it's a friendly game, but he drew a clear penalty again like he did against Mexico," Klinsmann added. "That's two goals, theoretically, if they give that, so he's coming along. You see him. He's connected with the guys and he feels more and more part of it. It's exciting."
HOWARD FINDS U.S. TEAM YOUNG AND LOOSE
Tim Howard recorded his 99th international cap on Sunday, and though he is one of the team's most experienced players, he sees the considerable amount of youth on the current U.S. World Cup team as a strength, not a weakness.
"We're such a young team, inexperienced in a good way," Howard said. "Guys are just hungry. They're so excited, chomping at the bit try and get down to their first World Cup. We don't seem daunted and fazed by it.
"Pressure's a funny thing," Howard added. "We'll see what happens when we step on the field, but right now, in and around the hotel and at training, things have been very loose."
Howard also praised the impressive turnout by U.S. fans at Red Bull Arena, who filled the stadium with a sellout crowd.
"I just think the way the American Outlaws have kind of evolved has been great," Howard said. "The fact that there's thousands of them and they take up the section behind the goal every game everywhere we go, that's a step forward in this country and we enjoy it.
"We enjoy the support, knowing that they're there, especially in the big games it helps," Howard said. "It always helps to home field advantage and we've always talked about that over the last five to 10 years. We hadn't had that before and now we really have the advantage and that's good."