It was during the 2002
World Cup
that Bruce Arena famously called the World Cup a "young man's game."
Jurgen Klinsmann seems to agree.
During that tournament in South Korea and Japan, Arena's U.S. squad ventured to the quarterfinals largely thanks to the contributions of two 20-year-olds — Landon Donovan and DaMarcus Beasley — who combined to make five appearances in qualifying. What they lacked in experience they made up for in pure pace and audacity.
For as much weight as the "dance with the one that brought you there" notion may carry, the World Cup is played some two years after that grueling qualifying campaign kicks off. Aging veterans fade. Promising prospects emerge. To many coaches, the enticement of the unknown is worth the risk. No one wants to be the manager who had a rising star in his ranks but settled for veteran mediocrity.
SHOULD WE BE SHOCKED?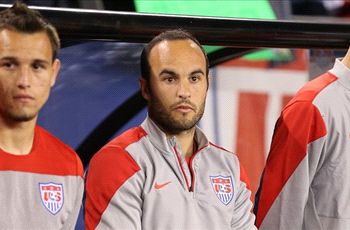 By Ives Galarcep

STANFORD, Calif. — Landon Donovan will not be going to the World Cup.

As shocking as it was to not see Donovan's name on a U.S. World Cup roster for the first time since 1998, it really shouldn't have been that unthinkable. Not after hearing Klinsmann's haunting comments in the first episode of the ESPN behind-the-scenes series covering the U.S. World Cup preparations.

READ MORE
Which brings us to John Brooks, DeAndre Yedlin and Julian Green. Brooks, 21, has played three times for the U.S. national team. Yedlin, 20, has logged two matches. Green, 18, has one cap. None of them had any international appearances a year ago. But all three were included in Klinsmann's 23-man squad unveiled Thursday.
Brooks made the cut at the expense of Clarence Goodson, the lone defensive holdover from the 2010 World Cup team. The 32-year-old was a good soldier for Klinsmann, helping bridge the center back gap from the era of Carlos Bocanegra, Oguchi Onyewu and Jay DeMerit to the times of Matt Besler, Omar Gonzalez and Geoff Cameron.
Yet Goodson's upside was limited. Brooks is a 6-foot-4 starter in the German Bundesliga for Hertha Berlin. He hasn't looked terribly sharp in limited opportunities wearing a U.S. uniform, but for Klinsmann it's a necessary roll of the dice. Brooks could be a staple of the national team picture for a decade. To Goodson, experiencing this second World Cup was his ceiling.
The same logic applies to Yedlin, the blazing fast Seattle Sounders right back who still has plenty to learn on the defensive side. Brad Evans and Michael Parkhurst earned the lion's share of the minutes at right back for the USA over the past year, providing steady but unspectacular play. They did what was necessary for the Americans to qualify.
But against World Cup opposition — in a group with Germany, Portugal and Ghana, no less — going to Brazil with "steady but unspectacular" probably won't cut it. Klinsmann knew he had to make bold choices. Could Yedlin be a breakout star bombing up and down the right flank? Sure. Could he be a disaster, overwhelmed by the stage? Maybe.
The outlier here is Green. While Brooks and Yedlin are at least regular starters on the club level, Green has just one first-team appearance for Bayern Munich. Whether his inclusion is merely about experience for the future remains to be seen. It would be ironic if Green was the clinching factor in Donovan's controversial omission, 12 years after the Americans' run in South Korea.
Brooks and Yedlin, however, represent more definitive gambles. Klinsmann apparently felt he needed to take some chances for the USA to advance from the "Group of Death," and he would rather risk crashing out with that youthful duo than limping out with Goodson, Parkhurst or Evans.
And he's certainly not the first World Cup coach to follow that train of thought.
Follow THOMAS FLOYD on