Diego Simeone leading Atletico de Madrid to the brink of titles in the UEFA Champions League and La Liga may have come as a surprise to most, but one of his former Atletico teammates says he knew the Argentine had the ability to take the club to great heights.
Peter Luccin, who was a regular starter for the Rojiblancos from 2004 until 2007 and was occasionally joined in midfield by Simeone during the 2004-05 season, could see Cholo's mind for the game.
"The truth is we knew that he was going to become a manager," Luccin told Goal USA. "He saw everything. He saw the smallest details. The truth is what he's doing right now doesn't surprise me. Why? Because I saw him as a player. A player with charisma, with a lot of hart, and it can be seen in the Atletico team now. The team is built in Chepo Simeone's image."
That image is one that prioritizes the team over one star player, Luccin said. Unlike its other Liga rivals, Barcelona and Real Madrid, the collective would continue thriving even if a key contributor had a slip in form or an injury.
"Truly, everything (Atletico) is doing now is spectacular," the Frenchman said. "It's not just the players they might have, it's the team. It's not just one player, like people talk about a lot Diego Costa, others about Koke, about Ada Turan. No, it's a team.

"That's how Atleti is. It doesn't depend on individuals, you know? It's a complete team."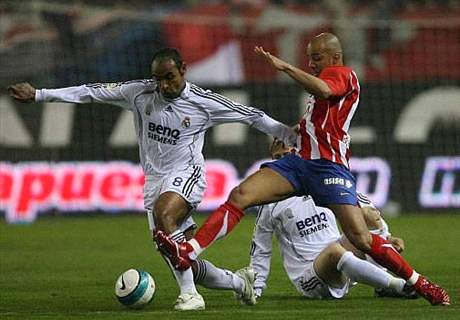 Luccin's Atleti had less success against Real than this year's squad
When Luccin, a Frenchman who played at Bordeaux, Marseille and Paris Saint-Germain before moving onto Spain, was at Atletico, the club was always in the middle of the table. Its best finish was in the defensive midfielder's final year, when a spot in seventh clinched qualification to the UEFA Intertoto Cup.
Yet despite the team seeming stuck in the middle, the current FC Dallas man could see the club was on the rise. Since returning to the first division in 2002, Luccin says the team has been making a steady ascent, with a pair of Europa League and Super Cup victories helping the club to increase its position in the table and economically.
"The truth is Atleti is a great club. After Real Madrid, after Barcelona, comes Atletico Madrid, right?" Luccin said. "Everything it's doing now, it might not be normal but it's deserved. It deserves it because of the history of the club, (and) because of the fans."