WASHINGTON — Mike Petke called it a "very jagged pill to swallow." Thierry Henry went with "a bit unlucky." Dax McCarty deemed it a "minor travesty."
Whatever you call it, the
New York Red Bulls
' 1-0 loss at D.C. United on Saturday was a textbook case of the result belying the match. United coach Ben Olsen acknowledged as much postgame. The Red Bulls seized 57 percent of the possession, fired 19 shots — including one that rang the post — and generally dominated proceedings from the 35th minute on.
Yet New York found itself ruing another missed opportunity in this young 2014 season, dropping to 0-2-4. For a team that brought back almost every key contributor from last year's Supporters' Shield-winning side, with the six-game winless stretch comes some uneasiness.
D.C. UNITED SHOWS METTLE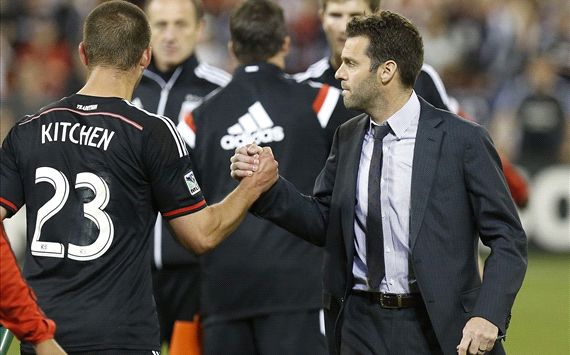 By Seth Vertelney

WASHINGTON — Good teams win games even when they're not at their best. On Saturday evening's evidence, D.C. United — winner of three games in 2013 — may just be on its way to being a good team.

At RFK Stadium against the New York Red Bulls, DCU was outshot 19 to 12, and outpossessed 57 percent to 42 percent. It mattered little for the visitors though, as Ben Olsen's men won 1-0 to clinch their first back-to-back wins since 2012.

"It was a good old-fashioned grind out with a little luck on the side," Olsen said. "We've got a lot to work on and until we get to that point it's important to find ways to get points in this league, and we found a way today."

READ MORE
"Now it's starting to creep in a little bit," Petke said. "We're still far from pushing the panic button, far from anything like that. But now it's getting to the point, especially after a game like this ... that's it's going, 'What the hell is going on here?'"
The answer to that question, against United at least, was actually some pretty good soccer. With that in mind, the New York coach is putting the result in the right light.
Pushing for the equalizer, the Red Bulls didn't just create opportunities — they looked good doing it. The combination play flowed as the Red Bulls used quick touches and smart movement to find gaps in United's defense. The likes of holding midfielder McCarty and left back Roy Miller pinched into the attack from deeper positions to put the numbers game in New York's favor.
One particularly sharp sequence ended with Eric Alexander's curling effort just buzzing past the upper corner. Another saw Peguy Luyindula strike the post.
Although Henry missed a pair of point-blank chances that he typically converts with aplomb, the French star's performance still oozed class. The 36-year-old's pace and endurance have dimmed, but he makes up for it by floating into prime positions and finding his teammates with quick, clever layoffs.
"I'm very critical usually," Henry said. "But if we carry on playing like we played in the second half in the games that are coming soon, we can get on a good run because there is nothing (negative) to say about how we played after 30 minutes.
"We were playing football — not playing long balls and hoping that we can score on the counterattack. I think today we played the way football should be played."
It's also still early. Really early. In fact, winless New York could move within two points of first place with a victory Wednesday at Red Bull Arena against the Philadelphia Union. With four of New York's first six matches on the road, the upcoming two-game home stand will be welcome.
And don't forget that the Red Bulls at RFK Stadium were without the services of Tim Cahill (hamstring), whose gritty skill set and aerial prowess are critical to New York's attack. Add the Australian back to the equation — possibly as soon as Wednesday, Petke said — and the club has a 2013 Best XI selection to provide those quality buildups with a finishing touch.
As McCarty said, "The score should have realistically been 4- or 5-1, and that's being generous." With Cahill, maybe that's how the game would have gone. He's just one player, yes. But he's the heart and soul of New York's attack. He's the one who can will the team to a result when the bounces just aren't going the Red Bulls' way.

"We were the better team tonight, but the better team doesn't always win," Petke said. "I'm very optimistic and very excited about a lot that I saw out of my players, but at the end of the day we're in a results business. We didn't get the result."

No they didn't. But if Saturday was a sign of things to come, that'll change soon enough.

Follow THOMAS FLOYD on