He's hardly played in two years, but the dream isn't over for
Vancouver Whitecaps
forward
Omar Salgado
.
Fit now after he missed the entirety of the 2013 MLS season after fracturing the fifth metatarsal in his right foot for the third time in a two-year period, the 20-year-old is on loan with Vancouver's USL Pro affiliate Charleston Battery.
It's a bid to show he can play regularly, stay healthy and contribute at the professional level – this after his three-year spell with the Whitecaps has been stop-start in nature, largely interrupted by that initial injury in June 2012 suffered while with the Under 20 U.S. national team and the two re-fractures since.
The move came about after Salgado found himself out of new coach Carl Robinson's matchday squad for two consecutive weeks to start the season.
For a player who has missed so much time through injury, to miss out when healthy was agonizing.
"It was frustrating personally not to be able to play," Salgado told
Goal Canada
by phone from Charleston on Wednesday. "Every player wants to play. I think that's understandable. I talked to Robbo and we had a conversation. I explained to him that I felt like I needed to play some games, get my game fitness back after the last couple of years.
"They gave me two options – stick it out there, or come here. I decided to come here and get those games."
After the Whitecaps drafted him first overall in the 2011 MLS SuperDraft, the spotlight has followed Salgado to an extent – but he's desperate to ensure he's not a player that ends up on one of those "whatever happened to" lists.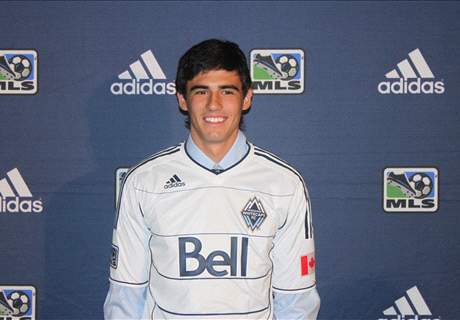 Omar Salgado has had a frustrating three years since being drafted first overall in 2011.
Although, unprompted during the phone interview, he revealed that once he fractured the same bone for the third time, the thought of a forced retirement before he really even had a chance to make his mark had crossed his mind.
"Adversity is something I have to get through," Salgado said. "I'm still trying to get through that. It's been difficult. Two years out is a long time in the world of football and people do forget about you. It's been difficult.
"Obviously I never really knew if I was going to be able to play again or not. I'm glad I can. Now I just want to get back to where I left off in June 2012."
But how serious were those thoughts of possibly being forced out of the game?
"I think a fourth break would have been catastrophic," Salgado said. "It passed through my head a lot. I had a lot of time to think. It was something that passed through my head, and it was difficult to stay positive at times, but I'm glad I'm through with it."
Salgado is confident there won't be another fracture to that foot given a different doctor performed the operation and a larger, supposedly more durable, screw was inserted into the bone.
"For the third break, I fortunately switched to Dr. [Bert] Mandelbaum in Los Angeles, who really got things going," Salgado said of the physician who has worked for FIFA and the U.S. national team. "He really fixed me up ... a different screw was put in, a bigger screw. The screw before that had been moving in my bone, which every time it moved, it would re-break the bone, which is why I played through so much pain.
"I played through it for two, three months before I broke it the third time – or while it was broken really."
The El Paso native's foot held up well in preseason, and over the weekend he made his debut for Charleston, coming off the bench to set up fellow Whitecap Mamadou Diouf for the game's opener in a 1-1 draw with Orlando City, bursting through midfield before sending the Senegalese striker through on goal.
Now the next step is to break into Charleston's starting lineup and play there for at least the next month-and-a-half to get a run of games before returning to Vancouver ready to make an impact.
"I need to get my head back in the right place," Salgado said. "Getting a little frustrated was getting to me, and coming here kind of lets me play, relax and enjoy the game again."