After a calendar year that saw Jurgen Klinsmann experiment with all sorts of lineups, formations and personnel, the big question surrounding the U.S. national team heading into 2014 is just which 11 players are most likely to make up the starting lineup that takes the field in Brazil next summer.
There is still plenty of time for things to change because in seven months you could see players lose their form, others gain their form, and some players rebound after rough years. Whether Steve Cherundolo makes a return from his injuries, John Brooks matures into the center back so many think he can be, or Timmy Chandler returns from his national team banishment, there are any number of variables that could wind up affecting the starting lineup Klinsmann ultimately settles on.
A total of 23 matches were played in 2013, which provided us with plenty of insight into which players are heading in the right direction, which players may be sliding out of the picture, and which players look like locks to start in Brazil. Here is a closer look at the 11 players we could see taking the field for the U.S. when the 2014 World Cup kicks off:
TIM HOWARD
Earlier in the year there was some clamoring for Brad Guzan to become the new No. 1, but Howard has responded to that challenge in style. With a strong second half of the year that reminded us just how good he can be.
GEOFF CAMERON
It took an injury to Brad Evan in order for Klinsmann to take a look at Cameron at right back and what we saw from him there against Austria should be a sign of things to come. Cameron has the length and athleticism to defend well, and he's gaining confidence in the attacking part of playing right back, as we saw against Austria. Brad Evans will continue to pose a challenge, but with Cameron earning regular starter minutes at right back in the English Premier League, look for him to take over the job.
OMAR GONZALEZ
A year of ups and downs concluded with Gonzalez posting some steady performances in central defense that suggest he's ready to take on the starting center back roll. He's dominant in the air, and when he's on his game, can move very well for a big man. His strengths make him a perfect complement to Matt Besler. Young German-American John Brooks is one to watch though, and could put some pressure on Gonzalez for the spot.
MATT BESLER
Earlier in the year, Besler made a memorable debut against Mexico in Estadio Azteca that sent a clear message he was a player to deal with at the center back position. His speed, positioning and ability to read the game and sniff out danger make him arguably the best center back in the pool, or at the very least the most consistent. Cameron, Clarence Goodson and Michael Orozco are some of the options Klinsmann could turn to if Besler winds up not being on the field in Brazil.
FABIAN JOHNSON
Klinsmann has tried Johnson out on the left wing, where he has been a serious threat, and even at right back, where he was less impressive, but when looking at what could be the most effective starting lineup, deploying Johnson at left back looks to be the best bet for fielding the strongest possible group. DaMarcus Beasley has held his own at times in the starting role, but Johnson is the better option.
LANDON DONOVAN
Donovan has had mixed results playing as a winger, but in this starting lineup his speed and combination play could be used to maximum effect. Let's face it, we can't picture a healthy and fit Donovan not starting in Brazil, and chances are he will be deployed wide if he does start. Here we put him on the left wing, where a Donovan-Fabian Johnson combination could cause real problems for opponents. Graham Zusi should push Donovan for playing time here, and Fabian Johnson can't be ruled out either if Beasley holds on to the left back spot.
JERMAINE JONES
This selection will raise some eyebrows, especially considering Jones' recent struggles in the November friendlies, but all signs point to Klinsmann going with the veteran German-born midfielder if he is healthy and playing regularly. Someone like Mix Diskerud, Sacha Kljestan or Kyle Beckerman could ultimately take the job if Jones continues to falter, but if not, the Schalke hard man is a safe bet to be Klinsmann's choice.
MICHAEL BRADLEY
The most indispensable player on the U.S. team, Bradley quite simply can't be replaced, and the question isn't whether he starts but rather who would serve as his best partner in central midfield. Whether he's playing regularly for AS Roma or not, a healthy Michael Bradley will be in the starting lineup in Brazil.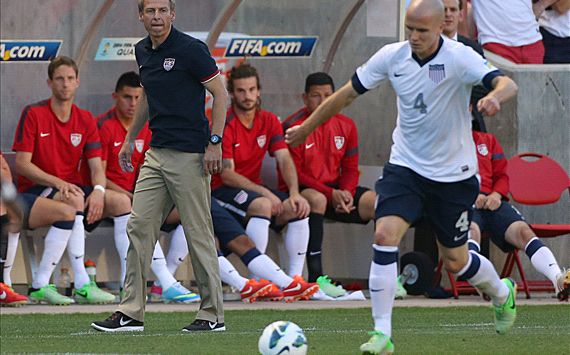 CLINT DEMPSEY
Klinsmann has settled in on using Dempsey as a second striker/playmaker and this is where we see him in Klinsmann's preferred 4-2-3-1 formation here. With Donovan and Aron Johannsson providing speed on the wings, and Jozy Altidore posting up as the target forward, Dempsey could have a field day as a playmaker. Now he just needs to regain his top form come 2014. Diskerud is an option at this position if Dempsey is unable to go, as could Joe Corona be if he regains his form with Club Tijuana.
JOZY ALTIDORE
The Sunderland striker has endured a rough start to his time with his new club, but the struggles are making him a better player and should only serve to help him when the World Cup roles around. We saw in the summer just what Altidore can do when given consistent service, and if Klinsmann can get this lineup on the field around Altidore, you could see him enjoy a strong World Cup. If for some reason Altidore isn't available, young Rapid Vienna striker Terrence Boyd and Seattle forward Eddie Johnson are also in the mix.
ARON JOHANNSSON
Whether deployed on the left, right, or underneath Altidore in the 4-2-3-1, Johannson has shown all the qualities of a player who can help the U.S. attack. He is improving by leaps and bounds and in another six months he could be ready to lead the attack. Klinsmann has been bringing Johannsson along slowly, but when 2014 rolls around, it will be difficult to keep the AZ Alkmaar striker out of the starting lineup. Nantes midfielder Alejandro Bedoya, Zusi and Corona are some of the other options for the right wing.