As easy as it is to get caught up in the result, the U.S. national team's 1-0 loss to Austria wasn't so much a referendum on the team's form heading into 2014 as it is a reminder of just how many questions remain unanswered about the team Jurgen Klinsmann is constructing.
The Austria match was Klinsmann's last chance to see his strongest possible team for four months until the March international fixture period, but with so many players missing (like Clint Dempsey, Landon Donovan, Matt Besler, Graham Zusi and Fabian Johnson), the November friendlies were never really going to be a true dress rehearsal for Brazil.
Because of all of those absences, the November friendlies against Scotland and Austria became much more about a coach wanting to see some specific things than it was about cohesion and a team playing well as a group. Ending the year with an ugly 0-0 tie and a boring 1-0 loss isn't exactly the way you want to end the most successful calendar year in U.S. national team history (in terms of winning percentage), but November's friendlies were always more about testing individuals than about the results.
So what exactly did Klinsmann learn in the final quiz of the calendar year? For the second match, he learned a few good things, as well as some glaringly worrisome things.
Klinsmann learned that Geoff Cameron absolutely is a right-back option. It has been strange for the better part of nine months to see Klinsmann refuse to play Cameron at right back despite his regular playing time at the position on the club level with Stoke City. It can certainly be argued that, all things being equal, Cameron could probably be better at center back or defensive midfielder if given the opportunity. The reality is Stoke plays him at right back and has done so for two years, and under two different coaches.
Perhaps Klinsmann watched Cameron struggle early on against Scotland as his lack of reps at center back left him looking out of place. That might have been enough to lead Klinsmann to concede, that maybe, just maybe, a full season of starts at right back in the English Premier League may just have Cameron ready to take the job over on the national team.
Cameron looked the part. He got forward in attack, defended well and posed a threat on set pieces (including the goal he helped happen only for it not to be called), making a strong case for Man of the Match honors. Most importantly, he looked comfortable and confident, two things you couldn't readily say about him in his more recent starts at center back and in central midfield.
Something else that was readily apparent against Austria was that Jermaine Jones struggled badly. While there seemed to be some varying opinions on just how effective he was against Scotland (count me in the 'He was not good' camp), there can be little argument that Jones was terrible against the Austrians. He committed repeated turnovers and floated forward so much he gave Austrian playmaker David Alaba and friends far too much room to threaten the U.S. defense.
That's two less-than-stellar showings for the veteran Schalke midfielder, which raises an obvious question: Is his recent dip in form more about him playing with a knee injury or his overall form diminishing? Reports in Germany last month had Jones nursing a knee injury that needed surgery, only his club side didn't want him to have the surgery yet.
As much as you want to give Jones the benefit of the doubt, the reality is inconsistency isn't a new issue with Jones. When he's at his best, Jones can play as well as any midfielder in the U.S. pool. The problem is we have seen that best less and less often. So are the recent struggles about Jones battling a bad knee or are they the signs of a 32-year-old midfielder slowing down?
Here are some more observations from Tuesday's USA-Austria friendly: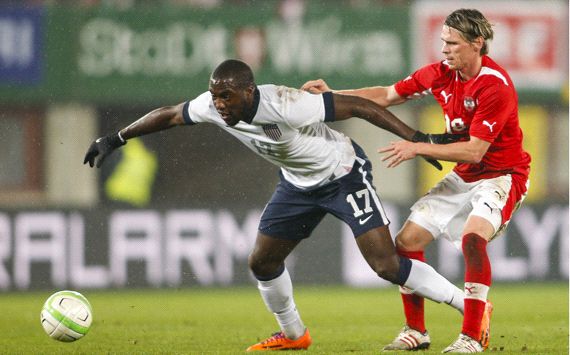 Jozy Altidore could have a new partner up front
Aron Johannsson looks like a starter
. Playing in an attacking midfield role, Johannsson didn't exactly look natural there, but his movement and quickness helped provide Jozy Altidore with more support and outlets than the Sunderland striker has had in some time. The former AZ teammates looked destined to start together for Klinsmann in 2014. The big question now is just what formation Klinsmann will use to make that happen.
Mix Diskerud has the goods
. He only played 34 minutes, but Diskerud was confident on the ball, completed all but two passes, and showed the aggressiveness you want to see in the playmaking role. He should be in the middle of the conversation of potential starting central midfielders in 2014.
John Brooks is still learning
. The German-born center back has the tools to develop into a standout player, but his inexperience showed at times in the form of poor positioning and reaction time. In fairness to him, Brooks hasn't played much since suffering an elbow injury earlier in the Bundesliga season, but calls for him to take over as a national team starter are a bit premature.
Michael Bradley remains the focal point.
It is becoming easy to take Bradley for granted, but the fact is he is the national team's best and most reliable field player. Even with minutes at AS Roma proving tough to come by, Bradley continues to play at a high level for the USA. Against Austria, Bradley completed 95 of 105 passes, with half of those passes coming in the attacking half of the field.
Eric Lichaj might be waiting a while for another call
. No, it isn't as if Lichaj looked bad in his limited minutes, but with Cameron's outstanding showing, that means one more solid right back option for Lichaj to compete with. The fact he can play either fullback spot still works in his favor, and the March friendly should tell us just what sort of impression he made in November, and whether he really still is in the mix.