As dominant as Belgium was in its 4-2 thrashing of the United States on Wednesday night, an apt word to describe emotions after the match is
expected
.
The United States again featured a makeshift defense with veteran left winger DaMarcus Beasley filling in at left back, center back Geoff Cameron on the right and Omar Gonzalez paired with Clarence Goodson in the middle. The Stars and Stripes can get away with that against Costa Rica, but Belgium is a class above any CONCACAF team, including Mexico.
When a tactical issue is deciding whether or not to start Christian Benteke (19 goals in the English Premier League) over Romelu Lukaku (17 goals in the EPL) at striker, you know you have a stacked team. It wouldn't surprise me at all if Belgium moves up from its current FIFA world ranking at 15 to one of the top seven spots before the World Cup next year. When Eden Hazard gets back into the fold, the team is that good.
So, as the U.S. players emerged out of the locker room at Cleveland's FirstEnergy Stadium, it wasn't a big shock that none of them seemed too discouraged from the result. However, there are some things that need to be addressed ahead of the Germany match on Sunday.
Altidore's goal drought continues
Jozy Altidore had a chance to put the United States ahead early with an easy chance in front of goal but he embarrassingly whiffed, failing to find the right touch on the ball. To add insult to injury, Belgium almost immediately responded, breaking on the counter with Everton's Kevin Mirallles scoring the team's first goal of the night.
Although the United States would respond shortly after, Altidore's missed opportunity shifted the momentum toward Belgium after a tight opening few minutes between both sides. It almost appeared as if Altidore's morale was shattered after the play as he was largely anonymous in his 45 minutes on the field.
Still, long-time U.S. national team veteran DaMarcus Beasley expects Altidore to turn around his form. He laughed when asked if the 23-year-old was being affected by his national team slump.
"I don't think he's going through anything... the man scored 31 goals [with his club team]. He has confidence, trust me," Beasley said.
He continued: "Sometimes there are strikers who just aren't scoring at the moment. All strikers go through that, even the best ones. So hopefully against Germany, he'll get out of his slump with the national team. "
Beasley may have a point, but it was still difficult to watch Altidore toil on one end as Benteke was dominating on the other.
Similarly to Altidore, Beasley made his debut as a senior national team player in his teens and admits that he can relate to what the former New York Red Bulls starlet is going through.
"I've known Jozy for a long time and he has the same story that I have - being 17 or 18 with the national team, going through fighting with the big boys and all that," Beasley said. "But he's done well with handling that."
"Jozy is a great player and he's still young," Beasley continued. "Once he gets the first goal, all the media will stop talking."
Jurgen badly wants a result against Germany
It's personal, sort of.
On Sunday afternoon, Klinsmann and the United States will face Germany, a team that he helped steer into the dominant side it is today.
There has been a lot of debate over the actual impact Klinsmann had during his two-year stint in charge of Die Mannschaft. Some believe that it was Joachim Löw who backed Klinsmann's grand ideas with actual tactics while working as his assistant.
Now, up against each other, Klinsmann has a chance to prove if he is capable of matching Löw in Xs and Os. Too bad Philip Lahm, a player who was very critical of Klinsmann after he departed Bayern Munich, isn't available. Might have seen a suspect Jermaine Jones tackle in there somewhere.
Clarence Goodson knows his spot is on the line
Goodson has no regrets over his decision to allow Matt Besler to start over him in the USA's 0-0 draw against Mexico in March, but he is aware that his ticket to the World Cup could be on the line.
"As far as I'm concerned about the Mexico game, if I'm not right, it's a disservice to myself and my team. We're trying to qualify for the World Cup and in order to do that, you need to be 100 percent," Goodson explained to Goal. "I know it's been made a deal about it but if the body is not ready for a big game like that, then you know at 50 percent that's not what the team needs. The U.S. needs everyone firing at all cylinders and you have to be fit to do that."
Goodson made the noble gesture of telling Klinsmann that he wouldn't be at his best in the U.S. World Cup qualifier against Mexico in March, allowing Besler an opportunity to impress. The Sporting KC defender lived up to his billing as the top MLS defender in 2012 as he and Omar Gonzalez stifled a potent attack from Mexico.
Goodson acknowledged that there is competition for spots at the center back position but explained that it isn't something uncommon during his time with the national team. He pointed to previous center backs like Oguchi Onyewu and Chad Marshall as examples.
"I think the national team has been blessed to have a few solid center backs for a while," Goodson said. "This is the next group coming and its great that we have so much versatility, that guys can step up and do the job now."
Goodson cites his experience and awareness as an area where he has an advantage over the younger center back group that features Cameron, Gonzalez and Besler.
"It's just trying to have bigger personalities in the locker room, guys that have been in the big games and difficult situations," Goodson said. "I've fortunate enough to do that even in games where I haven't played. I've been around and learned a lot from the guys who have come before me."
Still, after seeing Carlos Bocanegra left out of the past few U.S. rosters, Goodson is aware that he has no guarantees with the national team.
"As far as that's concerned, Carlos is a fantastic player. I've learned so much from that guy and I'd follow that guy anywhere on the field. He's a tremendous leader," Goodson said. "Whatever the decisions are, that's not for me to make.
"Of course, at some point, the same thing will happen to me. When you are called, you give everything that you have. Try to contribute as much to the team as you can while you're here."
Picking his brain: Geoff Cameron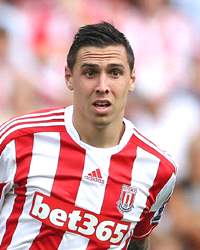 Geoff Cameron had a solid debut season in his first year in the English Premier League but a lot is changing with his club team, Stoke City FC.
The team fired Tony Pulis at the end of the season and hired former Manchester City and QPR boss Mark Hughes as his replacement, leaving Cameron's role with Stoke uncertain. Cameron fielded some questions about Stoke and his American teammate Brek Shea.
Were you disappointed by Stoke's decision to let go of Pulis?
I didn't really hear about it till I was home. I received an email or a text that everyone on the team got informing us what happened. Obviously, I'm disappointed but it's a business so you can understand. He's the one who brought me in, recruiting me and signing me. I started 31 games so it'll be interesting to see what happens this year.
Where do you see yourself playing under Mark Hughes?
Obviously, I'm pushing for center back. I never know what's going on. Obviously, Mark Hughes might have seen me in a few games with the team so hopefully he knows who I am and has seen what I can do. It'll be interesting to get back on to the team and adjust... I ended the season on a positive note.
What happened with Brek Shea during his time at Stoke?
I think he was fitting in really well. He did really well in training, especially in the last month. He was really coming into his own.
But, obviously, he was coming back from that toe injury that hindered him a little bit. When he first signed they rushed him into it and he wasn't ready and he knew that. He told the staff that he wasn't ready. I think that's why they didn't play him until the end of the season, because he was recovering from a toe injury.
It's difficult for him and he's disappointed, but the talent that he has, his ability is unbelievable. He's a bright star for us and you'll see when he gets fully healthy, he'll be a player to reckon with.
What to watch:
Mexico vs Nigeria
-
9 p.m. ET, Univision
Jose de la Torre's job is on the line after a disappoint run of results to kick off 2013. A loss in this match could seal his fate and a draw will only fuel El Tri's displeasure with the manager.
Prediction:
Mexico 1-1 Nigeria
Bayern Munich vs VFB Stuttgart
- 2 p.m. ET, GOL TV
Juup Heyneckes is already a legend in Munich and a victory against Stuttgart would make Bayern the first German team to win the treble.
Prediction:
Bayern 4-0 Stuttgart
USA vs Germany
- 2:30 p.m. ET, ESPN
Read above. I'm going to make a bold prediction here and say the United States will get a result.
Prediction:
USA 2-1 Germany