If Saturday marks Landon Donovan's final game as a soccer player, United States internationals Tim Howard and Jay DeMerit hope that fans respect his decision and legacy.
"The thing we have to realize when we look at Landon is not only has he exceeded expectations, he's crushed them," Howard told Goal.com in a phone interview. "I think his legacy will be talked about as one of the best and rightfully so. He'll go down in history as not only a legend but one of our top-two players [in U.S. history]."
Howard's center back U.S. teammate DeMerit agrees and thinks that Donovan set a benchmark that he hopes young American soccer players will emulate.
"I think what it would mean to U.S. soccer is to let new and hungry guys want to try to emulate what Landon has done for the sport in our country," Demerit wrote to Goal.com in an email. "We need more of that if we are ever going to consistently try to compete for being the world's best."
Donovan again this week hinted this week to the
Los Angeles Times
that Saturday's MLS Cup final against the
Howard on Donovan's possible retirement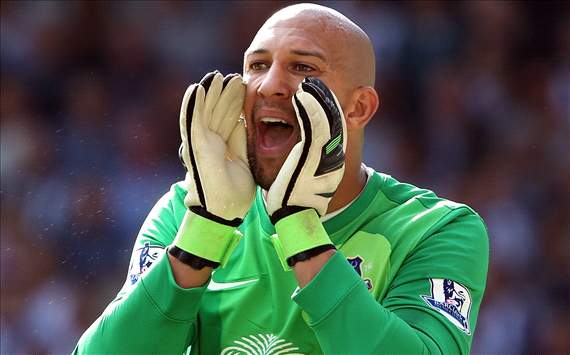 "The thing we have to realize when we look at Landon is not only has he exceeded expectations, he's crushed them."
- Tim Howard

Houston Dynamo could be his last game. Despite Donovan's future dominating headlines, Howard still believes it's too early to assume anything about the Los Angeles Galaxy's stars future until he makes it official. He admits that many soccer players, including himself, constantly think about the possibility of retirement.
"At the moment it's all hypothetical. A lot of it sounds like [just] talk," Howard said. "There hasn't been an [actual] decision yet."
Donovan's decision to make his possible retirement public has drawn some scrutiny from fans and media who believe that the forward should be more appreciative of his relative wealth and acclaim of being a soccer player. Yet, Howard completely understands why a player would want to walk away from the game even at an early age.
The Everton goalkeeper compared the daily grinds of playing soccer to being in a office job where instead of receiving a quarter or annual review by the company's bosses, it's everyday. That kind of pressure year in and year out is difficult according to Howard.
"We have that 360 days of our lives, it wears on your nerves," Howard said. "We drive ourselves and push ourselves beyond limits and reason at times. We do it because we love it and it's our jobs."
He added: "I don't think any of us are looking for a pat on the back but it's taxing and tiring. We do it basically 11-and-a-half months out of the year. You don't have too many days off."
Howard also explained that unlike many American soccer players who started in college and got their professional careers started between the ages of 23 to 25, Donovan has been playing full-time since he was 17 with exceedingly high expectations.
"He's been on the world stage since he was 20 years old," Howard said. "What a lot of people have to realize is that a lot of players, no matter who they are, haven't had to deal with that from such an early age. He has a lot of miles and a lot of games under his belt."
"He's been doing it on a high level since he was 17 or 18 years old," he added. "A lot of us weren't doing what he was doing until we were 25. Our experience is going to be different than a guy who started at 18. We'll probably look at things at 35 or 36 and be like we've had enough of this. Maybe he's at that stage now."
Should Donovan call it quits on Saturday afternoon, Howard said that there are plenty of memories that will stand out as highlights. He pointed to an obvious moment, Donovan's game-winner against Algeria that captivated millions around America but also stated that his two stints with Howard at Everton really gained his respect.
"I think the Everton experience stands out because he had such a big impact during his time here especially against big teams."Howard said. "His wherewithal and ability to read the game in the big moments was critical."
Howard selfishly admits that he would hope that Donovan will hold off on retiring until after the 2014 World Cup but insists that he will respect his decision either way. And that decision is one that DeMerit feels should be praised. He believes that too many players get to a point in their career where they go through the motions to earn a paycheck. Demerit argues that the fact that Donovan could potentially turn down millions because he is no longer passionate about the game displays how strong his character is.
"I'd actually respect him even more if he decided to take a break at this stage in his career. It would be very easy for him to keep playing and going through the motions and having success if he wanted to," DeMerit said. "If his head or heart isn't in it, to take a break and recharge or to go out as the most decorated US player ever, and go an try other aspects of life, I wouldn't blame him.
"He's sacrificed a lot in his life to get to this stage and he doesn't owe anyone the right decision but himself. I just hope he does what makes him happy."
Follow ALEX LABIDOU on