NEW YORK -- New York Giants star Victor Cruz believes that the NFL video game Madden has some competition due to the rising popularity of FIFA. But will soccer ever threaten American football?
Not likely, according to Cruz.
"I don't think so. I think the NFL is safe, I don't think they are worried about anyone," Cruz told Goal.com. "I think FIFA [the video game] though is definitely closing in soon [on Madden]."
ESPN.com recently released a study that claims that soccer is currently the second-most popular sport among people aged between 12-24 in the United States, beating out the NBA, NHL and college football. The study pointed that in the next 20 years, MLS will likely grow to become a competitor of the NFL due to the fact that the soccer league's presence continues to grow and less kids are playing youth football.
It's a sentiment that MLS executive Todd Durbin agrees with.
"If we continue to have the growth that we've had over the next 16 to 20 years, it's entirely realistic to stand shoulder to shoulder with the NFL," Durbin told Goal.com in a June interview.
Though soccer continues to grow at an astonishing pace, it is very unlikely that it would be able to break into the sizable hold that football has on the American sports landscape.
Soccer enthusiasts might be able to point to 115 million people in the United States who watched at least one minute of the World Cup in 2010, an event that is held every four years. But the NFL can point to the 111 million Americans who tune into the Super Bowl every year. There might be complaints over concussions or, recently, replacement refs, but that doesn't stop the record amount of audiences from tuning in every Sunday. Television is an area where MLS struggles mightily.
Despite David Beckham and Landon Donovan finally winning the MLS Cup together, the game had a 0.3 TV rating and the city of Los Angeles didn't even have a champions parade for the title-winning Galaxy. Those factors probably add to Cruz's confidence.
"Even if something new came into the game, I don't think the NFL would worry about it because they would still be able to do their thing. So they aren't worried too much about it," Cruz explained.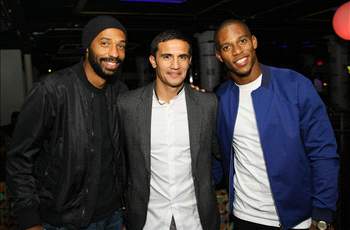 Cruz(R) with Red Bull stars Thierry Henry and Tim Cahill
Still, even Cruz acknowledges soccer's massive growth in America over the past decade. He admits that he follows La Liga and steals some of his celebrations from the FIFA video game. The 25-year-old also claims that if he had to play soccer, he would love to be Cristiano Ronaldo, his favorite player.
"Definitely [better than Lionel Messi]," Cruz said with enthusiasm. "The way he goes out there and plays. His energy, his athleticism. If I had to play soccer, that's the way I'd play soccer. That's kind of why I roll with Ronaldo."
He added, "Anything Ronaldo does, I'm good with. He's out there playing with a lot of swagger, playing and having fun."
It is a testament to soccer's continuing development in America that Cruz is a fan of a league thousands of miles away and plays FIFA.
"I remember when no one wanted to play soccer [on their video game systems]," he said.
Follow ALEX LABIDOU on