On the same weekend Moneyball is released in theaters across the United States, take a look at how the MLB and Premier League managers have similar philosophies and flaws.
The similarities between Oakland Athletics general manager Billy Beane and Arsenal manager Arsene Wenger are frightening.
Both men revolutionized their sports. The height of both their careers came a year apart - the A's won 103 games in 2002 and the Gunners went undefeated for 49 games in a row between 2003 and 2004. And now both are seeing their philosophies come under immense criticisms as neither have claimed success since 2006.
After keeping his team in the top four in England for over a decade and a half, Wenger's Arsenal currently sits just above the relegation zone at 17th place. Beane's A's aren't much better in Major League Baseball, with a record of 69-85, only four games ahead of the American League West division's last-placed Seattle Mariners.
There are legitimate concerns that both men have lost their touch and need to be replenished by newer, fresher ideas, something that would have been unimaginable just three years ago.
If either were to be relieved of his duties, it would represent a tragic end for an idealists who greatly changed the way that sports are analyzed around the world, especially because neither caught the elusive prize he sought. For Wenger, he was never able to grab a hold of the Champions League crown that elevates a great domestic team to a great international one. And Oakland has never hoisted the MLB title under Beane.
Recognition for Beane's early success led to a film starring Brad Pitt titled
Moneyball
that was released this weekend in movie theaters across the United States. It was based on the top-selling book with the same title. As the movie chronicles his revolutionary rise, it is only fitting to look at what brought both men to such high peaks and what trait has ultimately led to their decline.
Stubbornness has been what has defined both the accomplishments and blunders of Wenger and Beane. Talent has a finite number in both men's eyes, and to this day neither will spend over what they believe to be the correct value for any given individual.
Since the summer of 2007, Arsenal has sold the likes of Thierry Henry, Cesc Fabregas, Samir Nasri and Emmanuel Adebayor, among others, raking in over 140 million pounds while spending a little less than half of that over the same span. The Gunners are one of only a few clubs in the Champions League which has a net profit in transfer spending and the only team in the Premier League's top six that can make the claim. Considering Manchester City has reportedly spent upwards of 600 million pounds over the same time just to qualify for Europe's top competition, it is remarkable that Wenger has been able to accomplish what he has, as prices continue to spiral out of control.
In an interview last year, Beane admitted to the
Financial Times
that despite being a passionate Tottenham Hotspur fan, Wenger is the "the sports executive I admire most."
Respecting how the 61-year-old coach thinks about player development and the future of his club financially, Beane compared Wenger to fiscal genius Warren Buffet. "Wenger runs his football club like he is going to own the club for 100 years," he told the business publication.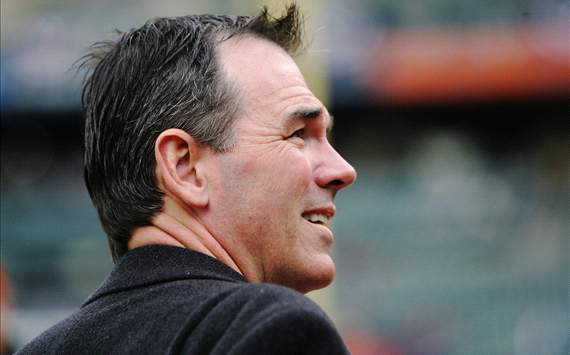 A huge admirer of Arsene Wenger | Beane confesses his respect for the Frenchman
"Nothing strangulates a sports club more than having older players on long contracts," Beane added, "because once they stop performing, they become immoveable. And as they become older, the risk of injury becomes exponential. It's less costly to bring [on] a young player. If it doesn't work, you can go and find the next guy, and the next guy. The downside risk is lower, and the upside much higher. It's almost like he is managing a mutual fund."
With the recent exceptions of Nasir and Fabregas, Wenger's philosophy has always been to mold young prospects and let them go after they pass their prime. The best example of this came when Wenger sold Nicolas Anelka for 22.3 million pounds to Real Madrid after buying him for just 500,000 pounds two years earlier.
Beane has had a similar approach in his dealings. From 2002 to 2006, Beane gathered top statisticians from the best colleges to find underappreciated stats that could be valuable to a small-market team with league's lowest budget.
While the A's lost All-Star players like Barry Zito, Jason Giambi and Johnny Damon to free agency and trades, they remained one of the top teams in the league due to focus on offensive efficiency - something very similar to Wenger's philosophy.
But the same stubbornness that carried both men to their status as groundbreakers has also recently proved their undoing. Neither men care too much for defense. Arsenal has allowed the most goals in the Premier League this season: 14. Compare that first-place Manchester United, which has only allowed four.
Wenger had a chance to sign Bolton's defensive stalwart Gary Cahill for 10 million pounds and a year ago had a chance to buy Fulham's steady goalkeeper Mark Schwarzer for only 2 million pounds. He declined both deals. With its lethal attack, if Arsenal had a solid backline, it might have made back the extra outlay in trophy windfalls.
Until the past season, Beane's A's were among the worst fielding teams in all of baseball. His thought was that it took approximately 1,000 runs to make the playoffs and that as long as his team conceded three-fourths of that, he was content.
Yet as the old sports cliché states, defense ultimately wins titles. Last year in both the Premier League and MLB, the teams that won the title - United and the San Francisco Giants, respectively - were in the top three in fewest goals/runs allowed. So while there is no doubt that both sides can put points on the board, focusing on defense might be the crucial aspect that lead Beane and Wenger to their ultimate ambitions.
After all, both men want to preserve their legacies at their current clubs as icons. They both had opportunities to join teams with bigger budgets and turned them down. Beane had the chance to helm the Boston Red Sox in 2002 before Theo Epstein took the position and Wenger was offered the Real Madrid post before Manuel Pelligrini was appointed in 2009.
It appears as if both men are starting to refocus their efforts. After seeing many of his colleagues emulate his offensive strategies with a bigger budget, Beane has decided to make his team a strong defensive team. He is beginning to look towards little-known defensive stats and is even starting to scouting high school prospects after previously ignoring unproven players.
As for Wenger, his club has built a youth academy in the U.S. - a country famed for its physical attribute and producing goalkeepers - named Strikers where he hopes to eventually land some rugged players to his usually finesse-laden club.
Proof that both professors still have some tricks up their sleeves.
Follow ALEX LABIDOU on