The current status of the MVP race likely whittles down to two eminently qualified choices: New York forward Thierry Henry or FC Dallas midfielder Brek Shea.
Much like other traditionally difficult battles – Burr versus Hamilton, Cain versus Abel and Joe versus the Volcano – between capable combatants, the status of the race could favor either candidate depending on the direction of the wind or the outcome of the last match.
If the most recent evidence – not including Shea's fantastic strike in midweek against Toronto FC – tips the scales in one direction or the other, then Henry may have just nudged in front of Shea at the moment after FC Dallas and New York drew 2-2 at Red Bull Arena.
While the FCD winger did most of his hard work defensively during a workmanlike shift in Harrison, Henry captured a point for the struggling home side with a turn-back-the-clock moment that showed his enduring class. The former Arsenal and Barcelona star twisted and turned on the edge of the FCD penalty area to carve out a yard of space and lash home the equalizer with five minutes to spare.
Henry has provided the all-important contribution time and again in his first full season in MLS. He leads the league with 11 goals, but, perhaps more vitally, he offers the sort of consistent touchstone the Red Bulls have needed in this tumultuous campaign filled with intrigue and turnover. Without Henry in the fold, the Red Bulls may have turned a few more of those draws into losses and slipped down the Eastern Conference table by this disappointing juncture in the season.
New York's rather indifferent campaign to date does not obscure Henry's brilliance, but it does lend additional credence to Shea's claims for top spot in the pecking order. After all, the success of a team – especially one wounded by a season-ending injury to David Ferreira – matters in these debates and FCD is ticking along nicely near the top of the vastly superior Western Conference.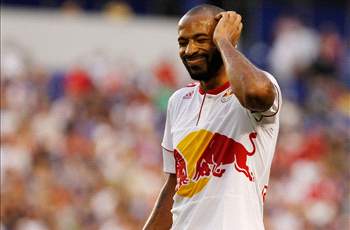 Shea has emerged as the lynchpin in FCD's mighty collective effort in this campaign. The versatile 21-year-old has finally found a permanent home on the left flank and has repaid Schellas Hyndman's faith in his abilities by providing the impetus for a side expected to struggle in Ferreira's absence. Nine goals in 21 matches represents a career-high haul for the future U.S. international winger and a vital contribution for a side that could have struggled for goals without its Colombian playmaker.
Shea's development over the past 18 months suggests this noticeable growth – particularly in terms of his ambition and incisiveness in the final third – may yet spur him onwards to even greater heights. FCD's decision to tie him down to an undisclosed, long-term deal earlier this year looks like a savvy piece of business given the marked increase in his value over the past three-to-four months.
Despite the impressive upward trend in Shea's performances, it is not certain that he – or Henry, for that matter – will continue his searing form through the second half of the season or maintain his status as a MVP frontrunner.
Other players will certainly mount a charge during the second half of the season. In the past two seasons, a striker – Jeff Cunningham in 2009 and Chris Wondolowski in 2010 – has embarked on a tear during the second half of the season to catapult into the discussion. Wondolowski could replicate last year's feat if he manages to haul the Earthquakes out of their funk, while several other candidates – ranging from familiar faces like Omar Bravo and Landon Donovan to longer shots like Osvaldo Alonso and Brad Davis – could also emerge as serious contenders depending on the circumstances.
Those potential contenders remain on the fringes at the moment as Henry and Shea jockey for position. Shea probably deserves the slight edge in the race at the moment, but it is a contest that bears watching as the second half of the campaign unfolds.
Five Points – Week 19
1. Squabbling over the bench in New York: The discontent in New York is palpable – the supporters' groups kept silent during the first half against FCD because they weren't pleased with the Red Bulls' shambolic display in the Lamar Hunt U.S. Open Cup quarterfinal at Chicago – at the moment and it has focused on one rather surprising topic: Hans Backe's reluctance to use his substitutes. Although the sweltering conditions may have merited a switch or two, Backe held off until the 82nd minute before inserting Chris Albright for Mehdi Ballouchy.
Backe's understandable reluctance stemmed from the available choices – Corey Hertzog, Matt Kassel and John Rooney for a midfielder or a forward – and the quality of his first XI. New York spends a lot more money than its competitors, but that top-end talent comes at a significant cost to the overall squad depth. With Luke Rodgers out through injury, he simply doesn't have a quality option to shift a game that needs shifting. This particular beef – especially in light of the other valid concerns – resembles a tempest in a teapot.
2. Don't look now, but... : … Columbus is now tied with Philadelphia for first place in the Eastern Conference after its 1-0 victory over Portland. Crew coach Robert Warzycha took a lot of heat for his offseason personnel choices, but he has molded an effective and solid side that looks on course for the playoffs if it can maintain its miserly and modest approach.
3. Four days can make a difference: New England appeared headed toward the abyss after last Sunday's 3-0 home defeat to Philadelphia, but the Revs snagged their first road win of the season at D.C. United on Wednesday and followed it up with a peculiar 2-2 draw at Colorado on Saturday. In the course of those two matches, the Revs picked up more points on the road (four) than they had garnered in their previous nine road matches (three) this season.
4. Reviving the simulation topic one crucial dive at a time: Real Salt Lake striker Alvaro Saborio cleverly conned referee David Gantar into giving the Claret-and-Cobalt a penalty for the first goal in RSL's 4-0 win over San Jose. Bobby Burling didn't make any contact as Saborio knifed into the penalty area, but Gantar saw Saborio tumble and showed an unwarranted red card anyways. Saborio converted the penalty and San Jose – already under ample pressure before the breakthrough – absolutely crumbled. These events generally even out during the course of a season (remember that Charlie Davies dive earlier this season, RSL fans?), but expect Saborio to deservedly procure a stiff fine from the Disciplinary Committee for his actions and perhaps receive a word or two from Jason Kreis.
5. A little bit of consistency goes a long way: Justin Braun notched his second hat trick of the season in Chivas USA's 3-0 home romp over Houston. Braun has tallied just one goal in his other 18 appearances for a Red-and-White side that could use a regular scorer to lead the line.
Kyle McCarthy writes the Monday MLS Breakdown and frequently writes opinion pieces during the week for Goal.com. He also covers the New England Revolution for the Boston Herald and MLSsoccer.com. Contact him with your questions or comments at kyle.mccarthy@goal.com and follow him on Twitter by clicking here.