U.S. international midfielder will join an undetermined club after signing with the league, but his contract will force teams to assess whether he offers value within the budget.
Finding a MLS home for Benny Feilhaber presents a more difficult challenge than his ability would suggest.
In terms of pure talent, the 26-year-old Feilhaber would improve the midfield options available to every MLS coach. He's a creative and lively player with a decent eye for a pass. He can operate as either an attacking midfielder or as a non-traditional wide player who veers toward the center of the park. He possesses significant experience on the club and international level.
None of those positive traits disappeared when Feilhaber departed AGF Aarhus and signed with MLS on Friday. They did, however, assume a large salary budget number that complicates the calculus for clubs as they weigh the merits of bringing Feilhaber into the fold.
Exact details on Feilhaber's salary and transfer fee remain elusive, but league sources have indicated that the two numbers will combine to create a significant salary burden – a number approaching or exceeding the maximum non-DP salary of $335,000 this season – for the club that ultimately acquires Feilhaber.
The size of that number in comparison to the overall salary budget limit of $2.68 million (a number essentially modified and tailored for each team given the amount of allocation money on hand) increases the number of factors a potential suitor must contemplate before forging ahead with the move.
In short, the question about whether to sign Feilhaber boils down to whether an individual club believes he can supply a level of production to offer value for his high salary budget number. It is not an easy query to sort through given Feilhaber's lack of goals (at a higher level than the Danish second division) from an attacking midfield position, but it is a conundrum that can be approached in several different ways depending on a club's individual priorities, its belief in Feilhaber's ability to influence matches in other ways and its style of play.
Chivas USA currently holds the top spot in the allocation order and must decide whether to exercise its option to obtain Feilhaber's rights by Tuesday afternoon. The Red-and-White could use a player of Feilhaber's caliber to bolster its creative options, but a potent striker likely ranks higher on the wish list at this point and other possible additions could crop up through the allocation mechanism in the summer.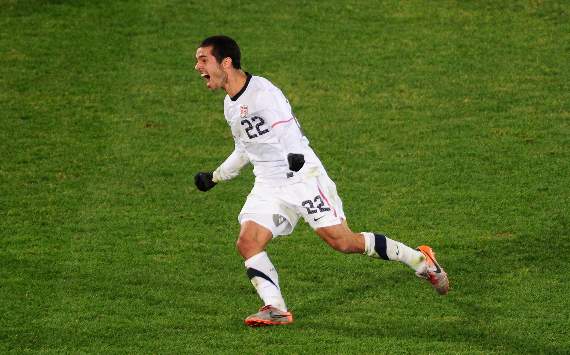 Chivas USA coach Robin Fraser said on Saturday that the technical staff had yet to decide whether to acquire Feilhaber and slide to the back of the allocation pack, deal the right to select him to another team or pass on him entirely to wait for another potential allocation option.
"In this big puzzle called MLS – MLS's salary cap and restrictions and that sort of thing – it's not a question as to whether Benny's good or if he would help us," Fraser told
ESPN Los Angeles
in response to written questions submitted through a club spokesman. "He's a very good player and would be a very good addition to our team, but we just have to be mindful of the (fact) that within the salary cap, a big acquisition might affect our ability to make other moves. And in the end, maybe we decide it's worth it because he's that valuable. But those are the decisions we have to weigh."
Potential trade partners and subsequent clubs in the allocation order must also ponder the considerations Fraser mentioned as they size up a move for Feilhaber.
Philadelphia manager Peter Nowak told the Philadelphia Daily News that the Union would not select Feilhaber if Chivas USA passed on him, though it remains uncertain whether Nowak's thinking could change in the upcoming days. New England sits third in the allocation order and desperately needs another competent passer in midfield, but the Revs recently inked Danish striker Rajko Lekic to a significant deal and will look to sign a Designated Player during the summer transfer window.
Houston (fourth) and Toronto FC (fifth) loom as potential destinations if Feilhaber slips further down the allocation order, while other suitors would likely have to cobble together a significant trade package – think a starting XI-caliber player and a wad of allocation money at minimum – to acquire the former Derby County man.
The corresponding tariff – either with the allocation selection or the trade package – will force Feilhaber's new club to think twice about its decision. Although Feilhaber's talent would make the decision a fairly straightforward one without the inherent budgetary constraints, the complicating factors involved will add considerable intrigue and uncertainty to the process as it unfolds over the next day or two.
Five Points – Week 51. Schedule crunch offers new referees a chance to display their wares:
The fixture congestion created by playing 11 matches between Wednesday and Sunday supplied U.S. Soccer with an opportunity to introduce four referees to MLS action. Their actions ranged the gamut from appropriate (Mark Kadlecik's dismissal of Ty Harden for a wretched tackle to deny Chris Pontius yet another goal scoring opportunity in D.C. United's 3-0 thrashing of Toronto) to puzzling (Juan Guzman's decision to issue Julio Cesar a second yellow card for no easily discernible reason in Sporting Kansas City's 1-0 defeat at Columbus), but their involvement at the first division level at least widens the options in a referee pool that most coaches and players contend is far too shallow at the moment.
2. Cathartic Red Bulls explosion relieves tension:
Give credit to Hans Backe for inserting Luke Rodgers into New York's starting XI for Saturday night's 3-0 victory over San Jose. Rodgers scored twice inside the first 15 minutes to set everyone inside the rainy ground at ease after weeks of frustration and then turned provider for Thierry Henry's goal in the waning stages. The Red Bulls still aren't firing on all cylinders – Henry struggled in front of goal once again before converting a diving header near the end – but this effort will give Backe plenty to build upon as his side pushes past its early season hiccups.
3. Gut check pays off for Galaxy:
Los Angeles coach Bruce Arena trusted a starting XI filled with reserves to conclude a three-match road swing with a 2-1 victory at Chicago. The gambit paid off as the Galaxy compiled a two-goal lead through Chad Barrett and Omar Gonzalez before somehow riding through Dominic Oduro's toe-poke and a late Fire flurry to secure all three points. With this win in tow, Arena can consider this road trip a job well done with the absence of Landon Donovan and the suspensions to David Beckham, Jovan Kirovski and Juninho in mind.
4. Timbers' pressure unsettles FCD in Portland's second successive home win:
Opposing clubs usually employ one of two tactics to throw FC Dallas off its rhythm in possession: press high up the field to restrict time and space or sag back to clog up passing lanes in defensive areas. Portland adopted the former approach and used the energy generated by the JELD-WEN Field crowd and Thursday's 4-2 win over Chicago to fuel its 3-2 victory over FCD on Sunday.
The intensive tactic and the fatigue of employing it after playing on Thursday may have played a role in the Timbers' second consecutive set of late match wobbles, but the constant pressing through midfield limited FCD's effectiveness in possession – particularly by reducing Daniel Hernandez's influence on matters – when it mattered in the early stages of the match.
"What we've tried to do is squeeze high and encourage them to knock it long to (David) Ferreira and (Milton) Rodriguez," Timbers coach John Spencer explained to Root Sports early in the second half during an in-game interview. "We don't think they're strong in the air. We think we can win those individual battles."
5. Crafty tactical move pays off in controversial fashion for Houston:
Dynamo coach Dominic Kinnear asked Hunter Freeman to pick up a position around New England goalkeeper Matt Reis on corner kicks in Sunday night's 1-0 victory over the Revolution.
As one might suspect, Reis did not take kindly to Freeman's persistent presence in his goal area. Reis tried to discourage Freeman from returning by planting a forearm in the back of his head at one point during the first half, but the maneuver did not dissuade the Dynamo fullback and referee Alex Prus did not prohibit the machinations.
The constant pestering paid off with a bit of help from Prus after 86 minutes. On Houston's 11th and final corner kick of the evening, Freeman legally established position as he and Reis attempted to carve out space on the goal line as Cam Weaver's header rebounded off the crossbar and illegally handled the ball into the net with his left arm to decide the match.
The goal shouldn't have counted, but it ensured that the tactic paid off by helping to secure all three points.
"He is just supposed to be a distraction to make sure the goalkeeper can't come out and catch the ball easily," Kinnear told reporters after the match. "He took a hit in the first half, so for him to be in there and be a menace is a testament to him. It's one of those things where you just go in there and make sure the goalkeeper doesn't have an easy path to the ball."
Kyle McCarthy writes the Monday MLS Breakdown and frequently writes opinion pieces during the week for Goal.com. He also covers the New England Revolution for the Boston Herald and MLSsoccer.com. Contact him with your questions or comments at kyle.mccarthy@goal.com and follow him on Twitter by clicking here.
Follow Goal.com on

to get the latest soccer news directly. Check out Goal.com's

page; be part of the best soccer fan community in the world!