Andrea Canales
: So Real Salt Lake becomes the first MLS team to advance to the modern version of the continental club competition, the CONCACAF Champions League. Are they worthy finalists, or just lucky to avoid playing Mexico's teams along the way?
Shane Evans
: Well, they are far and away the best team in MLS. So, I vote yes.

Seth Vertelney
: They were lucky to be placed on the side of the bracket with no Mexican teams, but let's not forget they topped Group A in the Group Stage, which included Cruz Azul.
Allen Ramsey:
We'll see, won't we? They were fortunate to avoid the Mexican teams. It's clear Mexico has the best league in CONCACAF and the Mexican teams have been dominant, but RSL will get the chance to prove that MLS belongs in the final with a win.
Vertelney
: Salt Lake also defeated Cruz Azul in the group stage.
Ramsey
: True, but the Mexican teams tend to play very weak squads in the group stage.
Vertelney
: Perhaps, but we also shouldn't cast Costa Rica's Saprissa aside simply because its not a Mexican team. They are a traditional CONCACAF power with a really tough home-field advantage.
Ramsey
: True, but in the long run Saprissa isn't a Mexican club. Not as much money. Not as much quality. Not as much depth in the squad. The best players from Central America drift to Mexico. The best players in one country, Costa Rica, drift to Saprissa.
Canales
: Does Jamison Olave falling into neither category?
Vertelney
: He's Colombian, and that country apparantly now sends all its best players to MLS.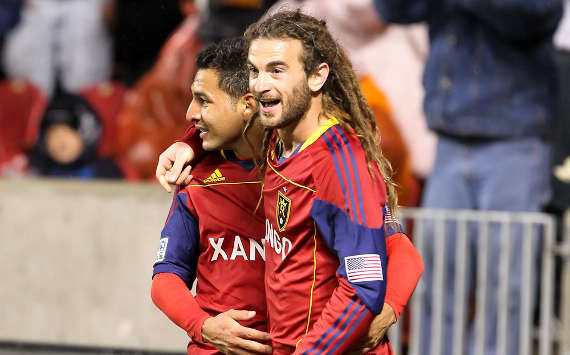 Evans
: Dang right they do.
Ramsey
: The best of the best still head to Europe. But for the purpose of talking about the CCL, I stick to what I'm saying.
Canales
: I meant Alvaro Saborio, sorry, who is Costa Rican and even played for Saprissa before joining Real Salt Lake.
Ramsey
: Of course there will be exceptions, but the money spent in Mexico on those clubs is actually impressive, and they can afford to buy a bunch of really good players.
Canales
: Even when MLS can afford them, like Houston trying to make Edgar Pacheco a designated player, they don't always want to come. But will any of this change given Real Salt Lake's good showing in the CCL? Is it proof positive that MLS is a contender?
Ramsey
: This CCL just showed that if you put all of the Mexican teams on one side, then a team from another country will make the final. If RSL can earn a championshp win, then there will be some proof that MLS has made strides in catching up to international competition.
Vertelney
: The league has to be happy that RSL is their ambassador right now. In a league known for parity, RSL is hands down the top side at the moment.
Canales
: Ok, not to interrupt the RSL lovefest, but the team didn't win a single trophy last year. Except for the Rocky Mountain Cup, but that's only beating out one team.
Vertelney
: Is there a team you would rather have in the CCL final representing MLS?
Canales
: As a reporter, sure. It would be a more glamorous matchup of NY or LA was there.
Evans
: Yeah, Salt Lake isn't exactly the most fashionable franchise, despite their prowess on the pitch.
Vertelney
: What?! Jimmer was at their match the other week! If Jimmer isn't fashionable, I don't know what is.
Canales
: My point is, despite raking up early season points - and they had a headstart on the league because of CCL - Salt Lake has to show it has what it takes when it matters. Until they win the CCL, you have to go back to MLS Cup 2009 to find that.
Vertelney
: So let's say Real Salt Lake win the whole thing. Most important result for MLS ever?
Ramsey
: I think that's true, though we won't know for a few years if it really has any impact. But MLS will market it as a big moment, and that does matter.
Canales
: If RSL win it all, Kreis goes to the top of the line for domestic coaching candidates for the squad that never really gave him a chance as a player - the U.S. men's national team.
Follow Goal.com on

to get the latest soccer news directly. Check out Goal.com's

page; be part of the best soccer fan community in the world!