With the arrival of Chad Ochocinco in Kansas City, I can't help but think that, if Americans had their best athletes play soccer, they would dominate on the world stage. One of the main sticking points with Americans and soccer is the quality of MLS and the U.S. Men's National Team.
The fact of the matter is: the U.S. could be the best soccer nation in the worldif their best athletes would have grown up playing the sport. Soccer has never been American athletes first choice. With baseball being the "national pastime" and football being debatably the most popular of the "big four" (Football, Baseball, Basketball and Hockey), young athletes automatically flock to those sports for their popularity and seeminlgy forget about soccer.
Having said all this, which you may choose to vehemently disagree with, here is my dream lineup of America's best athletes who could have excelled in soccer and taken the world by storm if they had chosen the path of the ball-in-goal sport we all know and love.
Formation: 4-4-2
Goalkeeper: Evan Longoria.
Bio: MLB Gold Glove third baseman from the Tampa Bay Rays.
Longoria's reaction time and ability to make plays side-to-side would make him a premier keeper. He is required to catch a ball much smaller than a soccer ball, and hit much harder. Longoria makes diving plays on balls hit at him at 110 mph; a soccer ball should not be a problem for him.
Left Defender: Darrelle Revis.
Bio: NFL Pro Bowl Defensive-back from the New York Jets.
Revis is known for his "shut-down" skill. He faces NFL wide receivers every Sunday, who are much faster than any EPL forward and shuts them out. He would be the perfect person to man mark anyone in the world. I can see the look of pure frustration on Cristiano Ronaldo's face now...
Center Defender: Clay Matthews
Bio: 2010 NFL Defensive Player of the Year from the Green Bay Packers.
Matthews would bring size, strength, and speed to the backline. His closing speed and killer instinct cannot be matched by anyone in the NFL, let alone the soccer world. Matthews would be able to close down angles, intercept passes, and muscle players off the ball without a problem. He runs through 300-pound linemen on a weekly basis in the NFL, 170-pound forwards shouldn't bother for him. Not to mention, Matthews has classic soccer hair. Carlos Valderrama, eat your heart out.
Center Defender: Erik Johnson.
Bio: NHL All-Star Defenseman from the Colorado Avalanche.
Standing at 6'4" and 235 pounds, Johnson is sure to intimidate anyone who crosses his path. He would be a tall order for any international forward to deal with. He is large, physical, and not afraid to block shots. Johnson has proved that he is unafraid of stepping in front of a puck that has potential to end his career. Taking that mindset onto the pitch will make him the goalkeeper's best friend.
Right Defender: Brian Dawkins.
Bio: NFL Pro-Bowl Free-Safety from the Denver Broncos.
The man is a "ball-hawk." However, Dawkins is best known for his big hits. Watching him crush the man he covers every week would be a treat for everyone in the soccer community. He possesses the same skill set as Revis in that he can cover and track balls down, but I have him on the field to send a message on the first 50-50 ball. Hey, you get one yellow card a game right?
Left Midfield: Desean Jackson.
Bio: NFL Pro-Bowl Wide Receiver from the Philadelphia Eagles.
One word: speed. Jackson has it and would be absolutely lethal with a ball at his feet. Jackson is able to run past NFL defensive backs who run 4.3 second 40-yard dash times. Through balls and long clearances would be tracked down by Jackson, and allow him to go one on ones with the keeper. Not to mention his goal celebrations would be as entertaining as they come.
Center Midfield: Michael Vick.
Bio: NFL Pro Bowl Quarterback and Comeback Player of the Year from the Philadelphia Eagles.
Forget about the scandal. Forget about the jail time Vick's ability to read defenses, outrun and juke defenders would make him the perfect center midfielder. Vick would be able to pick apart opposing defenses, finding every little gap, and if for some reason that fails, he can beat them with his legs. Think Xavi and Messi in one man
Center Midfield: David Backes.
Bio: NHL All-Star Right Winger from the Saint Louis Blues.
Backes loves to get physical. He would be a lot of fun to watch in the center midfield, winning 50-50 balls and laying the wood to anyone who came in his path. Backes is a two-way hockey player, which would make him a great center-mid on the soccer field. He would play both ends and never give up on a play. Backes has also proved that he has a deep passion for the U.S.A crest on his jersey. Leading up to the 2010 Winter Olympics, he fought four players from the Canadian national team in four straight NHL contests to do his part to reignite the rivalry.
Right Midfield: Chad Ochocinco.
Bio: NFL Pro-Bowl Wide Receiver from the Cincinnati Bengals.
More speed. Ochocinco raced and beat a horse. Need I say more? He would be able track down those same through balls, but unlike Jackson, Ochocinco has size. He could contribute in the air on free kicks, keeping plays alive, and scoring in the air. Ochocinco is currently getting his chance to play the world's game with Sporting KC, and I wish him the best. He is a tremendously gifted athlete and it would be a joy to watch him on the pitch.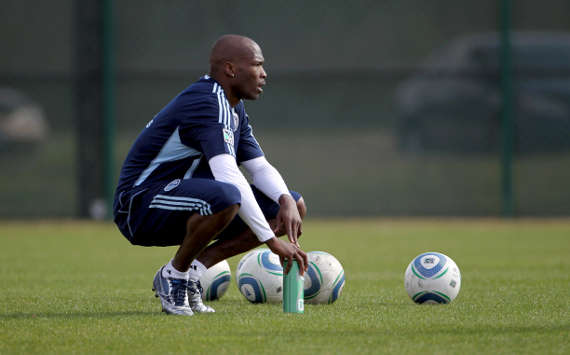 Forward: Kobe Bryant.
Bio: NBA All-Star and MVP from the Los Angeles Lakers.
Kobe grew up playing soccer in Germany, so this really isn't too farfetched. Kobe stands at 6'6", larger than any defender in the world, not to mention his vertical leap will carry him over any defender that was anywhere close to his height. The only problem for him would be getting the ball down. Kobe will win every head ball, but his head will be higher than the 8 feet of the cross bar.
Forward: LeBron James.
Bio: NBA All-Star and MVP from the Miami Heat
Sticking with the theme of never losing a head ball, LeBron stands at 6'8" and can jump extraordinarily high, even higher than Kobe. LeBron is also stronger and faster than any defender that would oppose him. This will allow him to muscle defenders off the ball and then accelerate past them. He can drive to the net like he drives the lane. Teach LeBron to finish and he will be unstoppable on the pitch.
Review
This lineup features incredible size, with an average height being 6'2" and six players over that number. It features brutal physicality, with eight players coming from sports in which one of the goals is to knock an opponent to the ground. It features breath-taking speed, with 7 players running sub 4.5-second 40-yard dash times. It features dazzling entertainment, with Jackson and OchoCinco's potential to wow the audience with hilarious goal celebrations.
Most of all, this team has copious amounts of heart. Every one of these athletes is a blue-collar type, willing to do what ever it takes to get the win at the end of the day; a trait that would win this team a lot of games.
Now, in order for this lineup to work, all these athletes would have needed to focus on soccer from a very young age instead of their respective sports. Obviously, that did not happen, and very few, if any, of these men could make a successful transition to soccer. The point is, if the U.S. could begin to get some of these elite athletes to switch from the "big four" to soccer at a young age, they could become a soccer power sometime soon.
Ochocinco may not make Sporting KC, but if he had stayed with the game he abandoned after high school, there is no doubt in my mind he would be dazzling crowds at the Nou Camp.
Follow Goal.com on

to get the latest soccer news directly. Check out Goal.com's

page; be part of the best soccer fan community in the world!