Watching the U.S. Government's hopeless attempts to shut down illegal sports streaming websites, I can't help but be reminded of another, more high-profile exercise in futility brought forth by our government: The war on drugs.
In both cases, there is an insatiable demand, and precious little that can be done to combat the supply.
The good news in the case of streaming websites is that unlike the war on drugs, this government crackdown likely won't be very prolonged (it also doesn't cost $15 billion per year, which is a plus too).
The reasons this crackdown won't stick are twofold. First off is the timing of the seizures. The Department of Justice and Homeland Security's Immigration and Customs Enforcement seized several popular sports streaming domain names just days before the Super Bowl. This is not a coincidence.
The Super Bowl, of course, is one of the most watched and most lucrative sporting events in the world. It only makes sense that broadcasters put extra pressure on the government to crack down on illegal feeds when a 30 second commercial costs an advertiser between $2.5 and $3 million. Now that the Super Bowl is over, the urgency is reduced.
The second and probably biggest reason this suppression won't last is that, quite simply, it doesn't work. Stopping the internet is like fishing with bare hands.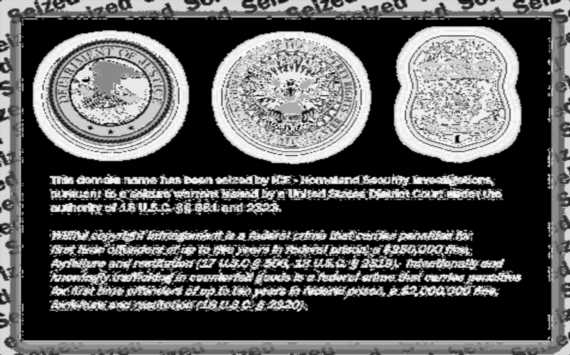 No Entry | This page greets those who visit government-seized domains
The government can only shut down domain names, not the entities behind them, so it's child's play for these entities to simply move to different, less traceable domains. Atdhe.net is now atdhenet.tv, rojadirecta.com is now rojadirecta.me, rojadirecta.es, or rojadirecta.in. Another popular site, myp2p.eu, is still up and running under its original domain.
There is, however, an opportunity to stop these illegal streaming sites, and the reason is pretty simple: They suck.
They cut in and out. They aren't in any language you speak, the quality is poor, advertisements block the entire screen, and the person providing the feed will sometimes
just change the channel
. Did I mention they CUT OUT AND FORCE YOU TO FRANTICALLY SEARCH FOR A NEW FEED RIGHT AT THE MOST EXCITING TIME OF THE GAME?
This is not the way soccer (or anything else, really) is meant to be watched.
The only reason we subject ourselves to this torturous process is there just isn't a better option at the moment. Setting aside the illegal streams for now, let's take a look at some of the legal options available online for live streaming soccer games:
ESPN3:
One of the better options out there. ESPN3 is free, has a solid selection (La Liga, Serie A, international friendlies, Carling Cup, Bundesliga, Portuguese Super Liga, Eredivisie), and the streams are generally decent. One problem is that a user is at the mercy of their internet service provider, so if their ISP isn't eligible to use ESPN3, they're out of luck. Another issue is that it doesn't cover a huge amount of games. An example would be this past Wednesday's international friendlies, of which there were more than 25. ESPN3, however, only had five of those matches available.
Foxsoccer.tv:
Offers a selection of English Premier League, English Championship, UEFA Champions League, Serie A, French Ligue 1 for a monthly subscription fee of $14.99. An annual subscription is $159.99, a total savings of $19.89 off the monthly fee. User feedback is decidedly mixed, however, with some complaining of feeds skipping or cutting out altogether. For the money it costs, "hit and miss" should not be the most precise description of foxsoccer.tv.
MLS MatchDay Live:
For a price of around $40 for the entire season, MLS MatchDay Live is not a bad way to go. The service offered by the league has live streams of approximately half of each week's league matches, and the quality is usually pretty good and sometimes even excellent. Limitations: If MLS regular season matches aren't your thing, please move along, nothing to see here.
Univision.com:
The American Spanish-language giant live-streamed all 64 matches from this summer's World Cup for free and occasionally streams other selected matches, such as this week's friendly between Mexico and Bosnia. From my experience, the stream quality has been quite good.
UEFA.com:
European football's governing body offers live streams of Europa League and Champions League matches, but it ain't cheap: $9.95 per match.
There are several other avenues available to live-stream matches, but these aren't accessible from the United States. Examples include gambling sites like Bwin and Bet365, and British broadcasters including the BBC and Sky Sports.
This leaves a gaping hole in a market with plenty of demand, and not much supply. Until there is a legal means to watch the multitude of online matches that aren't available legally, American soccer fans are left with little choice but to continue relying on streams that are anything but reliable.
The responsibility to act falls squarely on the shoulders of the leagues themselves- the owners of their organizations' broadcast rights.
It is a tightrope act to be sure. Television royalties are still the main cash cows for the leagues, and disseminating their product online would assuredly cut into their TV revenue. The question is whether the loss of TV revenue could be offset by revenue generated from online viewership- either in the form of advertising money or from subscription fees.
As somebody who pays $40 per year for MLS matches, I'll go on the record and say I'd pay that amount and then some if it meant guaranteed quality streams from myriad European leagues. I'm guessing I am not alone in this sentiment.
The sooner leagues come to the realization there is a major demand for their product in an online streaming format, the sooner we do away with the heart-attack inducing, law skirting streams that have become a necessary evil for any American soccer fan.
Seth Vertelney is an associate editor of Goal.com. Follow him via Twitter, Facebook or send him an Email

Follow Goal.com on

to get the latest soccer news directly. Check out Goal.com's

page; be part of the best soccer fan community in the world!