Pop quiz: Name one well-known athlete who hails from India. This shouldn't be too difficult, right? There are 1.2 billion people who live there, and I'm just asking for just one, solitary athlete.
I'm waiting...
Still waiting.
On the surface, it may seem like an easy task, but, for Americans especially, answering this question is more of an exercise in futility.
The Kansas City Wizards hope to make this task far easier this season. Based on the media firestorm around the first ever Indian in MLS, the name Sunil Chhetri could soon roll off the tongue in much the same way Yao Ming does when an American is asked to name a Chinese athlete.
Chhetri, 25, was signed last month from Dempo FC in India, becoming the only member of the Indian national soccer team to currently ply his trade outside of India. He made his Wizards debut on Tuesday, starting and playing 45 minutes in their Lamar Hunt U.S. Open Cup play-in match.
Soccer is not exactly a national obsession in India. The country's national pastime is undoubtedly cricket and, according to
Goal.com India
editor Rahul Bali, Indian soccer is infrequently covered in the broadcast media.
Their national side certainly hasn't given the media much of a reason to do so. Despite its massive population, India currently sits at 132nd in the FIFA rankings, sandwiched right between noted powers Swaziland and Turkmenistan.
There are myriad of reasons for their struggles, which, according to Bali, include poor facilities, lack of infrastructure, poor vision from the All India Football Federation, and slow grassroots development of soccer.
Although its world football profile is feeble, there has been something of a media frenzy surrounding Chhetri's arrival in Kansas City, as many Indians have fervently followed his move with a mixture of curiosity, excitement and hope.
Their zeal is understandable. Chhetri's breakthrough could be a boon for India's soccer future, as it would demonstrate an Indian's ability to make a mark outside his home country. A successful stint in Kansas City could open the door to future transfers, allowing Indian players to compete on a higher level than the I-League.
In an email interview, Wizards vice president of communications Rob Thomson said that the media interest surrounding Chhetri has been the strongest he's seen for a player since he started with the club in 1997.
"We have conducted over 75 interviews in India thus far, resulting in over 250 articles. Some outlets take our press releases verbatim and put them directly into their publications, which is great. The number of followers is both unique and staggering in my opinion," said Thomson.
Chhetri already displayed his goal-scoring ability when he notched a hat trick for the Wizards reserves two weekends ago against the University of Evansville. According to Bali, the trifecta of goals was heavily covered in India, both in print and broadcast media.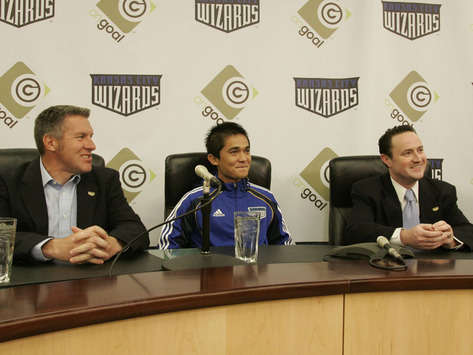 The news of a MLS reserve match's prominence in a country as large as India must have been particularly satisfying for two men: MLS commissioner Don Garber and president of the United States Soccer Federation Sunil Gulati, who was born in India. According to Thomson, both will be involved in a club press event in the near future.
Chettri's signing has reverberated around the American media as well, focusing attention on a Kansas City club that can sometimes get overshadowed by more high-profile MLS teams on the east and west coast. Thomson says he's fielded requests for major stories from the New York Times and the Associated Press, among others. When the Chhetri show is taken on the road, Thomson also expects to be busier than normal.
"I anticipate a lot more media in our locker room when we travel around the United States and the major markets we play in," he said.
One of the major challenges that still needs to be hashed out is television coverage of Wizards games in India. For now, the only way Indians can watch Chhetri's matches is via online feeds, which, as most know, have varying degrees of reliability and legality.
Thomson says the club continues to work on this issue, and he hopes to see television coverage, as well as other forms of interactivity, added in the near future.
"We have said from day one that we will work diligently to be made available in India. We continue working on our marketing plans for people to be able to follow Sunil's growth and experiences. We are working on numerous platforms for viewing, merchandise, interactive chats and more," he said.
In the meantime, the Wizards and MLS will continue to imagine the possibilities that could arise with an entry into a nation with an emerging economy, burgeoning middle class and, oh yeah, over a billion people.
Currently, aside from Chhetri, there are just two Indian-born athletes playing professional sports in the United States: Rinku Singh and Dinesh Patel, two pitchers in the Pittsburgh Pirates minor league system. Translation: the Indian market is ripe for the picking, provided the Wizards and the league promote Chhetri's odyssey properly, giving sufficient access and coverage to fans at home and abroad.
There is a considerable amount at stake for the league and for the future of Indian soccer with this move. Ramping up coverage of Chhetri's foray into MLS will give The Chhetri Experiment its best chance of succeeding and will finally give Americans an athletic face to associate with the world's second most populous country.
Follow Seth Vertelney on Twitter @svertelney