Velez Sarsfield (4-3-1-2):
Barovero; Cubero, Domínguez, Ortiz, Papa; Fernandez, Razzotti, Zapata; Moralez; Silva, Martínez
After the last-minute withdrawal of Moralez last week, Velez will be boosted by the return of its top scorer for this crucial encounter.
Penarol (4-4-2):
Sosa; G. Rodriguez, D. Rodriguez, Gonzalez, Valdez; Aguiar, Freitas, Corujo, Mier; Olivera, Martinuccio

Striker Diego Alonso is the only forced absence for Diego Aguirre, who has the luxury of picking an unchanged team from the first leg.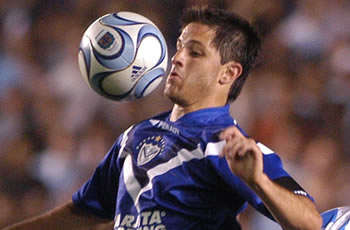 Velez Sarsfield must win in the Jose Almafitani tonight to have any chance of making the final for the second time.

1-0 down, the onus will be on strike duo Juan Manuel Martinez (right) and Santiago Silva to hit home. The strikers have already hit six between them in the competition so far.

The club's last visit to the last four was in 1994, where it beat Colombians Junior on the way to lifting the title.


Coach Ricardo Gareca has an unfortunate relationship with the Libertadores, having lost three consecutive finals with America de Cali between 1985-87.

The 1987 final was against none other than tonight's opponents, with coach Diego Aguirre up front.

Penarol is also looking to cut short a long dry spell in the Copa, 1987 being the last time it reached the final.

This is the club's record 14th appearance in the semifinals, more than any other team.
Of the previous 13 appearances, it has gone on to the final nine times, registering five titles and four defeats in the decider.
The Manya have played away in every Libertadores second leg this year, with one victory (vs. Internacional) and one defeat (vs. Universidad Catolica).

The side has scored just 13 times in 11 games on its way to this match, just over half the amount scored by its Argentine rivals (24).