Gary Smith's side suffered an embarrassing home defeat to Santos Laguna on Tuesday night, but the Rapids still possess the tools to make an impact on two fronts.
Resist the urge to write off Colorado's ambitions in the CONCACAF Champions League and the MLS postseason after last night's disastrous 4-1 home defeat to Santos Laguna.
It may appear wise to do so after watching a makeshift Rapids side flail and stumble against a first-choice side from the out-of-sorts Mexican club, but it isn't the prudent course of action despite the ghastly evidence supplied at Dick's Sporting Goods Park.
In truth, the final scoreline flattered the Rapids after they were swept away for most of the night by a Santos side with incisiveness and quality to spare in the final third. Santos bossed the match from the opening whistle and tore the Rapids' defense apart time and again. Los Angeles emerged from its controversial 2-1 defeat at Morelia earlier in the night with quite a bit of credit, but the Rapids could not and would not follow along the same path after an abject home performance. Not even Brian Mullan's so-called consolation goal could dull the pain.
(Note: It hardly seems fair to not utter a few words about the Galaxy's unfortunate demise and the corresponding end to the brief, but heartening, MLS winning streak in Mexico. Los Angeles carved out a couple of chances – Robbie Keane scored a delightful goal for the Galaxy's tally, while Omar Gonzalez saw his well-taken effort smartly saved by Federico Vilar – during the course of a professional performance and clung to a narrow lead for much of the second half.

The final outcome produced mixed emotions at the final whistle. Los Angeles sat far too deeply during the second stanza and probably should have felt fortunate to concede only twice with Josh Saunders' generally exemplary performance on the night. Then again, Saunders conceded a sloppy first, Keane saw a perfectly valid goal chalked off in stoppage time for offside and then Saunders somehow permitted Miguel Sabah's header to squirt through him to give away a hard-earned point at the death. Under those circumstances, nothing feels quite right about the final result.

Los Angeles followed the usual template in Mexico – defend earnestly, get a goal and grasp it until it slips away – and ultimately fell just short due to a incorrect decision from the assistant referee and some iffy goalkeeping. No shame in that performance, though Bruce Arena will no doubt fume on the plane ride back to the States.)

Colorado coach Gary Smith has embraced his CONCACAF Champions League task with less zeal than his MLS counterparts and has generated correspondingly lukewarm results. He has opted to rotate his squad liberally – a mix of regulars and reserves won 3-2 at home to Isidro Metapan (El Salvador) and a largely second-choice side drew 1-1 at Real España (Honduras) – due to fixture congestion and has exposed his lack of defensive depth in the process. Smith can cite a rash of injuries (more on that in a moment) as one of the principle reasons behind his team selections, but the Rapids have clearly exerted more energy hoping to reverse a downturn in league form (two losses and a draw in the past three outings) than trying to cinch a Champions League quarterfinal berth with a game or two to spare.
Although the recent results may point to a downward trend for the Rapids, they do not reflect the entire story. Despite its stumbles, Colorado still looms as a potentially difficult opponent in the playoffs and a possible quarterfinalist in continental competition even with Conor Casey (left Achilles tear) sidelined.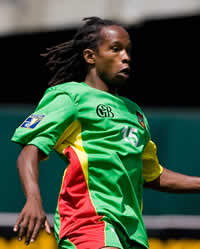 The foundation for the Rapids' success starts with a strong defensive core. Colorado has leaked goals at times this year due to a lack of consistency in team selection through injury problems, the paucity of natural and reliable choices at left back and the necessary reliance on players who should feature as reserves rather than starters. Fortunately for the Rapids, they recently signed the versatile Guadeloupe international Miguel Comminges on a free transfer to provide a possible answer to those left back quandaries. If Comminges – a player who looked somewhat capable during the second half against the Mexicans – can settle in quickly and take over the troublesome left back role, Colorado could settle into its optimal back four – Kosuke Kimura on the right, Drew Moor and Marvell Wynne in the middle and Comminges on the left – and start to shore up its problems in defense.
Once those defensive concerns are addressed and the Rapids are harder to break down in their defensive third, Colorado must look to revive its options in the wide areas. Smith has built a fairly traditional English side (4-4-2 formation with fullbacks and wingers providing width and the typical combination of a target player partnered with a speedy forward, though the last bit has varied at points this year for obvious reasons) and needs a copious amount of accurate service from his wide players. Colorado has struggled for consistency in that department with Brian Mullan battling injury and suspension for much of the season and Jamie Smith seemingly perpetually crocked at this point. The battle-hardened Mullan will rise to the occasion once the postseason arrives, but his Scottish counterpart must stay out of the training room to offer some balance.
(Note: None of those midfield issues extend to the rock solid central midfield partnership of Jeff Larentowicz and Pablo Mastroeni. Larentowicz has played well enough this season to deserve his recent call-up to the U.S. national team, while Mastroeni has enjoyed a renaissance over the past two years with Larentowicz around to do much of the buzzing and chasing.)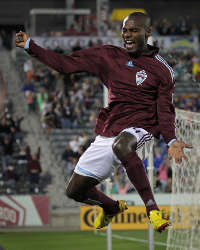 Improved work in both of those departments would bolster a group of forwards that should produce enough goals to push the Rapids through any task ahead of them. Smith possesses plenty of depth here despite Casey's injury with Omar Cummings, Caleb Folan, Mac Kandji and Sanna Nyassi all among the possible choices. Cummings looms as the potentially critical man in that quartet. The Jamaican international has endured a tough season after watching an offseason loan deal to Aston Villa fall through and suffering through an injury-hit spell, but he can rip apart defenses on his day if he can replicate the type of form he has shown during the past few campaigns as this season winds to a close. Cummings' potency, or lack thereof, will prove vital to the Rapids' overall hopes.
Ticking through all of the boxes underscores the uncertainty surrounding the Rapids camp at this point. As the three previous paragraphs suggest, Smith must find answers to the injury-enforced questions he didn't really face last season. Colorado has done well to grind out results through this juncture of the season and it looks certain to return to the postseason, but the overall performances must improve to challenge the likes of Los Angeles, FC Dallas, Real Salt Lake and Seattle.
Several factors may have to turn around in short order to bring this Colorado side together, and the Rapids would no doubt benefit from another postseason spent in the Eastern Conference, but evidence exists to suggest that Colorado's MLS Cup defense still possesses plenty of life. Its CONCACAF Champions League future could follow along the same lines in a weak group with more emphasis on the competition and a short memory after the heavy defeat to Santos.
It may appear prudent to write the Rapids off after last night's embarrassing defeat, but their track record over the past two years suggests that verdict could look a bit hasty by the end of the campaign.
Kyle McCarthy writes the Monday MLS Breakdown and frequently writes opinion pieces during the week for Goal.com. He also covers the New England Revolution for the Boston Herald and MLSsoccer.com. Contact him with your questions or comments at kyle.mccarthy@goal.com and follow him on Twitter by clicking here.