For an announcer broadcasting a soccer match, knowing the names of the players and coaches involved is undeniably the groundwork upon which all other observations and analysis is laid. Accuracy begets believability, which begets credibility, which begets success. Tic tac toe.
Recently, I discovered that the folks over at CONCACAF, sadly, do not share this same belief.
Like anybody who had seen a Real Salt Lake match before, I was completely flabbergasted by the ineptitude that the CONCACAF TV announcer displayed while calling Champions League matches on the free stream provided by CONCACAF's website.
Here is an email I sent on April 22 to the two contact addresses CONCACAF provides to the public on its website (contact@concacaf.org and media@concacaf.org). On April 25, I was provided the name of a media manager within CONCACAF, and sent this email to him as well:
Dear CONCACAF,

First of all, I just want to thank you guys for live-streaming several of the recent CONCACAF Champions League matches. I applaud your forward-thinking decision to make this up-and-coming tournament available to the masses for free on the internet. This is a great way to build the profile of the tournament and I hope mine is just a tiny sampling of the positive feedback you've received regarding the online availability of these matches.

With that said, I do have one complaint: You have to do something about that announcer. I'm talking about the British guy whose name I have unfortunately been unable to procure.

The final match of the tournament is in five days time, so I understand it would be nearly impossible to replace him at this late stage, nor do I think that action is necessarily needed. What I'm asking for is something significantly more realistic: Teach him the names of the players in the match he is announcing.

On April 5th, I tuned in for the second leg of the Real Salt Lake/Saprissa match and, off the top of my head, here are some of the mistakes this announcer made:

He continually referred to RSL goalkeeper Nick Rimando as "Tony Rimando"

He pronounced RSL defender Jamison Olave's name "Jay-meh-sin Olav" (proper pronouncement is Ha-mee-son O-lah-veh)
He pronounced RSL coach Jason Kreis' last name "Crease" instead of the correct "Cry-ss"
He had difficulty with many Hispanic last names (example: "Martinez" was pronounced "Mar-tin-ez" instead of "Mar-teen-ez")

These were not small mistakes, as they were recurrent, and involved several of the more prominent figures from the match. They distracted from my overall viewing experience and I feel confident in saying that I wasn't the only one who felt this way.

Now, imagine my surprise when, upon tuning in this Wednesday for the first leg of Real Salt Lake's final match against Monterrey, this very same announcer made every single one of these mistakes again. I would have hoped that in two weeks, somebody could have passed the message along to this individual that he was making some fairly egregious errors, but clearly, that did not happen.

And so now, I am writing in the hopes that these errors can be corrected before this Wednesday's second-leg matchup. This will be a potentially historic night for American soccer, and I'm guessing you'll have the tournament's highest number of American viewers streaming the match from your website. These viewers notice these mistakes and as I said, it is an unnecessary distraction. It also reflects poorly on your organization as a whole. You need to have somebody calling this match that can pronounce these guys' names. Period. Thanks for listening and I appreciate your time and consideration of this matter.

Regards,
Seth Vertelney, Associate Editor
Goal.com USA
I did not get any response. Still, I had at least made them aware of the issue. I settled in Wednesday night to watch the second leg of the CONCACAF Champions League final with the hope that my message had been passed along.
What happened April 27 - the night of the match - for better and (mostly) for worse, went beyond any expectations I had.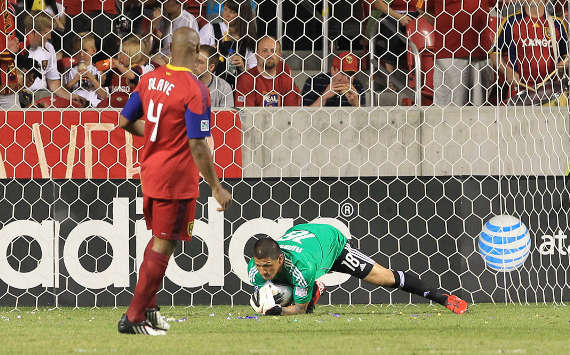 Two major problems for our announcer| Jamison Olave and Nick Rimando
Early on in the match, I was encouraged as our broadcaster (whose name I
still
have unfortunately been unable to procure) corrected one of his biggest errors: Jamison Olave's name last name was now "O-lah-veh". Hooray!
However, it all fell apart from there. First it was the return of Real Salt Lake head coach "Jason Crease", then, amazingly, there was a vacillation between "Nick Rimando" and "Tony Rimando" which continued throughout the entire evening.
In the second half, Real Salt Lake brought El Salvador international Arturo Alvarez off the bench and our fearless leader repeatedly referred to him as the Argentinean, Jose Alvarez.
The part which really makes my mind melt is that he somehow managed to correct himself on the "Olave" pronunciation while failing to make any additional amendments. How does he make one necessary correction while still remaining oblivious to the numerous other flagrant errors?
This may not seem like a huge deal, but for me, the apathy CONCACAF displayed towards the broadcasting of this event is a symptom, not the illness itself. This was such an easy fix, and over a six week timeframe, the same announcer broadcasted the same team and made the same mistakes. Again and again and again.
The Gold Cup starts in five weeks. Your move, CONCACAF.
Seth Vertelney is an associate editor of Goal.com. Follow him via
Twitter, Facebook or send him an Email
Follow Goal.com on

to get the latest soccer news directly. Check out Goal.com's

page; be part of the best soccer fan community in the world!