Andrea Canales
: Ok, then. Is the year that Major League Soccer finally has a major impact on the CONCACAF Champions League? And what will have been the difference in doing so?
Allen Ramsey
: This will be the year for a deep run, and the answers are simple. First, two MLS teams are playing in the quarterfinals, so one will be in the semifinal. Second, in that semifianl, they will still not be playing teams from Mexico. So there is a very real chance of an MLS team in the final. And anything can happen at that stage.
Seth Vertelney
: Most neutrals should be rooting for Real Salt Lake you'd think.
Zac Lee Rigg:
Well there's plenty to talk about how the two MLS teams made the quarterfinals, but if an MLS team does well, it can thank the draw. CONCACAF very symmetrically - and I'm sure completely randomly - put all the Mexican teams on one half of the draw and the other three nations - Honduras, Costa Rica, USA - on the other. Facing another opponent in preseason, and then the weakest of the semifinal pairings will play a huge role if an MLS team qualifies for the final.
Canales
: Is the offseason excuse valid for the lack of results before?
Rigg
: Sure, in combination with some other things, like limited squad depth and the lack of a clear frontrunner in a very even league.
Vertelney
: You'd think the fact it's the offseason might be helpful, as opposed to the middle of a long regular season with a roster stretched to its limit.
Bueno
: I think it was always a weak excuse. What I think was and is more responsible for MLS teams' inability to compete is the kind of money Mexican teams can throw at players, and the lack of roster limitations those teams have. The two leagues aren't on equal footing in that sense. That creates a situation where Mexican clubs have much deeper rosters, more talent and just better teams in general.
Ramsey
: But Luis, that doesn't explain why USL teams have had more success in the CCL than MLS teams.
Canales
: But what kind of legitimacy would a CCL trophy give MLS?
Ramsey
: MLS needs a finalist at the very least, just to show that they can at least compete with everybody other than the Mexican top flight. And if they can win the final and get the trip to the Club World Cup, it could make other MLS teams take the competition more seriously.
Bueno
: It's no secret that the Mexican league is hands down the best league in this region. It's not even close. CONCACAF knows it, which is why we got the current knockout round format with all Mexican teams on one side of the bracket. Getting to the final will be a good accomplishment for any of the non-Mexico clubs but winning the final will be a mammoth challenge.
Canales
: Which MLS team has the best chance, then?
Bueno
: RSL. They have some depth and with Saborio and Morales some strong talent leading the way.
Vertelney
: I don't think there's any doubt RSL is in a much better position to advance, which is why any neutral MLS fans should be rooting for them.
Evans: RSL, obviously. They're the best team in the league, right?
Ramsey
: Saborio is a huge advantage for them. In the CCL, one hot striker can carry a team and he has plenty of experience against the types of team they'll face along the way.
Evans: Yeah, he's a monster. I think he's going to do even more damage in MLS this year than last.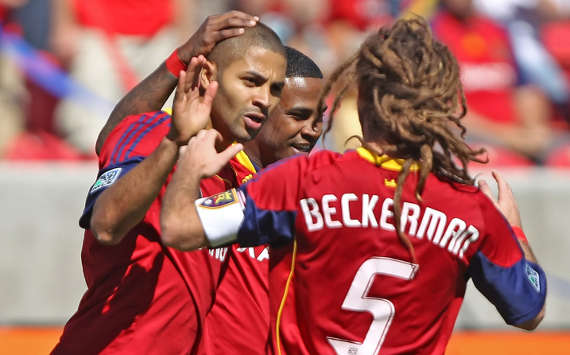 Vertelney
: Columbus has had so much player turnover from last year to this year, I just can't see them overtaking such a well-coached team like RSL, who have had very little turnover.
Evans: Yeah, they barely lost anyone.
Vertelney
: Columbus is also onto their third string keeper, Ray Burse.
Bueno
: Remember too, RSL took this tournament very seriously last season during the group stages and did well to balance both tournaments. They'll be heading into this series 100 percent focused.
Follow Goal.com on

to get the latest soccer news directly. Check out Goal.com's

page; be part of the best soccer fan community in the world!