The length of a stud. Less than an inch. Argentina could well suggest that mere genetics were what made the difference as they claimed their first world title. Had Mario Kempes' legs been but a couple of centimeters shorter it could have been so different. But the striker, who had been the man of the tournament and standout perfromer of the final, was to get a touch of the ball that would make history.
As everyone around him tired in extra time at the Monumental on June 25, 1978, the Valencia forward stood tall, repeatedly slaloming past his Dutch opponents. "He's a player who can make a difference," said coach Cesar Luis Menotti. And he did.
VIEW FROM ARGENTINA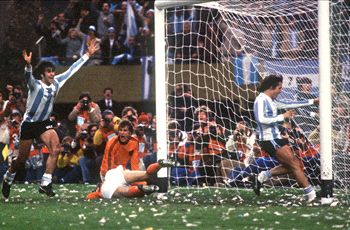 By Martin Seldes | Goal Argentina


Kempes' role was even more important if we consider that he didn't score in any of the first three games. After that, he scored twice against Poland, Peru (6-0) and Holland in the final (3-1). It was only in the tie (0-0) against Brazil that he didn't score. After those first three games and before the second phase, the only difference was that he shaved his moustache.

"That moustache brought me bad luck," he said. Coach Menotti told me to take it off and I started scoring immediately. After that game, I shaved two hours before any match for the rest of my life."

Kempes is not as famous as Maradona or other top scorers in World Cups. That is probably because he has chosen a low profile for his life after soccer.

Those who celebrated the 1978 World Cup win still remember it as a happy memory, while others still suffer thinking that he had helped the government without having an idea of what he was doing. Or even worse, doing what he best knew how to do: playing great soccer and scoring goals.
It was Kempes who had opened the scoring just seven minutes before halftime, latching onto Leopoldo Luque's pass to burst into the box and slide the ball beneath Jan Jongbloed for his fifth of the tournament, in what was an ill-tempered affair.
The acrimony between the two sides that evening began before the match had even kicked off. Holland was made to wait a full five minutes for the hosts to emerge from the tunnel before they caused further delay by protesting the cast on Rene Van der Kerkhof's injured wrist, insisting it could be used to inflict injury.
Tempers continued to fray in a first half that saw the Dutch fight fire with fire, surrendering their composure in front of more than 70,000 in Buenos Aires.
The Dutch recovered after the interval and Argentina had goalkeeper Ubaldo Fillol to thank for keeping it in the game until nine minutes from the end when Dick Nanninga headed an equalizer that appeared to have saved Holland from successive World Cup final defeats. Rob Rensenbrink very nearly won it for the Dutch right at the end, stabbing his shot against the post from a tight angle. Argentina had survived. And Kempes would lead it to glory.
Fourteen minutes into the first period of extra time, he wrote himself into history by swerving past two Dutch defenders before seeing his finish deflect back off Jongbloed and bounce up for Kempes to stab it into an empty net. It was his sixth of the World Cup and made him the tournament's top scorer.
He then created the third with four minutes left when he once again darted into the box, playing a one two with Daniel Bertoni, causing mayhem in the Dutch defense that eventually allowed the latter to stroke home Argentina's third.
Kempes became a legend in June of '78, though his humility would never let him accept the label. "I am just one of many who have played their part in Argentina's football history," said a player whose modesty was illustrated four years later when Argentina's shirt numbers were handed out in alphabetical order — Kempes had No. 10, but when he saw how much a young Diego Maradona wanted the shirt, he instantly handed it over.
Take a look at One Stadium — the soccer destination for official FIFA World Cup partner Sony — which hosts archive footage from every modern finals.