Watch CONCACAF Gold Cup™ USA v Canada, Tuesday 6/7 live at 7:30 p.m. ET on FOX Soccer! For a complete match schedule, click here

The beginning of Tim Howard's international career as a starter began with the Gold Cup.
Trailing by one in the competition's final four years ago against Mexico, Howard saw the United States men's national team rally from behind thanks to several saves by the goalkeeper and a goal from both Landon Donovan and Benny Feilhaber to win 2-1. Now, one of the key players on the U.S. squad, Howard remembers what that tournament meant for him.
"It's a trial by fire," explained Howard to
Goal.com
. "Lifting that trophy against Mexico in Chicago, it was awesome. The way the game unfolded being down with a packed house that was pro-Mexican, it was hotly contested match. It was one of the first highlights of my career."
Due to its low profile, the Gold Cup doesn't draw the level of interest that other continental competitions like the Euros or the Copa America, but the tournament provides a unique opportunity to be a stepping stone for young talent.
Donovan and Howard both gained their first significant tournament experience in the competition before going on to bigger and better matches in the Confederations Cup and World Cup tournament. With many of the U.S. team players approaching 30 or older, head coach Bob Bradley has invited several young players that he believes can be the future of the Stars and Stripes.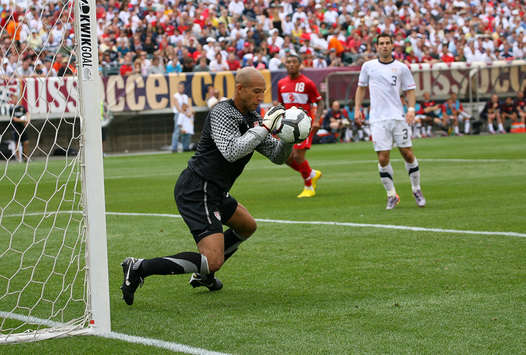 Brick Wall Howard | The 32-year-old gained his confidence in the Gold Cup
Getting ready for this year's edition of the tournament, several other players reminisced on their first Gold Cup and what it means for young players.
When Donovan looks at players such as Juan Agudelo, Tim Ream and even Jozy Altidore - who despite playing in the World Cup will be experiencing his first Gold Cup - he is reminded of his first appearance in the competition. He was heralded as part of the future of the U.S. soccer and for the most part he has lived up to those expectations.
The 29-year-old credits the confidence he gained in the competition as the start of his rise to being a key player as a U.S. international.
"It was really my stepping stone into the national team picture," explained Donovan to
Goal.com
. "I had played friendlies against Mexico and China before that but the Gold Cup was my first chance to play in meaningful games. It was an invaluable experience."
While the U.S. is expected to reach the final this year, the level of competition is different from a Confederations Cup or a World Cup as the quality of squads range from dangerous Mexico to minnows like Grenada or Cuba. Still, as proven with Mexico's game against El Salvador on Sunday, the Gold Cup games can draw large amount of fans as 80,000 fans packed Cowboys Stadium to watch El Tri.
Most MLS youngsters encounter only a fraction of that on weekly basis and the opportunity to prove themselves in a high pressure environment is crucial if they want to be considered for the World Cup.
"To play in a tournament like this is extremely important," said Donovan. "In some ways, it simulates what a Confederations Cup is, what a World Cup is like. The intensity of it simulates what our [World Cup] qualifiers are like. These games are really important for our youngsters."
Howard agrees with Donovan. Playing behind legends like Brad Friedel and Kasey Keller, the 2007 Gold Cup gave him a chance to show that he could play an important role for the Stars and Stripes. He hopes that in the future, this tournament will showcase some talents that could be called upon in crucial moments.
"These kids are going to learn quickly because it's a tournament," said Howard, "There are no holds barred."
Alex Labidou is the Deputy Editor of Goal.com USA. Agree or disagree with the story above? Give him a shout @sportslab on twitter.
Visit the U.S. national team page on Goal.com for more and join Goal.com USA's Facebook fan page!