NEW YORK — John Brooks is a happy-go-lucky guy, a 21-year old soaking up the wild ride taking him to the 2014 World Cup with the U.S. national team. Like most of the German-Americans on the U.S. team, he is a free spirit who isn't afraid to speak openly, so it wasn't that surprising to hear him admit that just two months ago he thought his World Cup dream had escaped his grasp.
Brooks endured a roller-coaster first season in the German Bundesliga with newly-promoted Hertha Berlin. After enjoying a dream season as a first-year starter for Hertha during its Bundesliga 2 title run a year earlier, Brooks was given a harsh welcome to the top flight as he struggled to maintain the level he set a year earlier. He was benched at times, and also faced injuries, and late in the season he was stuck on the bench, looking like a player ready to fade out of the U.S. national team picture with the World Cup just months away.
"No way. It was like five games until the end. I didn't play in the Bundesliga against Leverkusen and I said 'Okay, it's game over (for the World Cup)'," Brooks told
Goal USA
. "But then I said 'Okay, there's still four games after this and I have to go hard and train hard and give my all."
Brooks made his way back into the starting lineup for Hertha Berlin, with the help of an injury to veteran Levan Kobiashvili, and finished the season in top form, even earning Bundesliga player of the week honors after scoring the winning goal in a 2-0 victory against Eintracht Braunschweiger.
"I couldn't believe it," Brooks said of his Player of the Week award. "My mom told me and I said you're just kidding, stop joking, then she showed it to me. I was so proud, but it's only one week. You have to bring it every week.
MORE: U.S. Soccer MVP rankings | USA vs. Turkey photos
Brooks' strong finish to the season pulled him back into contention for a World Cup place, and eventually a spot on the U.S. World Cup roster. That came as a surprise to U.S. fans whose lasting memories of Brooks were off a stumbling defender who looked overmatched in the U.S. team's loss to Ukraine in March.
"It's always hard when you don't play every week," said Brooks of the Ukraine match, which he acknowledged was a bad one for him. "I also think that's a reason I struggled a little bit. I need to play and play and I will get better."
Brooks' confidence in his own ability makes him believe that he can be a key figure on the U.S. national team for years to come, and he doesn't worry about the idea that many U.S. fans were not sold on him being part of the World Cup team.
"I'm here for a reason and the coach knows what I can do," Brooks said. "I have to bring it out on the pitch and the American fans will see it."
U.S. fans saw it in Sunday's 2-1 win vs. Turkey, with Brooks coming on at halftime and turning in a strong 45 minutes in central defense in just his fourth national team appearance. Brooks dominated in the air and cut out several Turkish attacks. Now, instead of the talk being why he was chosen to make the World Cup team ahead of veteran Clarence Goodson, the talk has shifted to whether Brooks just might push past Omar Gonzalez on the depth chart and challenge for minutes in Brazil.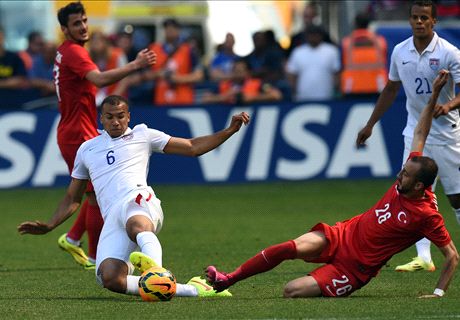 "There's a young man growing into a bigger, bigger role," Jurgen Klinsmann said of Brooks after the Turkey match. "He's feeling more and more part of this whole group and (feeling) strongly about breaking in there."
"He's so calm you have to check if he's breathing sometimes because he's easy going," U.S. goalkeeper Tim Howard said of Brooks. "He's a big kid. He's like Geoff Cameron in a way. He moves really good for a big guy. He's lanky, but he's got a good stride and he gets himself in good positions. I think he cut out five or six crosses whether they were on the ground or whatever. That's good positioning.
"He's a young kid, but he has all the attributes," Howard added. "When you see the way he plays, you can tell that he's a centerback. He's got the right movement. He's got the right attitude."
Brooks is just having fun with the entire World Cup team experience, and after surviving the final cut to make the final 23, he told Goal USA that he felt like a 20 kilo weight had been lifted from his shoulders once he made the team.
Don't get it twisted, playing for the United States means a lot to the German-born Brooks. Much like his close friend Terrence Boyd, who just missed out on making the World Cup team, Brooks feels very attached to the American part of his makeup. He has a map of Illinois on one elbow, with Chicago marked, while his other elbow features a drawing of Berlin, his hometown.
Brooks' allegiances aren't torn though. He made sure to prove just that when, after seeing a photo of an American eagle with its wings spread out, Brooks decided to get a full back tattoo of American eagle wings. The tattoo covers his entire back and even covers the back of his arms as well.
Now with wings on his back, and the World Cup in sight, Brooks just might be poised to soar in Brazil, and help turn what once seemed a lost dream turn into a perfect one.