The Goal Rich List is a unique piece of research and therefore gives us a rare opportunity to analyze the trends which determine how a player gets to the top of the money tree.
With a footballer's wealth being dependant on so many differing factors, we looked deeper beyond the stark facts of each player's personal haul to see how these superstars developed their fortune.
[Slideshow: The Goal Rich List Top 50]
From their nationality to the clubs they have represented, from their boot sponsors to their age, there are all sorts of ways a footballer can earn mountains of cash in the 21st century. And there are countless reasons why a big sponsor may want to associate itself with such a player.
We break down some of the most notable facts and stats to be taken from the Goal Rich List...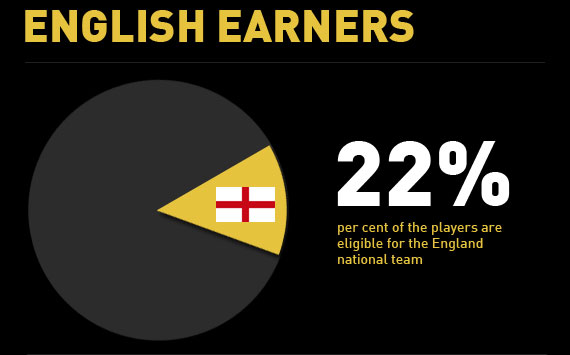 With the Premier League having led the way in football's current era of marketability, it might come as little surprise that the Goal Rich List is dominated by players from the sport's birthplace. While 22 percent of the players are English, the remainder are spread over 18 different countries. There are six Italians and five each from Brazil and Spain, while Frenchmen represent 8 percent of the 50. There are also four Africans on the list, with two Ivorians, one Cameroonian and one Ghanaian amongst the game's wealthiest men.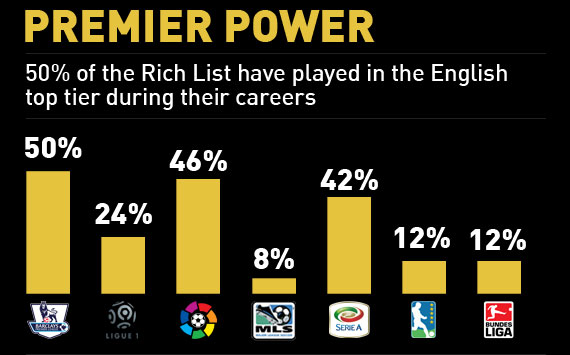 The Premier League's pulling power with sponsors and advertisers has helped to make wealthy men out of countless players over the years, and an astonishing 50 percent of the Rich List have played in the English top tier during their careers. La Liga contributes 23 players to the 50-man chart, while Serie A has been the home of 21 players at some point or another. Of course, David Beckham has played in all three of those leagues and he is also one of four men to have played in the MLS, with Thierry Henry, Robbie Keane and Alessandro Nesta all still plying their trade in the American league.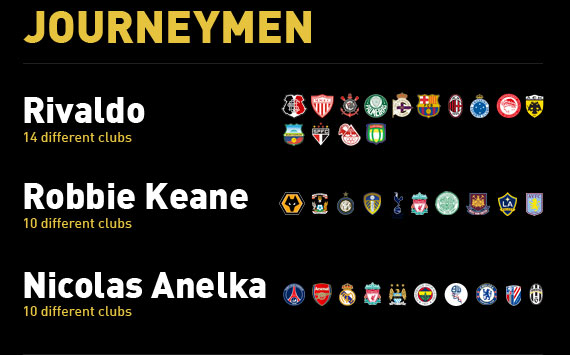 It is fair to say that some of the game's top players have become rich thanks largely to regular transfer deals and the signing-on fees that comes with them. The ability to flaunt his wares across the world has seen Rivaldo rack up 14 different clubs during his long career in the game, while Robbie Keane and Nicolas Anelka have each so far made first-team appearances for 10 different outfits. At the other end of the scale are 10 players who have only ever played for one club during their professional career. Lionel Messi is the highest-placed of a group including the likes of Ryan Giggs, Steven Gerrard, Iker Casillas and Francesco Totti.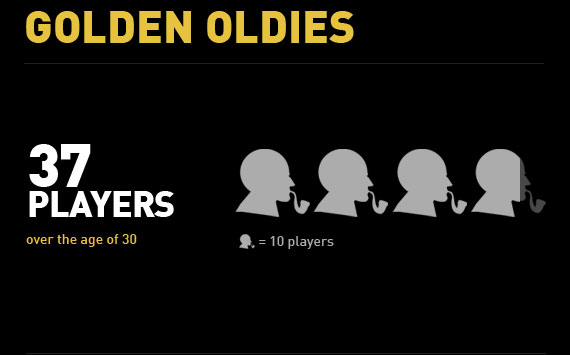 It makes sense that a large percentage of the Rich List should be players who have operated for a significant period of time at the top level, and that is reflected in the inclusion of 37 players over the age of 30. While Rivaldo continues to play for Sao Caetano at 40, 39-year-old Ryan Giggs' continued spell with Manchester United has made a rich man of him too. Most notable in the breakdown of age categories, though, is the presence of two players under 26. Neymar and Lionel Messi have already made more than enough to make the 50-man list despite their relative inexperience, with the Argentine breaking through the 115 million euro barrier with plenty of years still left in him.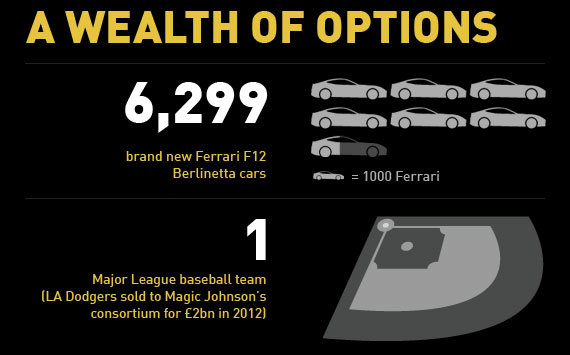 So what could our 50 players club together and buy? Well, with all of the money at their disposal they would certainly not be short of options. Between them they have enough cash to fork out for 6,299 brand new Ferrari F12 Berlinetta cars, or they could pick up 146 lavish penthouse apartments in Fifth Avenue, New York City. While islands in the Bahamas or luxury yachts could also be on their wishlist, there would also be the chance to emulate Magic Johnson's consortium, who bought the Los Angeles Dodgers in 2012. The Rich List members could pay out the 1.3 billion pounds Magic group bid and still have over £400m to spare.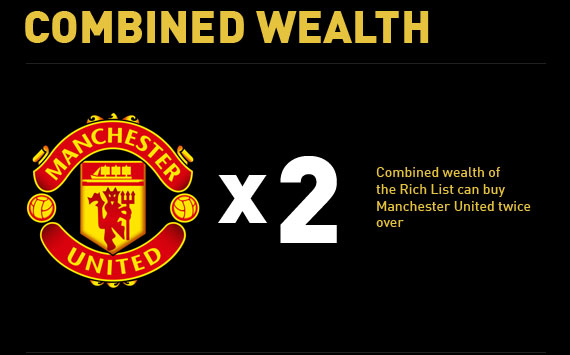 If the Rich List players wanted to pump their money back into football, there are all sorts of ways they could do so. Their combined wealth would be enough to buy Manchester United twice over, based on the
800
m pound purchase price originally laid out by Malcolm Glazer. Alternatively, they could cover Manchester City's current wage bill, including taxes, for the next eight-and-a-half years, or buy Real Madrid four training grounds of the size and quality of Valdebebas. There is even the more democratic option of paying off 69 percent of the combined debt of the Premier League's 20 clubs with their combined wealth. Or, if they simply wanted to take in a few games, they could by 27.8 million tickets in the Arsenal away end at
62
pounds a pop. That is the entire away capacity for the next 489 seasons at the Gunners' Category A valuation.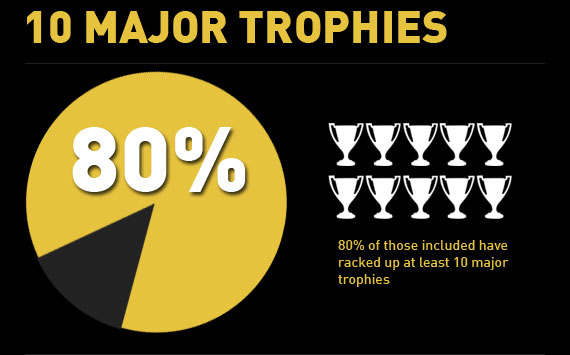 Such is the talent on show in the Goal Rich List, a staggering 80 percent of those included have racked up at least 10 major trophies during their time in professional football. The most successful player is Ryan Giggs, whose 33 honors dwarf the trophy cabinets of the other members of the list. His nearest rivals for the crown are Manchester United teammate Paul Scholes and Brazilian stalwart Rivaldo, who have each won 24 major titles. With four trophies apiece, Robbie Keane and Daniele De Rossi have the least to show for their careers in terms of honors, although in the Italian's case one of those medals happens to be a World Cup winner's gong.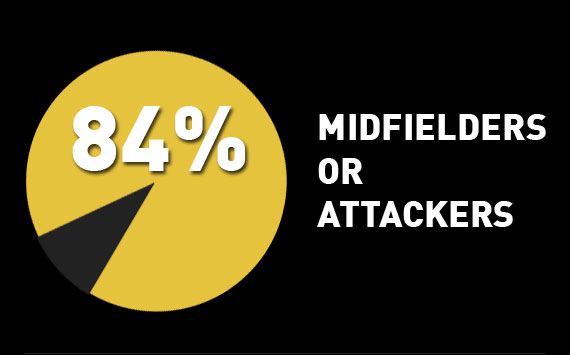 If you want to be a mega-rich footballer then steer clear of defending. Those plying their trade in the attacking half of the field attract bigger contracts and glitzier sponsors. Of the 50 in the Goal Rich List, 84% are either midfielders or attackers, with 26 players playing in the final third. Interestingly, two of the three goalkeepers on the list are captains of their national side. Iker Casillas and Gianluigi Buffon lead Italy and Spain, respectively, while Petr Cech is Tomas Rosicky's vice captain for the Czech Republic.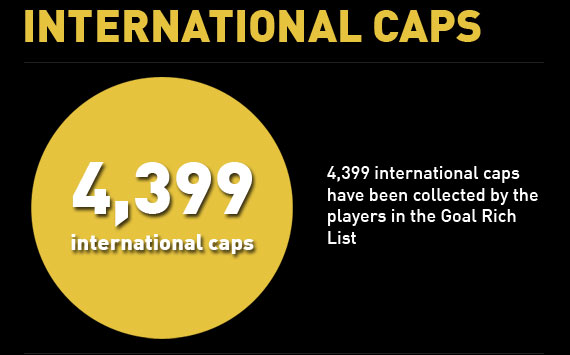 There have been 4,399 international caps collected by the players in the Goal Rich List, making it one of the most star-studded groups of footballers ever collated. At an average of 88 caps per player, the 50 players have all become world stars through the international game, as well as thanks to the popularity of their domestic leagues. Now just imagine what a room filled with 4,399 caps would look like... that's even more than you would find in a rapper's wardrobe.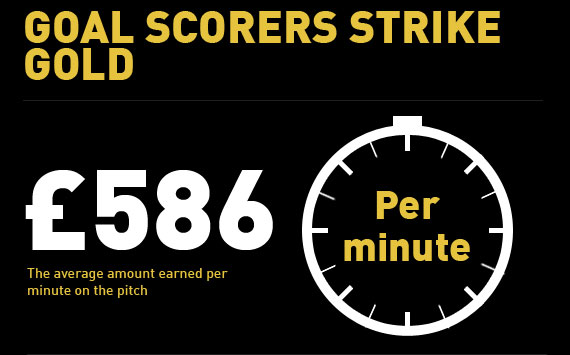 586 is the number of pounds-per-minute earned by the average player in the Goal Rich List, taking into account total professional games played by each man and spreading their earnings over 90 minutes per match. That is 122 times more in 60 seconds than an American on minimum wage will get for a working a full hour.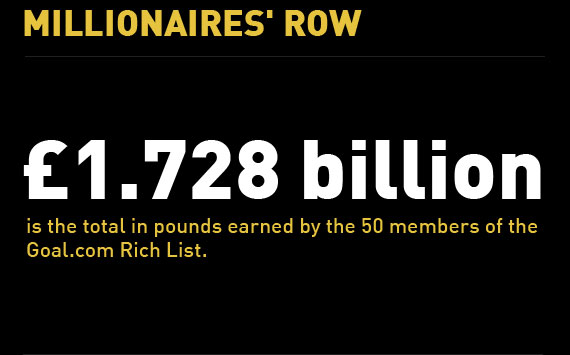 1.728 billion pounds is the total earned by the 50 members of the Goal Rich List. That is enough for the 50 players to club together and pay for an apartment each in New York City's luxury Fifth Avenue area... and have enough left over for 96 more homes for their friends and families. Equally, any room in which you may find the 50 players would automatically be worth 24 times more than the upmarket Cave Cay island in the Bahamas.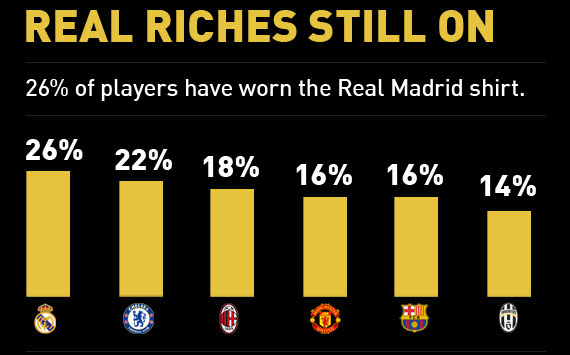 Hala Madrid indeed. A whopping 26 percent of the players in the Rich List are former or current Real Madrid players. While the Galactico era is a thing of the past, there is still big money available to anyone who signs on the dotted line at the Santiago Bernabeu. With David Beckham, Cristiano Ronaldo, Kaka and Samuel Eto'o in the top 10, there is a healthy presence of one-time Blancos at the top end of the list. Raul, Robinho, Iker Casillas, Wesley Sneijder and Nicolas Anelka all make it inside the top 30, while Arjen Robben, Clarence Seedorf and Michael Essien round up the former Madrid men in the full list.

32,754 appearances had been clocked up in senior professional football by the 50 members of the Goal Rich List over the span of their careers, up to and including Feb. 21, 2013. That includes all club and international games, but not taking into account age-restricted competitions such as Under-21 championships and Olympic tournaments. Amazingly, that means the average Rich List player will have played 655 games in his career so far.
NIKE BOOT THE REST INTO TOUCH

44 percent of the Rich List wear Nike boots including third-placed Cristiano Ronaldo. Even Adidas, who count our top two of David Beckham and Lionel Messi among their customers, cannot rival the American giant with 17 clients included, while Puma come in a distant third with five men in the 50-man shortlist.