You have heard plenty of talk about how the U.S. national team has more depth than ever before, and a look at the number of forward, wide midfield and center back options suggests that this notion is pretty true.
One position you can't say that about is a position that has been a void for the USA for decades. Attacking midfielder, the true No. 10, remains an elusive spot to fill with a player that feels like a natural fit.
We were reminded of this Friday, when Sacha Kljestan was deputized into a playmaking role in Jurgen Klinsmann's 4-2-3-1 and failed to impress. There was reason to be hopeful in Kljestan's ability to create in that spot underneath the lone striker considering the outstanding season he is enjoying at Anderlecht, but rather than be an effective creator, Kljestan was largely underwhelming and appeared too content to sit deep in midfield and knock the ball around rather than look for the incisive passes.
To his credit, Kljestan did set up at least one good chance for Jozy Altidore, but based on Klinsmann's postgame comments, Kljestan didn't fill the role the way the German coach was hoping he would.
"He did OK, but it was tricky for him because we wanted him to play in between their two lines, the back line and the midfield line, and to find him in those spaces closer to Jozy, rather than further back," Klinsmann said of Kljestan. "His instinct tells him to drop a little deeper because that's what he does at Anderlecht, and then suddenly we had three midfielders in the same area with Jermaine [Jones], Michael [Bradley] and Sacha. That's not what we wanted. We wanted to find people between their two lines of four, so it was a bit tricky for him."
Klinsmann has gotten by with using Clint Dempsey in a playmaking role for much of 2013, and Dempsey's ability to create his own chances and draw attention from opposing defenses has made him a useful option there. Nobody would call Dempsey a pure playmaker, though, and the absences of Dempsey and Donovan left Klinsmann without his two stopgap playmaking options.
Donovan did well in the Gold Cup with the freedom to create, but the level of competition that tournament is a far cry from what the USA will see in Brazil next summer. We saw a better measure of what Donovan might be able to do in the attacking midfielder role on the road against Costa Rica. He made a few good passes in the attack, but was far from looking like the long-term answer in the role.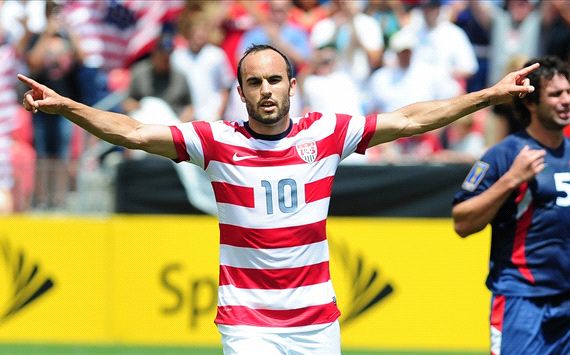 Donovan starred in the Gold Cup ,but may not be the playmaker Klinsmann's system needs


The lack of a true playmaking option has plagued the U.S. for years, going back to the days when Claudio Reyna was derided for not being a better playmaker (ignoring the fact he never was an attacking midfielder to begin with). John O'Brien had the skills, vision and technical quality to be the best playmaker the U.S. ever had, but injuries kept him from really making his mark long term (though he did show it in the 2002 World Cup). In fact, it was the mere hope of him being able to flash that playmaking ability that earned him a spot on the 2006 World Cup team despite the fact he was clearly injured.
Bob Bradley's approach to the lack of playmaker options was to spend the better part of his stint as head coach deploying a much-derided "empty bucket" formation, a 4-4-2 with two defensive-minded central midfielders. Ironically enough, Bradley's final match as U.S. coach featured him using Freddy Adu as a playmaker, a move that actually produced some outstanding soccer for 45 minutes before Mexico dismantled the U.S. defense and Adu's strong showing in that role became an afterthought.
The current midfield pool has plenty of talent, like Fabian Johnson, Alejandro Bedoya, Graham Zusi and Mix Diskerud, but none, save for maybe Diskerud, is seen as a real solution in an attacking midfielder role. Diskerud looks like the safe bet to get the next crack at that position, and the young midfielder has shown well when given the chance. But if he proves to be another player who isn't quite the answer as an attacking midfielder, Klinsmann may come to the realization that his hopes for having the 4-2-3-1 formation be a strong option in his arsenal might be too ambitious.
If anything, the number of good forward options in the pool, combined with the lack of clear attacking midfield options, might force Klinsmann to at least consider deploying a 4-4-2 formation that would look very similar to the one we saw for much of Bradley's tenure as coach. Unless Diskerud or Joe Corona really emerges as a viable option for the attacking midfielder role, Klinsmann will have to turn his attention to trying to get more forwards on the field.
Aron Johannsson looks the part, and he seems destined to be an ideal strike partner for Altidore, so a 4-3-3 in which the three midfielders are more two-way types than pure playmakers seems the way to go. That is unless someone like Diskerud or Corona or Donovan or Dempsey looks good enough in a playmaking role to make a one-forward system viable.
We will see Tuesday against Austria whether Klinsmann is ready to scrap the one-forward system for the time being. Diskerud seems a natural bet to start, and the fact he started both of October's World Cup qualifiers suggests Klinsmann really has hopes for him. If Diskerud can impress as a setup man for Altidore and Johannsson (who seem a safe bet to start together), then he will have the inside track on being groomed for playmaking duties in Brazil. But if he struggles, and joins Kljestan on the list of players who couldn't really pull the strings, then Klinsmann may have no choice but to put his quest for integrating a true playmaker into his preferred system on hold.
He wouldn't be the first U.S. coach to do it, and based on the options in the current player pool, the search for a true playmaker could wind up going on for a good while longer.