The Seattle Sounders are a bit special.
Now in their sixth season, the Rave Green have become the flagship franchise in Major League Soccer. Fans of the LA Galaxy or New York Red Bulls might dispute that, but they can't deny that Seattle's in-market draw is bigger than any other team's and its national television ratings are routinely among the best in the country.
There's a reason why the Sounders have hosted the opening game of the MLS season in four of the last six years, and why when the league blew apart the allocation rules to bring back Clint Dempsey, he walked out onto the field at CenturyLink, not Red Bull Arena or Buck Shaw Stadium or either of the venues named for Toyota. MLS sent the biggest American signing in the league's history to Seattle for one simple reason: It's the biggest club.
But while everything off the field may represent the pinnacle of American domestic soccer, the on-field product has been much closer to the mean. While the back-to-back-to-back U.S. Open Cup victories are a wonderful achievement, and Seattle's record of having never missed the playoffs is certainly a feather in the club's cap, it's not enough. Real Madrid didn't become Real Madrid by winning the Copa del Rey a few times, and the Coppa Italia isn't what made Juventus a household name around the world.
PLAYER SPOTLIGHT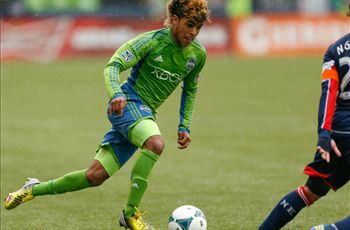 One of the bright spots of an otherwise underwhelming season was the emergence of right back DeAndre Yedlin, who capped his breakout year with a United States men's national team appearance.

Goal's Ives Galarcep met up with the 20-year-old in Seattle last week.

Read the Player Spotlight here
Boring, routine qualification makes you modern-day Arsenal, and no fan really wants his or her club to be modern-day Arsenal.
A club of Seattle's stature needs to be a champion. Not only on the domestic front, but internationally. In three cracks at the CONCACAF Champions League, Seattle went out in the group stage, the quarterfinals, and the semifinals. Pretty good, but not enough.
It's impossible to talk about Seattle's successes and failures without mentioning Sigi Schmid, the man who has helmed the Sounders since they joined MLS.
The 2013 season was underwhelming for Seattle. It was the first year Seattle failed to make the U.S. Open Cup final, a year in which Seattle conceded more goals (42) than in any of its other MLS campaigns, a year which saw the Sounders win just one of their final 10 matches, and a year which saw a playoff embarrassment — a 5-3 aggregate that was 5-1 until a pair of consolation goals — at the hands of archrival Portland.
With his season on the brink, Schmid made the baffling decision to start a pair of defensive midfielders — 35-year-old Shalrie Joseph and solid but uninspiring journeyman Adam Moffat — at striker and left wing, respectively.
It was only natural that after a decline, questions would be asked of Schmid. But this wasn't a simple case of a onetime contender (Seattle was four points off the Supporters' Shield in 2011) regressing to a team that had to scrap for the playoffs. This was something else. This was Sigi Schmid, 60 years old, winner of College Cups, CONCACAF Champions Cups, MLS Cups, Supporters' Shields, and U.S. Open Cups, painfully and obviously out of ideas against a better, cheaper Portland Timbers side. An informal poll on
The
Seattle Times
' Sounders blog found that more than 70 percent of respondents felt Schmid should not be brought back as head coach of the Sounders in 2014.
But he was. Shortly after the team's playoff exit, majority owner Joe Roth released a statement saying "there is no question that Sigi Schmid is the right man to lead our club."
Dave Clark, founder and managing editor of the
Sounder At Heart
blog, put the retention down to a matter of meeting minimum standards.
"The simplest answer is that he was under contract," Clark told
Goal USA
via email. "If the minimum standard is to make the playoffs, he met it. One could say that firing someone for doing the minimum of what is defined as success is a bit absurd.
"Instead of firing the coach they fired the players, a lot of them. Only eight players of the 30 currently under contract have more than a single season with the club. Only one of the three designated players started last season on the roster."
Clark pointed to Sigi's stature with the team and his presence since its inception as contributing factors. Schmid walked away from a double-winning Columbus Crew side to build the Sounders from the ground up.
"It points to how important Sigi Schmid was to laying the foundation of Sounders FC (MLS era) soccer. He and Adrian Hanauer met years before this MLS thing became reality. If Sigi earns a contract extension from a strong 2014 in Seattle, it wouldn't surprise many if he became part of the permanent leadership here. He's adopted Seattle and the majority of the fanbase adopted him.
"He'd have to fail, and clearly fail without major outlying factors, to be let go during this season. The on-field success is defined by Sigi. He also has a major hand in talent acquisition as one of three heads of that team (the others are Adrian and Chris Henderson). The staff is strongly influenced by Sigi's men — Henderson, Hendrickson, Kurt Schmid. His influences are nearly impossible to avoid in anything soccer related throughout the team."
Last week, the Sounders hosted the defending MLS Cup champion, Sporting Kansas City, and won 1-0 from a stoppage time Chad Barrett goal. It was a big victory, cathartic after last season's denouement, maybe even a "statement" win. There's a plenty of "maybe" to go around these days. Maybe Eddie Johnson was a locker room cancer and needed to go. Maybe Chad Marshall can be the rock at the middle of the defense. Maybe Stefan Frei will be better than Michael Gspurning. Maybe 2014 is the year when the Seattle Sounders finally become great. Or maybe it'll be just another year when Sigi Schmid's team is just pretty good.
#HotSportsTakes
Portland -
The Timbers stumbled out of the gate, needing a last-gasp to take a point at home against a robust Philadelphia side. Caleb Porter's team is still vulnerable on set pieces. New signing Norberto Paparatto, despite his 6-foot-3-inch frame, was beaten a few times in dead ball situtations in preseason and lost out to Maurice Edu on Philadlephia's goal. On the bright side, captain Will Johnson signed a new contract.
Coming up: Portland hosts Chicago on Sunday. The Fire lost their season opener, 3-2 to Chivas USA and generally failed to assert themselves on the game. Sunday, March 16 - 12 p.m. PT, Root Sports.
Seattle -
It's fun when soccer doesn't make any sense. Five times in nine meetings now, the Sounders have scored a stoppage-time winner against Sporting Kansas City. And when Chad Barrett —
Chad. Barrett.
— flail/stabbed the ball over the line, you just sort of had to enjoy the moment and forget about the statistics.
Coming up: That high-priced Seattle offense will have to be a little more effective in front goal. Maybe. The new-look Toronto FC kicks off 2014 as Michael Bradley, Jermain Defoe and co. visit the Emerald City. Saturday, March 15 - 1:30 p.m. PT, NBCSN.
Vancouver
- The Whitecaps stormed out of the gate with the most impressive victory of MLS' opening weekend, thrashing the New York Red Bulls 4-1. Kenny Miller found the net twice and Pedro Morales added a topper, but it was Sebastian Fernandez who really impressed on his debut. The only blemish was David Ousted's mistake to allow a Bradley Wright-Phillips goal.
Coming up: Vancouver travels to Southern California to face Chivas USA. Sunday, March 16 - 4:00 p.m. PT, CTV2
Follow KEITH HICKEY
on