The first few weeks of a move to Portland have resulted in shopping for disappointingly domestic items like utensil separators, a not-entirely-unpleasant constant drizzle, and an absolutely unholy number of partially assembled pieces of flat-pack furniture. But with the Rose City Invitational,
Goal
's man in the Pacific Northwest finally has some real, live Major League Soccer teams to watch. And thus is born
The Northwest Passages,
a column covering this perpetually damp, soccer-mad corner of the continent. Welcome.
In 2013, Camilo Sanvezzo played in 32 league matches for the Vancouver Whitecaps. He took 123 shots, put 55 of those on target, knocked 22 past opposing goalkeepers, and picked up the Golden Boot. And then before the 2014 season, he very publicly engineered a move to Queretaro of Liga MX, embarrassing Vancouver and Major League Soccer, and leaving the Whitecaps without a player who was involved in over half of the team's goals.
To make matters worse, heir apparent Darren Mattocks was openly agitating for a move of his own after falling out with head coach Martin Rennie, who had publicly criticized the striker's work rate and relegated him to the bench for much of the season. Rennie was sacked after the season, replaced by assistant Carl Robinson, but without any major offseason acquisitions, the Whitecaps' forward options come down to the potentially unsettled Mattocks, aging veteran Kenny Miller, or hoping for a promising youngster like Kekuta Manneh or Russell Teibert to have a breakout season.
So how exactly is Vancouver, which missed out on the playoffs, supposed to not just replace Camilo's goals without weakening its already troubled defense, but also improve on last season?
PLAYER SPOTLIGHT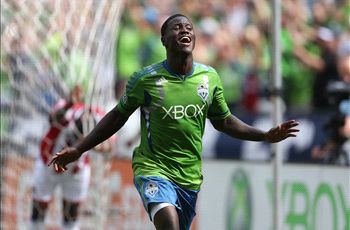 The Whitecaps weren't the only Pacific Northwest team to lose their top scorer this offseason. The Seattle Sounders dealt Eddie Johnson to D.C. United for allocation money despite the U.S. striker scoring 11 goals during the MLS regular season and playoffs.

Goal's Thomas Floyd met up with Johnson during D.C.'s preseason trip to Charleston, S.C., as the 29-year-old looks for a fresh start after finally getting the contract he cleraly felt he deserved when he gestured 'pay me' during a goal celebration in 2013.

Read the Player Spotlight here
Robinson doesn't see the question as one of direct replacement. Instead, he's hoping for a more dynamic, diverse attacking approach. He wants a team where any attacking player can threaten the opposition's goal.
"I am (confident)," he replied when asked if his current crop of forwards could see Vancouver into the playoffs after missing out on the 2013 postseason by three points. "Obviously there's added responsibility for the players throughout the team this year. Camilo scoring 22 goals last year was a fantastic achievement.
"My challenge to all the forward-thinking players and the attacking midfielders is we need to get eight to 10 goals individually, and we'll get our ratio up."
That doesn't mean Robinson isn't happy about positive preseason form from his strikers. Mattocks scored in a 5-1 rout of Jamaican side Portmore United and converted a penalty against San Jose, while Miller scored early against the Northern California side despite a lack of match fitness.
"Darren's looked very lively throughout preseason," said Robinson after the a 2-0 friendly win over The Quakes. "Obviously he hasn't probably took as many chances as he would have liked, but he's got two in two now and he's playing with a renewed confidence about him.
"I'm delighted for Darren, and Kenny looked razor-sharp in his 45 minutes of football. I've got no doubts Kenny will get goals throughout the season when he's fully fit."
Mattocks, sometimes criticized as a self-centered player, is at least making the right noises about working hard and buying into his manager's system.
"For me, I've been working on my fitness really. That's been the number one goal for me; coming back to this preseason and getting really fit, getting match fit, and I think everything else should fall into place because I know what I am capable of doing.
"It's for me to get really fit to work really hard so I can help my teammates."
Asked about his public complaints in the offseason, demanding either playing time or a transfer, Mattocks felt that he'd be given a chance to prove himself to Robinson.
"I think everyone's going to get a fair chance under this new coach," he stated. "I think everyone has bought into what he's doing. All the guys are going to get a fair enough chance, so it's just for you to take your chance when you get it.
"Playing striker, you always want to show what you can do. I think not only me, there are so many players who can contribute goal wise. It's not just Darren, we've got like five, six, seven guys up front who can get goals."
It's a sound theory, and one with basis in MLS fact. None of the top four teams in the league last year needed any single player to score more than 12 goals. The league's best offensive team, the New York Red Bulls, had two players just into double digits (Tim Cahill with 11 and Thierry Henry with 10) and relied on six other players to add four or more. But that's easier said than done. Vancouver hasn't gone out and bought a Cahill and an Henry, or even traded for a quality MLS player like Fabian Espindola (nine goals for New York in 2013). Carl Robinson and his men will have their work cut out, to say the least.
#HotSportsTakes
Portland -
The Timbers were pretty toothless the first two games of the Rose City invitational, losing 1-0 to San Jose on an own goal by new defensive signing Norberto Paparatto and limping to a 1-1 draw with visiting Portmore United, a game in which reserve players were given a chance to shine and looked disjointed and panicked until Michael Nanchoff pounced on a defensive error to smash home from outside the box. Jose Villafana conceded a late penalty to allow the Jamaicans to equalize.
Coming up: The Timbers play the Vancouver Whitecaps in the final match day of the Rose City Invitational. Look for playmaker Diego Valeri to finally see significant minutes. Saturday, March 1 - 5 p.m. PT, a webstream will be available on timbers.com.
Seattle -
The Sounders made it six games in a row unbeaten in preseason, beating the Charleston Battery 2-1 and arriving at a 1-1 draw with the Houston Dynamo, both in the Carolina Challenge Cup. Obafemi Martins is leading the way with three preseason goals.
Coming up: Seattle has D.C. United in its final game in Carolina. Saturday, March 1 - 2 p.m. PT, a webstream will be available on charlestonbattery.com.
Vancouver
- The Canadian Cascadians had a fine week, thumping 10-man Portmore United 5-1 and brushing aside San Jose 2-0 in the Rose City Invitational. Russell Teibert and Darren Mattocks were especially impressive in the victories. The 'Caps also added some midfield firepower on Wednesday, plucking Matias Laba from Toronto FC in exchange for "future considerations."
Coming up: Vancouver closes out its stay in Oregon with a final friendly against the hosts. Saturday, March 1 - 5 p.m. PT, a webstream will be available on timbers.com.
Follow KEITH HICKEY
on