It could have been the summer that Thiago Silva went down in Brazilian history as the captain who led his nation to its sixth World Cup, the crowning glory of a man who has been the best center back in the world since the decline and subsequent retirement of Fabio Cannavaro. Instead, it is likely to be remembered as the point when his career began to deteriorate.
Twelve months ago, it was inconceivable that he might be criticized in France, yet now there are accusations that the Paris Saint-Germain center back holds too much sway at Parc des Princes, suggestions that have been made all the more public after he was injured in a friendly match against Napoli on Monday, ruling him out for "several weeks", according to his club.
While Zlatan Ibrahimovic chose to start on the bench, only two days after PSG drew 2-2 with Reims in their opening Ligue 1 match of the season, Silva, fresh from a curtailed preseason, is said to have demanded that he start. Just 13 minutes into the match, however, he was forced off with a muscular injury not dissimilar to one he sustained little under a year ago in a league encounter against Monaco.
Thursday's press conference saw head coach Laurent Blanc shoulder the blame, though there is a feeling that he is simply acting as a shield to his star center back, who commands the ears of those at the very top of the PSG establishment.
"There is much talk of this injury and if there must be someone found at fault, it is me," confessed the coach to a room full of media who had already made up their minds that this was not the case.
World Cup winner Frank Leboeuf spoke out against the defender in an interview with
RMC
: "It's very difficult for the medical staff to give their advice. The player owns his body. Sometimes players can be in denial about their injuries.
"I did not expect to see him play Reims. With the emotions and the negativity of the World Cup, it would have been smarter to have been prudent with his health. He is primarily responsible for it."



Silva's been worrying since March

. Such errors, I wonder if something serious has happened to him





- Guy Roux

Whereas Ibrahimovic was seen to have taken a mature approach to the friendly, Silva has been portrayed as almost arrogant in the manner he felt he was able to turn out again so quickly after facing Reims.
This, though, is not the first time his reputation has been sullied amongst the PSG support, as he and Ibrahimovic were said to have staged something of a coup against the January signing of Yohan Cabaye, who was a player that Blanc particularly coveted. Eventually the coach would win this battle of wills, but it was not straightforward.
That proved a precursor to the problems that would arrive late in the season and over the summer. Although PSG would go on and claim the Ligue 1 title once more, the former AC Milan star was criticized for some uncharacteristic errors, and he went to the World Cup notably beneath his usually impeccable level.
Burdened with the rampant expectancy of the host nation as captain, his leadership abilities were questioned after he cried prior to the last-16 match against Chile, which the Selecao only just negotiated. Branded "a crybaby" by Branco, amongst others, Silva achieved partial redemption by scoring against Colombia in the quarterfinals.
This was not a cathartic event, however, as a booking forced him to watch on from the sidelines as suspension kept him out of the semifinal against Germany.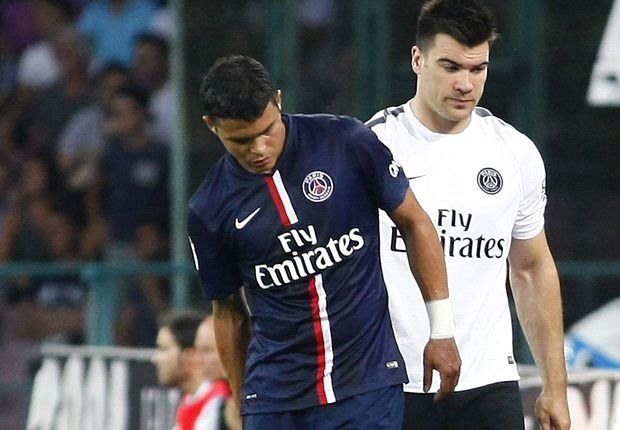 Hamstrung | Thiago Silva pulled a muscle in the friendly against Napoli
What followed will not be forgotten in Brazil as the defense capitulated without its leader, crumbling to a 7-1 defeat that could have been infinitely worse had its opponents not eased off.
An opportunity for redemption followed against Netherlands in the third-placed playoff, but even with Silva back Brazil was feeble, with the captain's performance especially lackluster.
"Thiago Silva has been worrying since March," legendary French coach Guy Roux told
France Football
. "We were told then that he was saving himself for the World Cup. After seeing his performances in Brazil, I hope he was actually saving his best for Ligue 1.
"When I see a player at this level commit such errors, whether it be facing Colombia or the Netherlands, my first instinct is to wonder if something serious happened in his life. Because the decline is so drastic that there must be a rational explanation."
Now sidelined with an injury that is perceived to be of his own making, the Rio-born defender faces the biggest crisis in his career since being struck down by tuberculosis during his brief spell with Dinamo Moscow.
His mentality and qualities are under question for the first time in close to a decade, and when he returns from his latest setback he will have to prove that his decline is not terminal.
Follow Robin Bairner on