This summer saw a shift in transfer policy for Paris Saint-Germain, which largely moved away from the lavish big-name purchases of the previous year. Sure, Edinson Cavani arrived at Parc des Princes for big money, but he was one of only three arrivals in the French capital and the only one signed to instantly boost the quality of the starting XI.
Instead, the additions of Lucas Digne and Marquinhos, who arrived for a combined tally of 50 million euros from Lille and Roma, respectively, served to underpin the club's long-term strategy.
When QSI took over the running of PSG, president Nasser Al Khelaifi promised in an interview with
L'Equipe
: "We don't want to sign Lionel Messi, but we want to invest in the big stars of tomorrow from all over the world, including France."
Marquinhos, in particular, was an addition who caught the eye. Having excelled for Roma last season, the 19-year-old was snapped up by PSG in the summer for a 35 million euro fee - but an overall cost of 94.8 million euros - in an assault spearheaded by former sporting director Leonardo.
The 1994 World Cup winner had won respect at Parc des Princes for his handling of previous transfer missions, with the signings of the relatively unheralded Salvatore Sirigu and Marco Verratti earning particular admiration with the PSG board.
But he was aided by Thiago Silva, who helped to sell the French lifestyle to his young compatriot.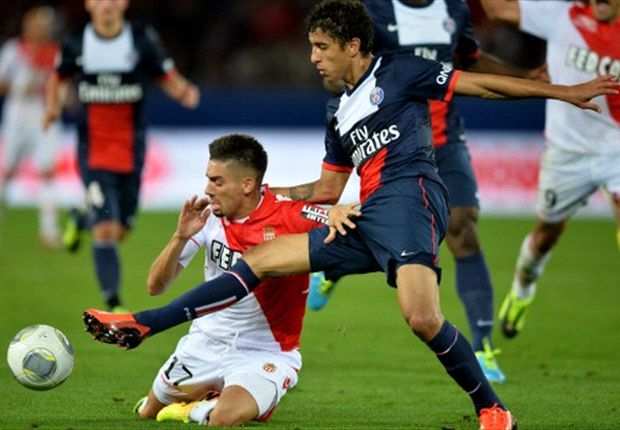 Making his Marq | The young Brazilian has already impressed since arriving in France
Marquinhos has described Silva in lavish terms since his arrival in Paris, telling
Le 10 Sport
: "He is my model, my idol. He represents a great deal for me and for the team. He's our captain, the boss on the field and in the dressing room."
The opportunity to work with the 29-year-old center back, who remains broadly regarded as the best in the world in his role, was too good for the youngster to turn down. Silva is the player Marquinhos aspires to be and learning directly from his countryman was a dream come true.
It was also the next logical step for a career that has enjoyed a meteoric rise over the last 18 months. When he initially went to Roma on loan, the deal with Corinthians was conducted for just 500,000 euros, and the buyout fee of 4 million euros would quickly be established as a bargain.
Such a small fee was not without its controversy in Brazil, as Marquinhos' father was a member of the Corinthians board that sanctioned the sale, and he would later be ejected due to his part in the affair that took his son to Italy.
If Roma enjoyed a straightforward deal to secure their man, it was not so straightforward for PSG to snare him, however. Twenty-six impressive appearances for Roma in Serie A last season caught the eye of many European heavyweights and Barcelona, in particular, sought to capture the promising center back in order to bolster its defensive line.
As a result, the French club was forced to raise its initial offer up to 35 million euros, with the deal structured in a manner that saw Roma guaranteed 31.4 million euros and the rest to come in bonuses. Corinthians, meanwhile, would receive 2.7 million euros of this fee as it had built in a clause in the contract that entitled it to 10 percent of any profits the Italians made out of the deal.
That PSG manufactured the transfer in this manner shows that the teenager is very much regarded as a player for the future, yet he has already established himself as the third-choice center back at Parc des Princes, leading to Mamadou Sakho's 21 million euro departure to Liverpool in the summer.
And such has been his outstanding performance level in the opening four months of the season, there are already those who believe he should take the place of Alex and start alongside Thiago Silva in the heart of the defense.
Indeed, there are signs that Marquinhos is developing into a younger version of his Rio-born colleague, who only really rose to prominence relatively late in his mid-20s. He is quick and athletic, but his reading of the game is magnificent for a player so young.
Ironically, it has been the injury troubles of Thiago Silva that have allowed him many of the opportunities to make nine Ligue 1 appearances this term and 16 in all competitions.
Marquinhos, however, has taken these impressively and has shown a particular knack of scoring goals from corner kicks, tallying three strikes already this term.
For all of his offensive contribution, however, it his defensive efforts upon which he will be judged in the long term, and all the signs are that the 19-year-old is set for a career just as illustrious as his idol.
PSG, meanwhile, may not have their next Messi, but the next Thiago Silva will be just as valuable.