The Ligue 1 table presently has a rather unusual feel to it after six rounds of matches. Saint-Etienne's unlikely presence at the summit of the league gives the standings something of a retro 70s feel, while Olympique Lyonnais scrapping along in 17th only heightens the sensation that this term is being played out like one from a bygone era.
Unsurprisingly, the supporters of les Gones have become disenchanted with this state of affairs and wish to see the end of general manager Claude Puel.
Saturday's Derby du Rhone would appear perfectly set up to be the former Monaco and Lille coach's execution ground. Not only are Sainte in the flush of form, having dispatched Toulouse, Montpellier and Nice in successive matches, there is little evidence to suggest that Lyon are getting any better than their present near relegation status.
OL president Jean-Michel Aulas is a man who likes to keep a steady ship though, and he has already indicated this week that he won't be premature in swinging the axe towards the jugular of a man he would appear to have the utmost faith in.
"I can change things if I think it is not working," he told
Le Progres
on Tuesday. "This is not the case after six league games. All changes observed in the major European teams in early season lead to disaster.
"The goal is the [Ligue 1] title this year and the Champions League next year. I believe it can happen. If [Puel] thinks that the task is impossible, he will tell me himself, I will not need to raise my voice."
Lyon may have reached the semi-finals of the Champions League last term, but looking to win it next season is incredibly fanciful, especially since the team is presently playing like a side who won't finish in France's top three this season.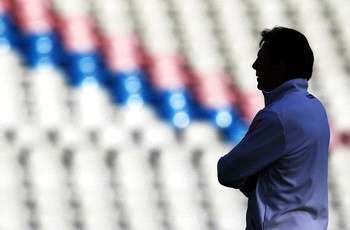 There can be little doubt that OL, who have admittedly been plagued with injuries this term, have the power to go on a late-season charge, as they did last term to somehow snatch second when they were mediocre throughout the campaign, but they are leaving themselves with a great deal of work to do. Local rivals Sainte probably won't be a threat for the top three, but other dangerous sides such as reigning champions Olympique de Marseille, Lille, Stade Rennais, Monaco and even Paris Saint-Germain all enjoy a useful early season lead over the Rhone giants.
At present the situation is manageable. Lyon can recover to finish third or higher – after all, there are still 32 matches left to be played. The question is therefore: How long does Aulas stand by Puel should Lyon's poor run continue?
A first home defeat to Saint-Etienne for 17 years would still not leave the elite competition unattainable, but would merely act as another sign to suggest that Puel's men are not capable of reaching their former standards. Leaving a coaching change until 12 or 14 games into the season, however, may have allowed some useful sides to build up a decisive advantage over OL.
Puel will not be at Stade Gerland forever. "My dream is to finish my career with a large foreign coach," Aulas stated to
RMC
on Monday. "I tried to get Jose Mourinho before Claude Puel."
It will cost €3 million to part with Puel, according to the president, who has said that finding such a sum of money would not be considered a problem if the situation became severely problematic.
With a contract that expires in 2012, the 49-year-old coach, who is increasingly living on last term's Champions League run, finds his position ever more precarious, yet with a president who craves stability is still safe in his job... for the next month at least.
Click here to follow the Goal.com Twitter feed and join Goal.com USA's Facebook fan page!