To those not familiar with French football, the team that France boss Laurent Blanc sends out on Friday evening against Belarus as les Bleus open up their European Championship qualifying campaign may seem quite alien, yet the new coach is counting on these fresh faces to banish the memories of Raymond Domenech's painfully slow demise as quickly as possible.
From the 23 figures who boarded the plane to South Africa in the summer, only ten survive. Four more, including star names Franck Ribery and Patrice Evra, have been suspended by the FFF (French FA), while eight have simply been axed. The other, Yoann Gourcuff, is suspended for two matches by FIFA after his red card against the World Cup hosts.
Into the breach come faces well established domestically but somewhat unknown to a wider audience, and it is these names who will play key roles for the hosts at the Stade de France against their Eastern European opponents.
Paris Saint-Germain striker Guillaume Hoarau in particular is expected to take much of the goal scoring burden after a couple of productive years at the Parc des Princes since moving from Ligue 2 outfit Le Havre. A tall, gangly No. 9, he will lead the offence alongside Loic Remy in a 4-4-2 formation, a deviation away from Blanc's preferred 4-2-3-1 due to the absence of a recognised playmaker.
"There's a coach here watching my performances very closely. It's now or never," the 26-year-old explained to the media, according to Ligue 1's official website, clearly keen to make an impression on the international stage. "I need to get a move on."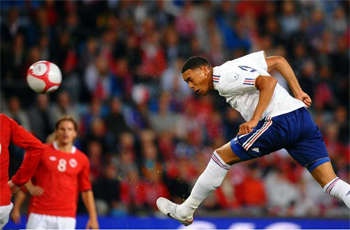 Scoring goals has been a major problem for les Bleus in recent months. A wealth of attacking talent was at the disposal of Domenech, though it was never properly harnessed and France were often left looking one-dimensional and unimaginative, particularly when Ribery was not available.
The fans have already been won back by Blanc's appointment, but to keep the fickle terraces behind the players les Bleus must play with more flair and cohesion going forward. With a new-look offence, one that is almost unknown to the international game, 'Le President' faces a great challenge.
Hoarau is confident that he can combine effectively with cohort Remy, however. "His game completes mine," the Reunion-born striker said. "Everything will depend on what we do on the field, on the spark that we inject into the team's game. We had a big training session on Tuesday and already the understanding is emerging, even though most of the side haven't played together before."
Indeed, the side singing the Marseillaise on Friday is expected to boast just 151 caps, with some 57 contributed by Chelsea star Florent Malouda, whose attacking prowess from the left side of midfield is expected to be regularly utilised as a channel of offence. Jeremy Menez on the right, meanwhile, is, like Hoarau and Remy, somewhat of a wildcard presence due to his almost complete lack of international experience.
Doubtless Blanc is already well aware of the unique difficulties of putting together a strong national team, but with all the hype surrounding Domenech's overdue departure, supporters of les Bleus cannot afford to lose perspective.
What they'll witness at the Stade de France is effectively a team of highly talented rookies attempting their first fumbling steps into the international arena; a quite different prospect from the club game that each is used to.
Miracles should therefore not be instantly expected, and a long 90 minutes may yet be in store for les Bleus, though if Hoarau has his way, that will not be the case.
Become a fan of Goal.com USA's Facebook fan page for all the latest news and insight into everything related to the beautiful game