Tito Vilanova would have been proud. Still mourning the loss of their former coach, who passed away on Friday at the age of 45 following a two-and-a-half year battle with cancer, Barcelona's players somehow found the strength to come back from a 2-0 deficit and secure a win that they could dedicate to the man who led them not so long ago. This one was for Tito.
After going 2-0 down and then seeing two outrageous own goals help them back to 2-2, Sergio Busquets scooped a delightful ball to Cesc Fabregas, whose headed pass found Lionel Messi for a clinical right-footed finish to net the winner for Barca. The goal was made in La Masia but, perhaps even more significantly, Vilanova had coached both Cesc and Leo as youngsters. To them, he was a coach, a mentor and a father figure all in one - so it was fitting that the two should combine to give the visitors victory.
It hadn't been easy for Barca. Busquets was in tears during the minute's silence before the match and despite dominating the possession in the first half, this was a Blaugrana side going through the motions. Understandably, there was no joy in their football. How could there be?
But after going two goals behind after strikes from Cani and Manuel Trigueros, they did apply Tito's memorable mantra:
Seny, Pit i Collons
(Common sense, strength and bravery). They fought, like he had, and through adversity, they triumphed.
As the match ended, Javier Mascherano dropped to his knees and broke down in floods of tears. Later, he said: "This win is for Tito's family. We will fight until the end, like he did."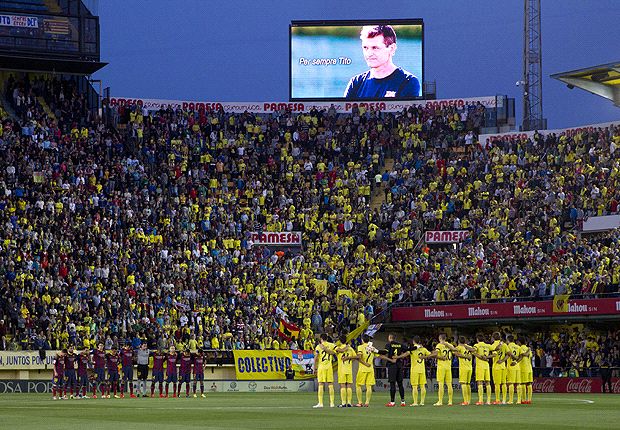 "Always and forever, Tito" | The two teams during the minute's silence for the former Barca boss


Mascherano exudes self-confidence, can seem somewhat cold and even a touch arrogant in his interviews and press appearances, yet his outpouring of emotions at El Madrigal showed a sensitive side to his personality - and also revealed just how much Vilanova means to these players.
Andres Iniesta added: "Many people are suffering, his family above all. Winning is only a small thing, but I hope it helps. These last few days have been very difficult, but it's a great way to honor him. He was a role model for the people, an example until the very end."
For his part, coach Gerardo Martino addressed the media only briefly after the match, due to the extreme emotions of the last few days. "We showed great courage and resilience to come back," the Argentine said. "This is an incredibly sad weekend for Barcelona," he added. "And I don't think we should talk about football now."
Martino, however, had urged his players to respect the memory of their former boss. "He told us at halftime to fight to the end," defender Marc Bartra revealed. "Like Tito did."
And despite conceding again in the second period, Barca bounced back with a spirited fightback to claim a win which keeps it in with an outside chance of retaining La Liga.
Vilanova would have been proud.
Follow
Ben

Hayward on