VALENCIA, Spain -- Valencia has become used to grand games like the one against AC Milan on Saturday night. A Champions League regular for over a decade, the Spanish side's stadium breathes glory and greatness at every turn. But as so often before against an elite European team, Valencia came up short in this one.
Images inside Mestalla remind fans and media of the glory days gone by: Liga titles in 2002 and 2004, back-to-back Champions League finals in 2000 and 2001. Such days, however, have long since passed.
Outside the ground, the story was a different one. Fans gathered on the sun-soaked streets and the mood was good as local aficionados sipped beer before the match. But a glance at their shirts served to reveal some of the frustration these supporters have endured. There were jerseys emblazoned with great names from the club's past: Villa, Mata, Silva, Jordi Alba... all have duly departed and they are soon set to be followed by another homegrown hero - Roberto Soldado.
ROBINHO OUT WITH ADDUCTOR STRAIN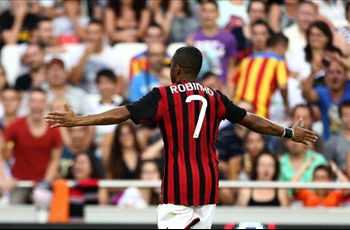 It was an eventful evening for Robinho as the Brazilian missed a penalty, scored the opener and was finally forced off with an injury.

"Robinho has an adductor strain and we will have to wait a couple of days to see the extent of the injury," Allegri revealed later.

The former Madrid and Manchester City forward should be fit for next week's clash against either Chelsea or Inter. "I don't mind who we play," Allegri added.

Valencia's Andres Guardado will also undergo tests after picking up an injury on Saturday, coach Djukic confirmed.

But Miroslav Djukic's men did well enough to suggest they can cope without their formidable front man. Defensive errors allowed Robinho (who also had a penalty saved) and Nigel de Jong (albeit with a wonder strike) to take a two-goal lead at halftime and a rally after the break brought only one reply as Dani Parejo pulled one back.
Valencia huffed and puffed, rattled the woodwork and sought to take the initiative throughout, but was hit by two blows from a much more efficient Italian side. "We made mistakes in defense," Djukic admitted afterwards. "But this stage of preseason is the time to make mistakes - we don't want to make them in La Liga.
"We were much more creative in the second half and had a lot more ideas," he added. "This is our first game at home this preseason and I take a lot of positives from it."
One of them is Argentine youngster Fede, who produced an impressive cameo as substitute and hit the bar with a fierce drive from more than 30 yards out.
"He is taking advantage of his opportunity and he deserves to be here," Djukic said.
Such is his promise, the youngster may now be promoted to the first team for next season as Valencia attempts to regain its place among the top teams in Spain and in Europe.
The club's huge debts means that it will be unable to buy big, although Soldado's imminent departure is likely to see two strikers brought in. Valencia has hit back before and now the side's powers of recuperation will be put to the test once again, just as it was with the high-profile departures in the past.
Milan, meanwhile, kicked off the International Champions Cup in style with a win gained at what looked at times the minimum of effort. The Rossoneri will take positives from the game, not least their attacking quality and the sensational strike by De Jong which gave them victory.
"The game was far from an easy test," coach Massimiliano Allgri admitted later. "It was extremely hard work."
Greater tests now await, with Chelsea or Inter next and Real Madrid perhaps in store later on as the competition moves Stateside, the ideal preparation for a complicated Champions League campaign next season. And for Valencia, a full stadium on Saturday, a buzzing atmosphere and a glamor rival will serve as inspiration to return quickly to Europe's elite. Mestalla was made for nights like these.
Follow Ben Hayward on