Arrhythmogenic right ventricular cardiomyopathy is a genetic heart disease that has an incidence of one in 10,000 in the general American population. Up to 80 percent of individuals with the disease suffer from sudden cardiac death, and it accounts for 17 percent of all sudden cardiac deaths in young people. This rare disease was responsible for taking the life of my good friend and longtime teammate Kirk Urso.
On Aug. 5, Kirk was pronounced dead at the Ohio - Health Grant Medical Center. It is with a heavy heart that I write this.
Kirk was an extraordinary young man, a fantastic player, and a great friend. I've known Kirk since I was 11 years old. We grew up as rivals, but we would one day become great friends. He played for the Chicago Sockers and I for the Chicago Magic. It was the biggest rivalry in the state of Illinois at the time, and I can remember many intensely-contested games between our two teams.
Kirk was without a doubt the best player in the state, the region and maybe even the country from a young age. His technical ability was second to none. He could strike a ball better than anyone I have ever played with. What he lacked in physical speed he made up for in heart and work ethic. Kirk wasn't the fastest player on the pitch, but he had an engine that allowed him to work like crazy for 90 minutes straight.
I always looked up to Kirk. He had such strong leadership qualities, and I'm sure that every single one of his teammates that has ever played with him would confirm that as well. As every good leader does, Kirk had a way of leading by example.
As a fellow member of the U17 Residency Program, whenever I needed an example of how to conduct myself, I looked to Kirk for that example. Whether it was how to handle living away from home, how to treat my teammates, how to excel in the classroom, or how to conduct myself on the field, Kirk was always the person I looked to for that example.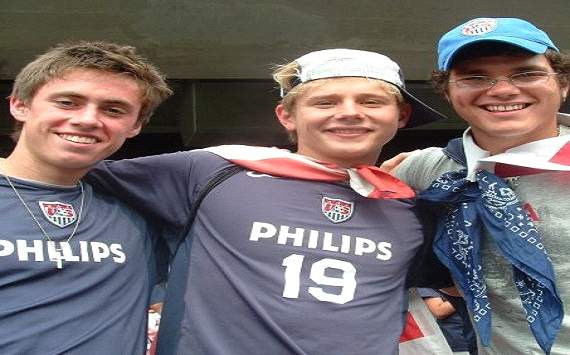 In Kirk's short life he accomplished many amazing things. As I have said, Kirk was very driven. He knew what he wanted in life, and I'm so incredibly happy that he was able to achieve his dream of becoming a professional soccer player. Before the age of 22, Kirk had represented his country at the U17 and U20 levels. He played in a youth World Cup. He attended and graduated from one of the best universities in the world (UNC). And he achieved his lifelong goal of becoming a professional soccer player.
Though all these things are fantastic achievements, I think Kirk's biggest achievement is something else. It is my belief that a person's life can be measured by the impact he has on those around him. Kirk's life impacted the lives of so many of his teammates and friends. I think that the impact his life has had is an even bigger achievement than all that was listed above. It was the example he set every day for all of us that knew him that will be left behind as Kirk's legacy.
Whenever things have been rough for me here living overseas, I have tried to emulate my good friend's attitude and work ethic. I thoroughly believe that Kirk would have become one of the top players in MLS. I also have no doubts that he would have been captaining whatever side he was part of. It was that drive and commitment to his craft that makes me sure of these things.
Myself, my family, and everyone that knew Kirk will truly miss him. I find myself questioning everyday why God would allow something like this to happen. It seems to make no sense. Why would someone with his whole life ahead of him be taken from us so soon? I don't think I will ever know that answer, but I do know I will never forget Kirk.
I was unable to make it to Kirk's funeral, as I was playing in Ireland at the time. We had a match against Liverpool's reserves that weekend and to book a flight on such short notice was almost impossible. My parents attended, however, and they sent me a prayer card from the service that I keep next to my bed. There is a quote on the back that I really like. It reads: "Play, smile, think of me, pray for me. Let my name be the household word that it always was. Let it be spoken without effort."
Living overseas comes with a lot of challenges. You have to deal with homesickness, being away from friends and family, and the pressures of training at your best every day. Whenever the pressure gets to be too much I find myself thinking of that quote. I think of Kirk and how he would have handled the situation, as if he were still around to look up to. So whenever I've been down I just keep playing and I try and emulate my good friend, Captain Kirk. For all of us who knew him, I think that this is the best way to honor the life of someone who was taken from us too soon.